Article content
A 17-year-old girl killed along with a second teen in a crash west of London is being remembered by a close family friend as an "old soul" who was full of life.
Article content
Two people died and two others were rushed to hospital with life-threatening injuries following a single-vehicle rollover on Amiens Road, just south of Melrose Drive in Middlesex Centre, around 10:30 a.m. Thursday, Ontario Provincial Police said. It's a rural intersection located between Komoka and Strathroy.
Article content
A fifth person was also taken to hospital with less severe injuries, police said.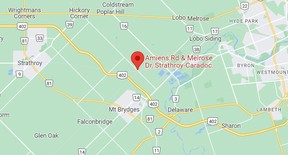 OPP has not released the names of the deceased, but a close family friend identified 17-year-old Aleah Van Erp as one of the people killed. A Grade 12 student at Strathroy District collegiate institute, Van Erp was a loving daughter and sister who loved the outdoors, art, photography and animals, said Karen Bodkin, a close friend of her parents.
Article content
"She was just an old soul, and loved nature," Bodkin said. "Always taking pictures of the trees and the sky. She was just an amazing kid. She had her whole life ahead of her."
The five people involved in the crash were all believed to be high school students from the Strathroy area.
In an email sent to parents Thursday, a copy of which was obtained by The Free Press, the principal of Strathroy District collegiate institute wrote: "There has been a reported traumatic event in our community," and updates would be provided as more information is shared.
"This type of event impacts everyone differently," principal Stephanie Hambides wrote. "We have attached some information for parents and caregivers on typical responses youth have when they experience such stress and what may be helpful in supporting them through this."
Article content
The school's "traumatic event response team" was available to offer individual and group support to students online Friday from 10 a.m. to 2 p.m. Hambides pointed to additional community resources that can be used during the holiday break and said school officials would continue to support students when they return in January.
An outpouring of sympathy in response to the fatal crash was expressed by friends and community members Friday.
"There is sadness in our community this morning," Strathroy-Caradoc Mayor Colin Grantham wrote in a statement posted to social media.
"On behalf of our entire municipal council and staff I want to offer condolences to all those affected by this tragedy, especially the families," he said, adding: "The entire community has you in our thoughts this morning."
A stretch of Amiens Road was closed for several hours on Thursday for the investigation. It was reopened shortly after 5 p.m., West Region OPP said, describing it as a "difficult day for all involved."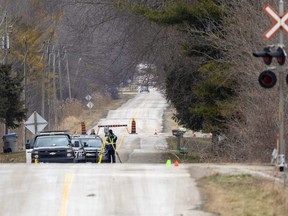 An online fundraiser for Van Erp's family had raised more than $15,000 by early afternoon Friday.
cleon@postmedia.com
twitter.com/CalviatLFPress
The Local Journalism Initiative is funded by the Government of Canada
High school students killed in single-vehicle rollover west of London

Student, two others taken to hospital after crash involving school bus