"I was just scared. He was well connected. So that means he's Mafia or Hells Angels."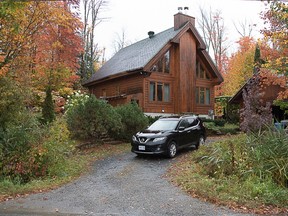 Article content
Gary Arnold, the man on trial on charges alleging he abducted a couple in their 70s from Upstate New York, told a jury on Tuesday that he was warned the man he claims was behind the kidnapping was "connected" to organized crime.
Article content
Arnold, 54, was testifying for a third day in the jury trial being heard at the Montreal courthouse. While being cross-examined by prosecutor Édith Lafontaine, he continued to claim that he took orders from a man he referred to as "Big" and merely ran errands when Sandra and James Helm were abducted from their home in Moira, N.Y. on Sept. 27, 2020, smuggled across the border by boat through Akwasasne and held against their will for two days in a chalet in Magog.
Article content
When Sandra Helm testified last week, she identified Arnold as one of two masked men who stormed into the couple's home and ordered them to get into a pickup truck waiting outside.
The Crown's theory is that the Helms were kidnapped because their grandson was involved in a transaction of 50 kilograms of cocaine that failed. The grandson was arrested six days before the kidnapping, but the jury has heard evidence the kidnappers were not aware of the arrest.
Article content
When he began to testify in his defence last week, Arnold said he knew very little about the actual kidnapping and that, three days before it happened, he was summoned to a meeting, by a letter, to meet with the man he called "Big." He said "Big" handed him two cellphones, ordered him to deliver one and to wait for instructions on the other. He also testified that the man threatened to kill members of his family if he did not comply.
"I just remember he was mean. He was just a mean person. He didn't care. He just told us: 'This is what it is and you have to do this and you have to do that'," Arnold said. "He threatened (my) kids. He showed me a photo of my kids.
"He said: 'Do you love your kids? Well, they're going to get it (if he didn't follow orders)'."
Article content
When Lafontaine asked Arnold what else he knew about the man he referred to as "Big," he said Franco D'Onofrio, a man described as an accomplice in the kidnapping, told him: " 'He's a heavy guy. He's well connected.' That's all he ever said of him."
"When he tells you he's connected, he's connected to whom," Lafontaine asked.
"There was this guy Cazzetta … or I don't know," Arnold said before Superior Court Justice Michel Pennou interrupted and ordered him "not to speculate."
"Was he connected with the Mafia? Was he connected with the Hells Angels or connected with bike gangs? (D'Onofrio) just said that he was well connected. That's all he said," Arnold said.
"You come out of this meeting where (Big) threatened to kill your kids and you're shown pictures of your kids and Franco tells you he's well connected and you don't ask him what he means by he's well connected," Lafontaine asked.
Article content
"I was just scared. He was well connected. So that means he's Mafia or Hells Angels," Arnold said.
The Helms were rescued by a Sûreté du Québec SWAT team after being held against their will for two days. Four people involved in the kidnapping — Taylor Lawrence Martin, 38, D'Onofrio, 57, Kosmos Dritsas, 51, and his father, George, 77 — were arrested that same day. Arnold was working on a farm in St-Isidore that day and he noticed as a SWAT team appeared to be closing in on him. He told the jury he dropped the phone "Big" gave him in the middle of a cornfield and continued to watch as the police officers closed in on it. He said the SWAT team found the phone and left without arresting him. He said they appeared content to have located the phone.
Arnold, a farmer, also said he avoided the police that day because he didn't want to be arrested in front of the clients he was harvesting corn for.
He was arrested a few days later.
During the cross-examination, Arnold said he previously met D'Onofrio and Kosmos Dritsas while they were are serving time in a federal penitentiary in 2015.
pcherry@postmedia.com