Quick Links
Mega Aggron: Strengths And Weaknesses
Mega Aggron: Best Counter Picks
Mega Raids are extremely valuable in Pokemon Go, not only providing you an encounter with a powerful Pokemon, but also giving you Mega Energy, the resource needed to obtain these Mega Evolutions yourself. Because of this, this tier of Raid is extremely popular among the community, as Mega Evolutions tend to be some of the most powerful Pokemon in the game.
Related: Pokemon Go: The Best Pokemon Of Every Type
Mega Aggron is one of the newer Mega Evolutions currently available in Pokemon Go, like others, only available through the successful completion of its specific Mega Raid. Mega Aggron will only be in Raids for a limited time, and it is unclear when it will make its return, so we have put together a guide including everything you need to know to take advantage of this.
Recommended Group Size
This Steel-type Mega Evolution is not one that you will be able to defeat on your own, as Mega Aggron is a relatively strong and bulky opponent. On top of that, defeating Mega Aggron will provide you with Aggron Mega Energy, an extremely rare and valuable resource used to perform this Mega Evolution; so this is an encounter that you want to avoid failing.
With all of this in mind, it's recommended that you attempt this Mega Raid with at least three to five players to ensure your success. This group size should ensure that your Raid group deals enough damage to Mega Aggron, allowing you to secure yourself Mega Energy to perform this Mega Evolution afterwards.
Mega Aggron: Strengths And Weaknesses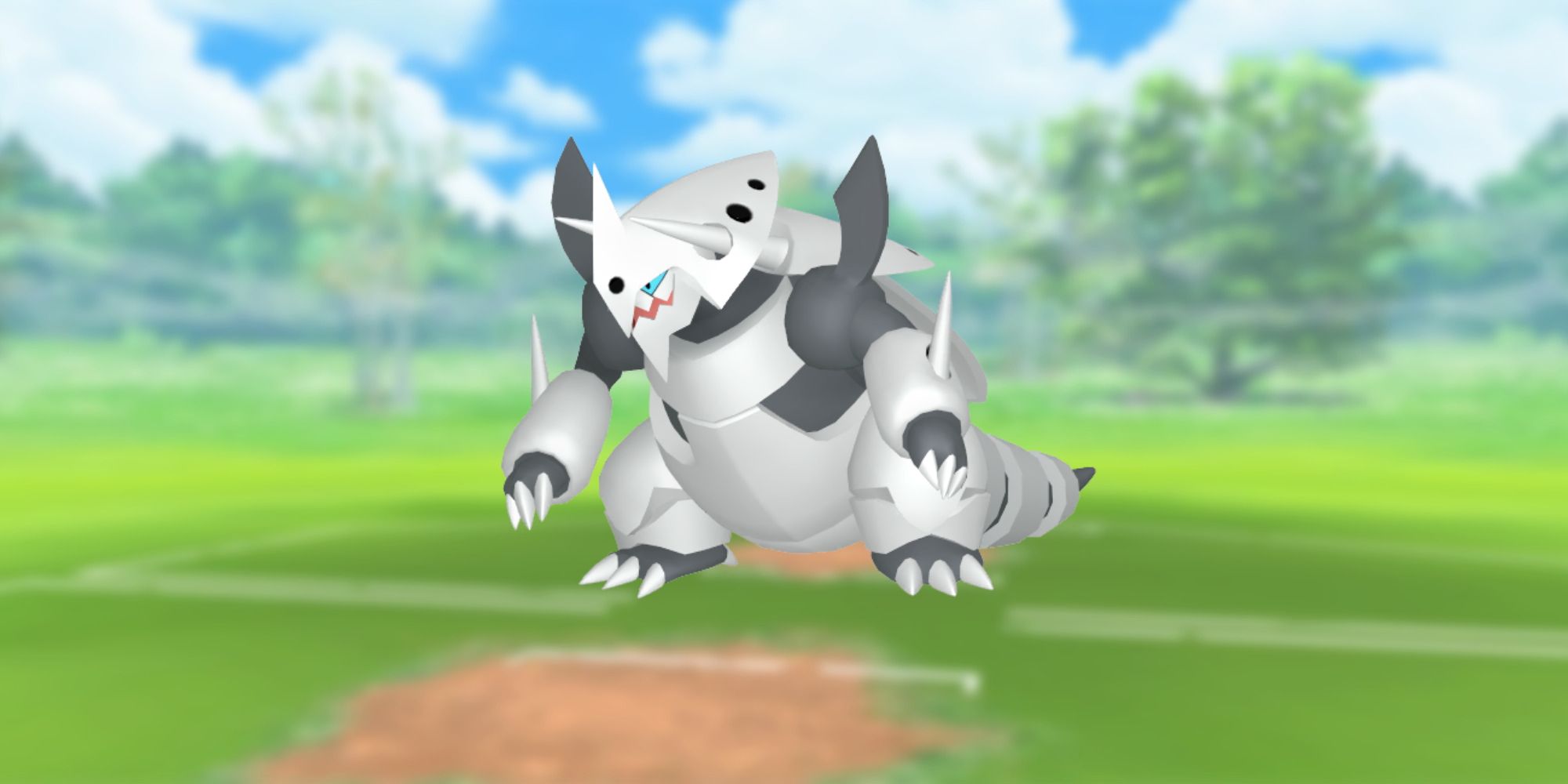 Mega Aggron is a pure Steel-type Pokemon, meaning that it possesses several resistances and few weaknesses. This large number of strengths forces you to avoid the use of Pokemon of several different types, specifically Normal, Flying, Rock, Bug, Steel, Grass, Psychic, Ice, Dragon, Fairy, and Poison types.
Mega Aggron has a double-resistance to Poison-type attacks in battle, so you will definitely want to avoid using Pokemon of this type. Attacks that are this type will do even less damage than those of the other types that this Pokemon is resistant to.
Making this an even more difficult Raid encounter, Mega Aggron is only weak to three different types in battle. Due to the strength of this Mega Evolution, you will want to make sure that you're using Pokemon with attacks that are either of these three types, Fighting, Ground, or Fire, to maximize your damage output.
To further increase the damage that you deal to this Raid Pokemon, take advantage of Same Type Attack Bonus, or STAB, by using attacks that match the type of its user. This will be extremely useful in this difficult Raid battle.
Related: Pokemon Go: Spotlight Hour Guide
Mega Aggron: Best Counter Picks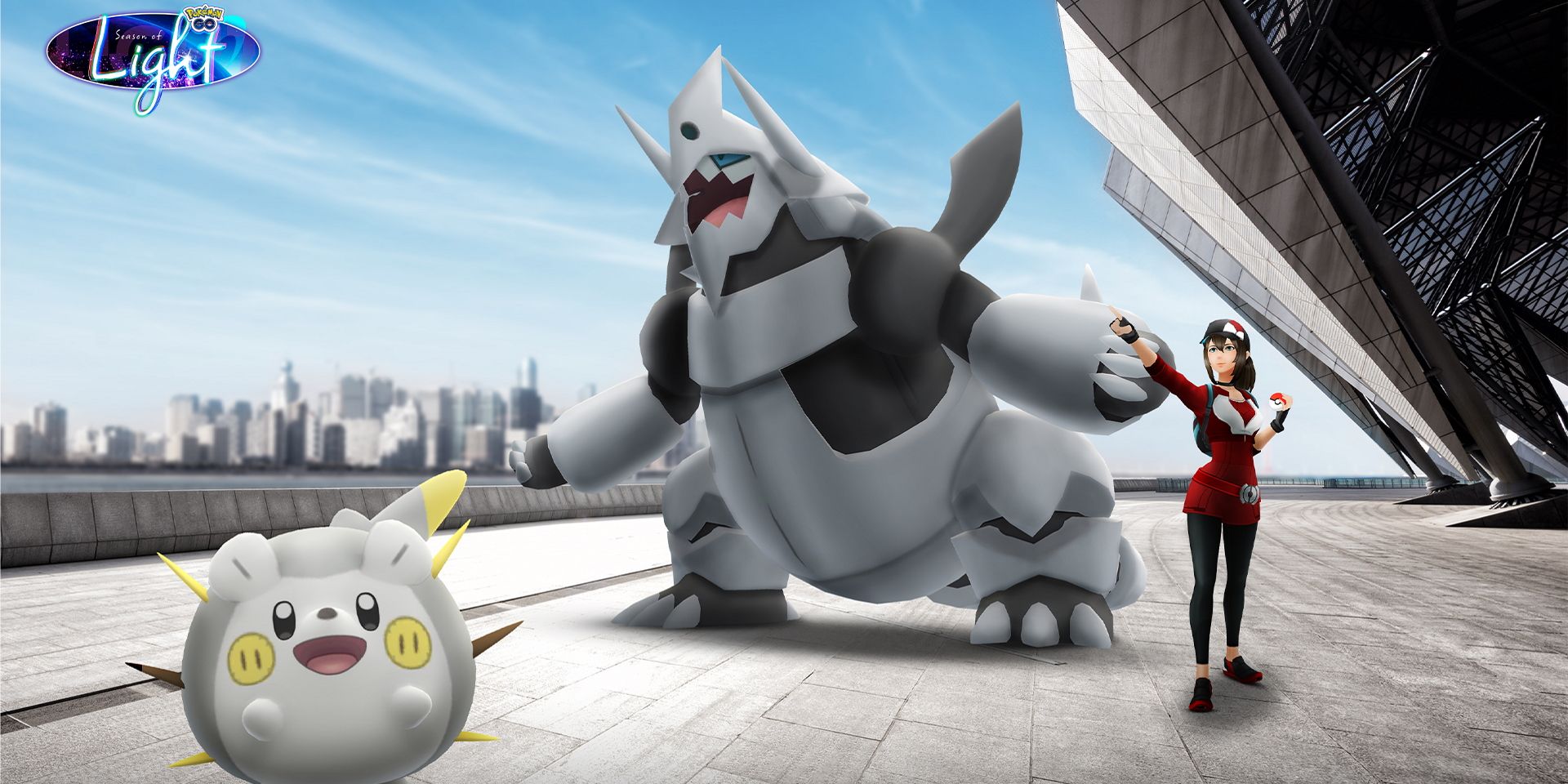 As mentioned previously, you will want to take advantage of the three types that Mega Aggron is vulnerable to: Fighting, Ground, and Fire-type attacks. To help you assemble your Raid team, we have put together the top-tier counter picks of these three types, the best choices when it comes to defeating Mega Aggron in this Raid.
Again, the Pokemon found below are the best of the best when it comes to countering Mega Aggron in this Raid. That being said, it is definitely possible to successfully complete this encounter with other Pokemon, as long as they are either Fighting, Ground, or Fire types.
Fighting-Type Counter Picks

Pokemon

Recommended Moves

Terrakion

Fast Attack: Double Kick

Charged Attack: Sacred Sword

Shadow Machamp

Fast Attack: Karate Chop

Charged Attack: Dynamic Punch

Lucario

Fast Attack: Counter

Charged Attack: Aura Sphere

Shadow Hariyama

Fast Attack: Counter

Charged Attack: Dynamic Punch

Conkeldurr

Fast Attack: Counter

Charged Attack: Dynamic Punch

Mega Lopunny

Fast Attack: Double Kick

Charged Attack: Focus Blast
Ground-Type Counter Picks

Pokemon

Recommended Moves

Shadow Mamoswine

Fast Attack: Mud-Slap

Charged Attack: High Horsepower

Mega Swampert

Fast Attack: Mud Shot

Charged Attack: Earthquake

Shadow Ursaluna

Fast Attack: Rock Smash

Charged Attack: High Horsepower

Shadow Golurk

Fast Attack: Mud-Slap

Charged Attack: Earth Power

Excadrill

Fast Attack: Mud-Slap

Charged Attack: Earthquake

Therian Forme Landorus

Fast Attack: Mud Shot

Charged Attack: Earthquake
Fire-Type Counter Picks

Pokemon

Recommended Moves

Mega Blaziken

Fast Attack: Counter

Charged Attack: Blast Burn

Mega Charizard

Fast Attack: Fire Spin

Charged Attack: Blast Burn

Reshiram

Fast Attack: Fire Fang

Charged Attack: Overheat

Mega Houndoom

Fast Attack: Fire Fang

Charged Attack: Flamethrower

Shadow Entei

Fast Attack: Fire Fang

Charged Attack: Flamethrower

Emboar

Fast Attack: Low Kick

Charged Attack: Blast Burn
Next: Pokemon Go: December Raid Guide