Lawrence MacAulay said VAC 'never has and never will' offer MAID in a tweet Monday. But, in his testimony on Nov. 24, he said VAC offered it to as many as five Canadian Forces members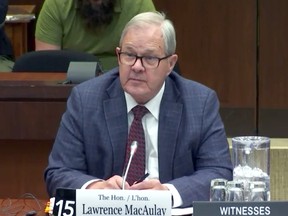 Article content
OTTAWA — Despite proffering a public apology and claiming the case was under police investigation, Canada's veterans affairs minister now says Canadian soldiers were never offered a medically assisted death by members of his department.
Article content
In a late-night Monday tweet, Veterans Affairs Minister Lawrence MacAulay denied that Veterans Affairs caseworkers had offered medical assistance in dying (MAID) to Canadian Forces veterans, contrary to numerous news reports and his own testimony before a Commons committee.
Article content
"This is incredibly false and harmful misinformation," MacAulay tweeted in response to a tweet by Conservative Leader Pierre Poilievre, who condemned the practice."Veterans Affairs Canada does not offer medical assistance in dying to Veterans, never has and never will."
Article content
The minister's tweet runs counter to his testimony before the House of Commons veterans affairs committee in November, when MacAulay not only admitted that as many as five Canadian Forces members were offered MAID by VAC, but said the caseworker accused of being behind the offers was suspended and the case was now before the RCMP for possible criminal charges."I've said it before and I'll say it once again, what happened was totally unacceptable," MacAulay said during his testimony last month.
"There is no way to justify it, and I will not try to do that today, or ever."
An internal investigation led by his deputy minister, Paul Ledwell, uncovered a total of four cases where veterans were offered MAID, MacAulay told the committee — all allegedly by the same caseworker.
Article content
The committee hearing took place one day after a fifth case was revealed by the National Post in which an active service member calling himself "Bruce" told Tango Romeo podcast host Mark Meincke that a VAC caseworker had offered him MAID the previous year, without any prompting or previous mention of suicide.
The story initially broke over the summer with reports of a VAC caseworker repeatedly suggesting MAID to a veteran calling for help dealing with PTSD.
The caseworker allegedly told the unidentified veteran that Veterans Affairs had helped other veterans take their own lives, and that MAID was a better alternative to "blowing your brains out."
During his testimony last month, MacAulay described a second instance that occurred in December 2021, followed by a third in 2019 where the minister said MAID was "inappropriately raised," and a fourth this past May when the caseworker again provided MAID information to a veteran.
Article content
Earlier this month, veteran and Paralympic athlete Christine Gauthier told the committee she was offered medical suicide at least twice during interactions with VAC seeking assistance in building a wheelchair ramp at her home.
MP and committee vice-chair Blake Richards said he's aware of at least eight veterans offered MAID, and told the committee there may be many more.
MacAulay admitted the December 2021 case ended with the veteran taking his own life with medical assistance.
Both MacAulay and Ledwell said the caseworker involved in four of those cases was suspended and the matter forwarded to the RCMP.
Reaction online to MacAulay's tweet was swift. Richards tweeted a video of MacAulay's testimony from the Nov. 24 committee meeting, captioned with "Has your story changed yet again, Minister?"
Article content
Conservative MP Michelle Rempel Garner included a screenshot of a news story of the minister's Nov. 24 testimony, telling MacAuley that "gaslighting doesn't fix the problem, Minister."
Article content
MacAulay's spokeswoman, Ericka Lashbrook Knutson, said the tweet is being misinterpreted and "doesn't at all" say the minister denied that VAC caseworkers were offering medically assisted death to soldiers.
"The minister has been very, very clear," she said."The tweet says it is not a VAC policy,​ never has been and never will be — this was one rogue employee, MAID is not to be brought up with veterans."
That caseworker, she confirmed, is no longer employed.
Veterans are still free to bring up MAID with their caseworkers if they wish, she said, but those cases are now to be immediately forwarded to management.
Meincke, a veterans wellness advocate and podcaster who also testified before the committee on the issue, said MacAulay's tweet was devastating.
Article content
"I warned him to come clean because I'm not going to quit, and it's all going to come out — I guarantee everything's going to come out with solid proof," he said.
"So get out in front of it and tell the damned truth."
Meincke, who spoke with three of the veterans who've come forward, said he found MacAulay's tweet even more confusing considering he was sent a letter from the minister himself apologizing for caseworkers counselling Canadian soldiers to kill themselves.
"Our examination has uncovered four confirmed cases of inappropriate discussion on medical assistance in dying," MacAulay wrote in his letter to Meincke, which was seen by the National Post.
"I understand that other veterans have reached out to you to share their experiences, and I am committed to hearing their stories and doing anything in my power to correct any harm."
Meincke remains unconvinced that either the minister or VAC is taking the matter seriously.
"We do need an external investigation on this," he said.
"We can't have the fox watching the hen house on this."
Another Canadian Forces member alleges Veterans Affairs offered assisted death as 'support'

Veteran Affairs Minister urges soldiers offered MAID to come forward, but is told 'no one' trusts him