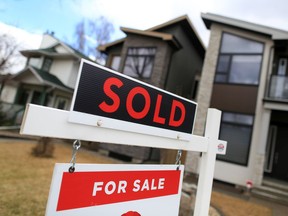 Article content
The Calgary Real Estate Board is expecting stability to return to the marketplace in 2023 after two years of record growth.
Article content
The CREB is forecasting 25,920 sales this year, a dip from 29,672 in 2022. Most importantly for potential homebuyers, a slight drop is also predicted in benchmark prices.
Article content
"With much of the pandemic behind us, 2023 reflects more of an adjustment into more typical conditions and a pause on price gains following 12 per cent growth in 2022," Ann-Marie Lurie, chief economist for CREB, said in a news release. "While other markets in the country are forecasted to see more significant price and sale declines in 2023, Calgary did not face the same gains as those markets, as prices only recovered from the 2014 highs in 2021."
The Calgary market has been affected by interest rates that have risen 400 basis points since March to 4.25 per cent. The Bank of Canada has been trying to cool the real estate market in hopes of curbing inflation.
Article content
Many markets saw a large drop in prices over the past six months. The CREB said Calgary has bucked the trend due to high levels of interprovincial migration to Alberta — much of it from Ontario and B.C. — coupled with high levels of immigration from other countries.
Calgary is attractive for many newcomers due to the largest gain in employment in the province, at 7.67 per cent. The CREB is expecting employment growth to drop in 2023 as well, forecasting one per cent growth with an economic slowdown on the horizon.
Low supply carrying into 2023
Calgary, however, continues to have low housing supply, entering 2023 with 1.68 months' worth of stock. Lurie said this will continue to support prices at the lower end of the market, while values are dropping at the high end of the market where more stock exists.
Article content
Overall, the CREB expects the benchmark price for the city will fall 0.58 per cent across all sectors to $526,263.
Detached homes will see the biggest drop in price at 1.8 per cent, following growth of 9.46 per cent in 2021 and another 14.47 per cent in 2022. Sales are also expected to fall for the second straight year to 15,675, after 17,037 units were sold in 2021 and 15,795 last year — though it will still surpass 2020 levels of 9,949. The benchmark value in the segment was $629,350, with the western part of the city leading the way with a value of $805,833, while the east was at $381,308.
Semi-detached homes are projected to drop by one per cent after growing by 7.26 per cent in 2021 and 11.97 per cent last year, while total sales are expected to fall by 300 units from 2,503 to 2,203. The segment ended the year with a benchmark value of $566,075.
Article content
Row and apartment sales are expected to remain strong. The benchmark for row homes is expected to grow by 0.8 per cent this year, with apartments predicted to grow in value by 1.15 per cent. This follows a year in which row houses hit $355,308 in benchmark value and apartments $271,975.
The report notes record housing starts in Calgary in 2022, with the Canadian Mortgage and Housing Corp. reporting 17,306. However, the construction sector has been hit with a number of challenges, pushing timelines on completion to more than a year.
The CREB report also says much of the new construction in the detached segment is geared toward higher price ranges.
Multi-unit housing will also see more supply, particularly in apartments.
Article content
Surrounding communities seeing similar trends
Communities surrounding Calgary are experiencing similar conditions. Large price gains in the first half of the year were partly mitigated over the final couple of quarters due to inflation and increases to the interest rate, but were buoyed by demand and shrinking supply.
Airdrie ended 2022 with an 11.68 per cent drop in inventory and benchmark prices up 20.34 per cent to $489,550. Cochrane's inventory was down 16.65 per cent but benchmark value was up 16.64 per cent year-over-year to $504,083. Okotoks had a 15.01 per cent drop in inventory while the benchmark price rose 15.65 per cent to $542,908 and Chestermere had a drop in inventory of 6.37 per cent while the benchmark jumped 15.92 per cent to $626,833.
Article content
Calgary's housing real estate set records in 2022

Calgary posts record real estate sales and price increases in 2022

Calgary's real estate market gradually becoming more affordable
High River and Strathmore remain the most affordable communities in the region, but with low housing supply. High River's inventory fell 31.96 per cent to 37 units at the end of last year, though the benchmark was up 14.16 per cent to $407,600, while Strathmore's inventory fell 32.18 per cent to 55 units with the benchmark up 10.54 per cent to $382,958.
Canmore maintains the highest benchmark valuation in the region at $839,175, up 17.40 per cent, while inventory fell 4.36 per cent to 115 units. A detached home in the community carries a benchmark of $1,307,808, up 23 per cent over 2021.
jaldrich@postmedia.com
Twitter: @JoshAldrich03