'In the case of the First World War, family members (of war dead) were never able to visit those graves'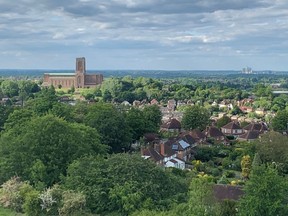 Article content
A prominent Canadian historical group has sent reinforcements for efforts to shield a U.K. memorial to Canada's military sacrifices that is threatened by development.
Article content
The Vimy Foundation, a non-government organization promoting commemorating and preserving Canada's First World War history, is urging authorities in Guildford, U.K., to protect a park dedicated to Canada's fallen in both world conflicts.
Article content
A local activist group says a plan to construct a 124-unit apartment complex on the five-hectare site is a betrayal of the wishes of Calgarian and former Canadian prime minister R.B. Bennett for the land alongside Guildford Cathedral, known as Stag Hill.
"We understand the need for public housing and densification of development, but these are spaces that continue to serve a purpose for public memory," Vimy Foundation executive director Caitlin Bailey said Tuesday.
Article content
"In the case of the First World War, family members (of war dead) were never able to visit those graves."
U.K. group despairs over protecting war memorial to Canadians from development

British Second World War memorial to Canadians threatened by development, say activists
The foundation, she said, sent letters on Monday to Guildford Diocese, which has sold the land for development, and the Guildford borough council urging them to preserve the land. They've yet to receive replies, said Bailey.
The educational foundation has no power to prevent the land's development, said Bailey, "but we just want to remind council this is important . . . we're talking about nearly 100,000 Canadians who died in two world wars."
Article content
She noted Canadian military efforts also directly protected the U.K.
Former Canadian PM wanted land preserved as a memorial
R.B. Bennett, a Calgary lawyer and oilman who served as prime minister from 1930 to 1935, had moved to England and expressed interest in providing moral and financial support in preserving the land as a memorial to Canadian combatants.
Because of his contributions to Britain's air war campaign, Bennett, who lived near Guildford, had been honoured with the title Viscount Bennett of Mickleham, Calgary and Hopewell.
In early 1943, in a passage from the cathedral's archives, the bishop of Guildford wrote of his "vision of that part of the hill being acquired by Canadian gifts and remaining as a permanent memorial to Canada's many associations with us during these war years."
Article content
Its significance as a memorial to Canada's sacrifices in both world wars is also commemorated in a plaque affixed to the cathedral's exterior.
U.K. government agency says park doesn't meet preservation criteria
Friends of Stag Hill (FOSH), which is fighting to preserve the park, had petitioned U.K. government agency Historic England to designate the land for preservation. But the body said last month the park doesn't meet its criteria.
Along with other concerns related to development, including traffic and building height, retaining a tribute to Canada strikes a chord among locals, says FOSH.
A local charity commission has already approved the sale of the land and its fate could be sealed when the development proposal goes before the Guildford borough council's planning commission in March, says the group.
Article content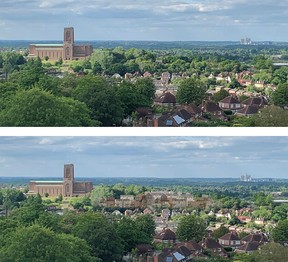 The cathedral says the apartments will provide much-needed affordable housing and that revenue from the land sale will be used for the building's maintenance, but won't say how much was raised.
When a similar proposal was rejected by local lawmakers in 2017, the proposed sale would have raised C$16 million.
'A development sensitive to its special setting and history'
Guildford Cathedral officials weren't able to respond to Postmedia inquiries Tuesday, but have said previously they're fully appreciative of Stag Hill's commemorative importance.
"We appreciate how important the cathedral and its surroundings are to the community, both local and farther afield through its historical connections," said spokesman Matt O'Grady.
Article content
"We believe wholeheartedly that we are proposing a development that is sensitive to its special setting and its history."
The Guildford issue wasn't its jurisdiction because it involves a municipality but "the Department understands the importance that sites such as Stag Hill can have in relation to local military history," Veterans Affairs Canada (VAC) spokesman Marc Lescoutre said in an email Tuesday.
It noted the VAC operates 15 war memorial sites in Europe and has invested $4 million into securing the future of the Juno Beach site in France commemorating Canada's 1944 D-Day landings.
The Vimy Foundation lists among its achievements having the Vimy Ridge memorial placed on the country's $20 bill, the creation of Vimy Place in Montreal and the development of a centennial park in France bearing the foundation's name.
BKaufmann@postmedia.com
Twitter: @BillKaufmannjrn