A severe winter storm battered the East Coast Friday, leading to a storm surge that washed what appears to be slabs of a dead sperm whale onto the streets of New York City.
A Twitter user posted several photos of what looked like sperm whale flesh in the street near Rockaway Beach Boulevard and Beach 116th Street in Queens.
A sperm whale washed up onto Rockaway Beach on December 13 and was scheduled to be necropsied the following day. A necropsy is an animal version of an autopsy that can determine the cause of death or the extent of disease.
The Twitter user speculated that some of the dead whale found earlier this month was what New Yorkers were seeing in the streets after a storm surge from heavy rains and strong winds on Friday.
"In one of those 'Only in Rockaway' scenarios, it appears parts of the sperm whale that was necropsied last week, is now on Rockaway Beach Blvd and Beach 116th Street," the user tweeted. "Can't make this up."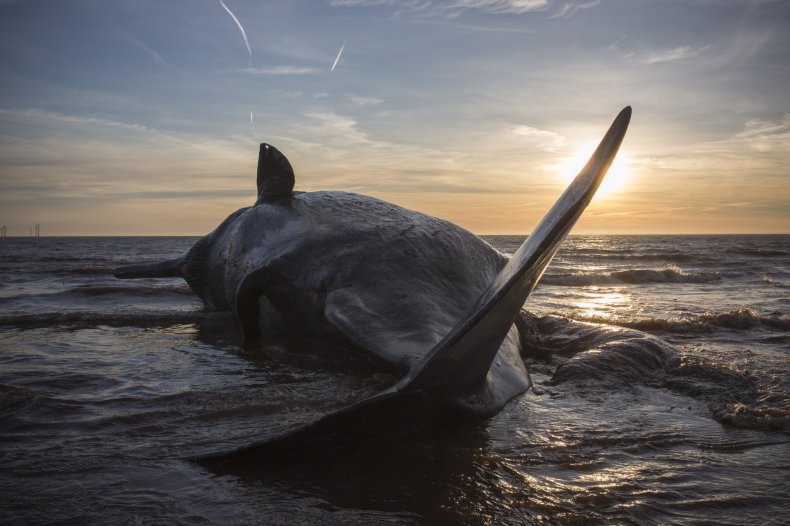 Other Twitter users were horrified and aghast to see the images, and several speculated about how terrible the flesh must have smelled.
"Wow, that is something to see (and smell), I bet," a user commented. "Right there in the business district of Rock Park!"
The pictures posted online showed chunks of whale with scarred skin and a layer of blubber. The parts could have come from the sperm whale that washed up on Rockaway Beach just over a week ago, as they were found only a few miles from where that whale was stranded.
The whale was identified to be a female sperm whale, an endangered species, and died on the shore near Beach 73rd Street. The New York Post reported that while the whale was young, likely between 3 and 5 years old, it was already 30 feet long.
Sperm whales, an endangered species, can reach 52 feet in length and can live more than 70 years.
Patch reported that it was the sixth whale to be stranded in New York since late October, including two other sperm whales. One sperm whale had been found in Southampton and had to be euthanized. Another sperm whale was stranded on Gilgo Beach and was returned to the water.
A team of surfers tried to push the most recent beached sperm whale back into the water, but they were unsuccessful.
Newsweek reached out to the Atlantic Marine Conservation Society for comment.