Administrators have advised against the city creating its own appeals process handling traffic and transit fare evasions tickets.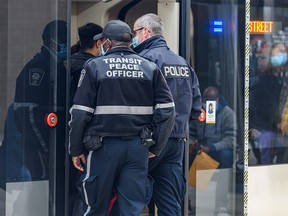 Article content
The city shouldn't create a tribunal to rule on Calgarians' appeals of traffic and transit fare evasion tickets, say city administrators.
Article content
Delays in a backlogged provincial system had been cited as a reason for the city to create its own appeals tribunal.
Article content
In a report going to council on Tuesday, bureaucrats say that responsibility should remain with provincial courts, after the city launched a review of the feasibility of operating its own Administrative Penalties System (APS).
"The most recent financial and operational analysis indicates that there is no demonstrable efficiency or effectiveness to be gained by APS implementation at this time," states the report.
"The City of Calgary can achieve its objective of serving the community by building collaborative relationships with the Government of Alberta and continuing to establish measures that will effectively and equitably support access to justice."
Article content
It also recommends $275,000 earmarked to support the tribunal's creation be returned to the Council Innovation Fund.
Calgary began considering creating the system after the 2018 City Charter brought in under the then-NDP government granted municipalities those powers.
The report notes the city still retains that power but that exercising it would affect other responsibilities.
"The resources that would be required . . . would be drawn from existing organizational capacity," it says.
A goal of an APS — ensuring equitable treatment for vulnerable populations — is already being achieved by bylaw enforcement policies, say city administrators.
Article content
"Alternative dispute resolutions such as referral to the Fair Entry Program have pre-emptively achieved some of the objectives that APS implementation would have supported," they say.
"Administration continues to explore opportunities to expand dispute resolution processes to improve access to justice and streamline prosecutions."
But the report cites delays in the provincial appeals process and says it remains to be seen whether the government's move to more electronic disclosures and remote hearings will reduce a backlog.
"There is a risk that trial delays could pose a barrier to the public's access to justice and undermine the efficiency of bylaw enforcement matters requiring prosecution," they say.
Article content
Last year, the UCP government said it was moving to a system whereby those contesting traffic tickets would go through an online process involving an adjudicator rather than the current traffic court, and pay up to $150 to do so.
They'd also have a reduced window of seven days to file a challenge and face a greater onus to prove their innocence, say those who defend accused drivers.
The province said that would break what it says is court gridlock, while also freeing up police resources and making the process more accessible to Albertans by moving more of it online, including the use of e-tickets.
But following a backlash by critics who condemned the approach as unjustly weighted against appellants by denying them their day in court, the province recanted.
BKaufmann@postmedia.com
Twitter: @BillKaufmannjrn