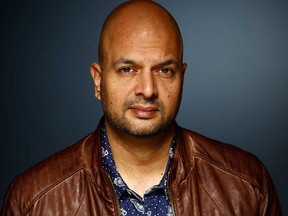 Article content
Life in the food service industry might be stressful and exhausting — but Canadian stand-up comedian Ali Hassan still thinks fondly about his time in professional kitchens.
Article content
"I miss that level of hard work," Hassan told the Star. "I always worried that I was lazy… But that's truly hard work. You're not sitting at a desk. You're on your feet constantly, you're feeding people. I miss that aspect of it."
Article content
The Toronto-based comic — who hits Windsor's Chrysler Theatre on Jan. 28 with his ongoing tour entitled Does This Taste Funny? — estimates he spent 10 years completely committed to the world of catering and restaurants before he went full-time into entertainment.
"I have no regrets about leaving, but I have a tremendous amount of respect for people in that industry," Hassan said.
Nowadays, Hassan draws upon his experiences as a chef for material in his current act — although he also finds plenty of fodder in marriage, fatherhood, and his South Asian heritage.
Article content
"It's definitely a variety of things" Hassan said. "It's my own life, my journey into food. But it's about other challenges, too."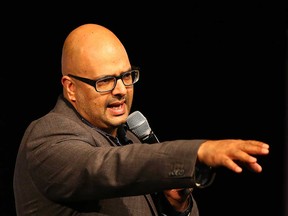 Asked which is more difficult — cooking or comedy — Hassan muses that his need for "instant gratification" is better satisfied by performing, so telling jokes is ultimately more enjoyable and fulfilling for him.
"You tell a joke. You hear the laughter, or you don't," Hassan said. "If you send out food, the plate comes back later and you wonder: 'Did they enjoy it or not?'"
But Hassan also misses the camaraderie inherent in the food business — even when there's a rush of orders and every worker in the kitchen is "in the weeds," as the industry calls it.
"It can be a wild, volatile scene. But there's also beauty," Hassan said. "There's bonding, and there's learning."
Article content
Aussie comedian Jim Jefferies plays Caesars Windsor Feb. 25

Comedian Iliza Shlesinger gets motherly at Caesars Windsor

Steve Martin and Martin Short try to be unrecognizable at Caesars Windsor
One thing the two careers have in common is creativity. Hassan proudly declares himself a non-traditionalist when it comes to cuisine: He's prone to combining recipes and ingredients across cultures.
"I didn't want to be South Asian chef guy. I didn't want to make butter chicken. I didn't want to make saag paneer," Hassan explains.
"One of my favourite things to make was a tandoori chicken frittata. So an Italian dish, but it's got leftover spices in it, cumin seeds, coriander."
"Butter chicken, in my mind, has been done to death."
Article content
Ali Hassan brings his comedy show Does This Taste Funny? to the Chrysler Theatre (201 Riverside Dr. West) on Saturday, Jan. 28.
Show begins 8 p.m. Ticket prices start at $35, available for purchase online at chryslertheatre.com. Call the box office at 519-252-6579.
See more of Hassan's comedy at standupali.com.