In one of the final acts of its majority, the Democrat-controlled House Ways and Means Committee on Tuesday voted to release years of former President Donald Trump's tax returns, ending a years-long legal battle that ended with a U.S. Supreme Court decision late last month to release years of his tax returns to Congress.
The public release of the tax returns—long considered crucial to verifying Trump's income during and leading up to his time in the White House—represents little more than a political maneuver before a Republican majority takes power than as a means of bringing transparency to the only modern president to refuse to voluntarily publicize his tax returns since Richard Nixon.
However, the implications of such a move could be significant. By publicly releasing Trump's tax returns, experts and Republican members of the committee said the House Ways and Means Committee demonstrated that anyone's tax returns could be subject to similar treatment, all but ending individual taxpayers' right to privacy.
"My prurient interest says I should be gobbling this information up," Allan Morrison, an associate dean at George Washington University Law School, told Newsweek. "My sense of concern about taxpayers as a whole makes me very uneasy about this."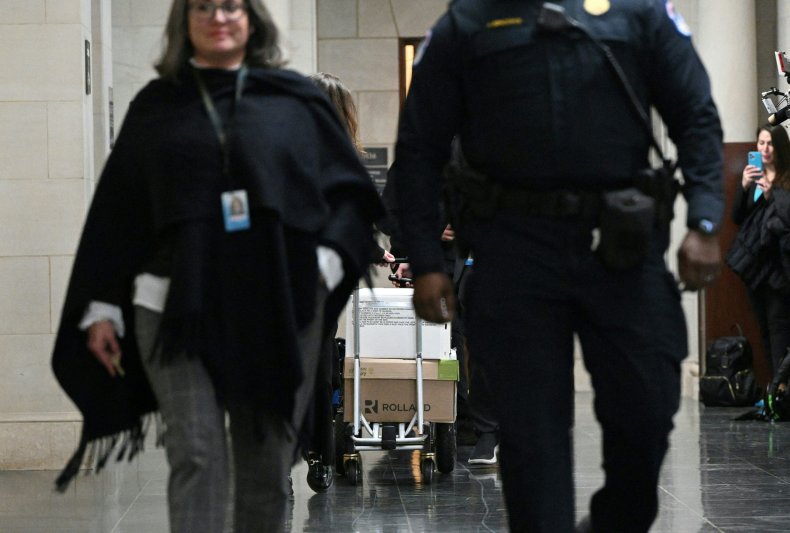 The Ways and Means Committee's authority comes with a century-old provision in the federal tax code that gives congressional tax-writing committees—i.e. the House Ways and Means Committee—the power to review private returns.
While it was, at one point, very easy for any government official to get tax returns, federal laws protecting individual privacy have since been tightened up, making people's tax returns all but confidential information outside of the Internal Revenue Service and Congress.
Trump's tax returns, however, have been another story.
For several years, congressional investigators have been mired in a legal battle with the former president seeking the release of tax returns dating to his days as a candidate leading up to the 2016 election, both to determine whether he received any foreign income that poses a potential conflict or whether he benefitted from tax reforms he championed while in the Oval Office.
It's not a foreign concept to use the law to obtain tax returns from those who refuse to unveil them—especially if there's a compelling interest. The New York Times noted Tuesday that a 1974 tax committee released a bipartisan staff report on Nixon's tax returns based on data it had requested under an earlier version of the tax code.
While the documents were never made public, Morrison noted that Nixon used his position to get people's tax returns for his own purposes, especially against his political opponents.
And in 2014, House Republicans voted to release confidential tax information in efforts to investigate allegations that an IRS official had discriminated against conservative groups in the agency's auditing process.
The difference here, however, is whether there is a compelling interest to release Trump's tax information.
Given that much of Trump's tax information has been leaked previously, it's hard to glean what public interest there is in revealing their contents beyond whether the IRS was appropriately auditing Trump's income—a goal that can be accomplished without releasing his information to the public.
"The problem is not that the ways that the Ways and Means Committee is getting this material," Morrison said. "They certainly should have it, and they shouldn't have to fight for three years to get it. The problem is the question, 'What is the legitimate legislative purpose in making this information public?'"
But there is another pitfall—the potential of a precedent-setting decision that will be hard to run away from, not only under a Republican majority but under any future Congress, which would have "unlimited" power to "embarrass, harrass, or destroy Americans through disclosure of their tax returns," Texas Republican Representative Kevin Brady, the top Republican on the Ways and Means Committee, said Tuesday.
"Ways and Means Democrats are unleashing a dangerous new political weapon that reaches far beyond President Trump and jeopardizes the privacy of every American," he said in a statement prior to the vote. "Going forward, partisans in Congress have nearly unlimited power to target political enemies by obtaining and making public their private tax returns to embarrass and destroy them."
The Democrat-controlled committee debated for about 3 1/2 hours behind closed doors, according to a report from The New York Times, before approving the release of six years of Trump's tax records, in a 24-16 vote. It could be awhile before the information is made available to the public, the report added.