Former Transportation Secretary Elaine Chao finally spoke out against the verbal attacks hurled at her by former President Donald Trump in a statement to Politico on Wednesday, saying that the insensitive remarks "say a whole lot more" about the former president than herself.
"When I was young, some people deliberately misspelled or mispronounced my name," Chao stated. "Asian Americans have worked hard to change that experience for the next generation.
"He doesn't seem to understand that, which says a whole lot more about him than it will ever say about Asian Americans."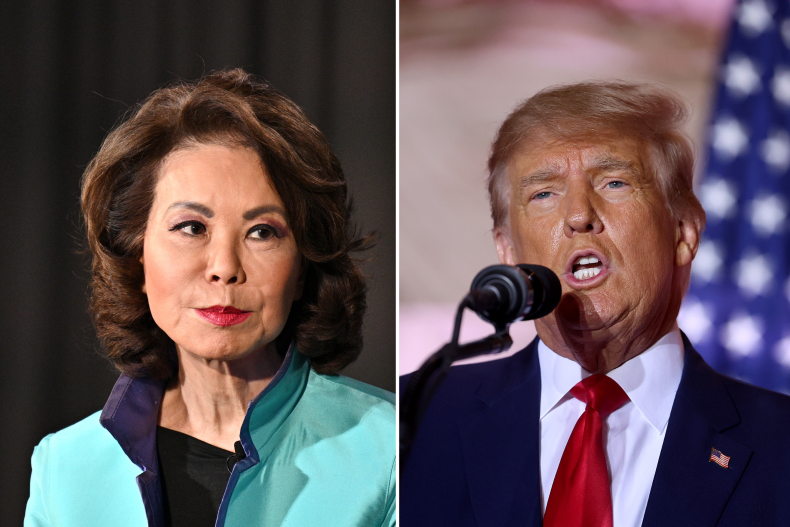 Chao, who was born in Taiwan, said she has been on the receiving end of several racist remarks from Trump since announcing her resignation one day after Trump supporters attacked the U.S. Capitol on January 6, 2021. Among one of the most repeated is Trump's nickname for Chao, often referring to his former employee as "Coco Chow," a term first coined by the former president in September 2022 in a Truth Social post.
In the past, however, Chao has chosen not to respond to the attacks, telling CNN in December 2022 that Trump was only "trying to get a rise out of" people by using the "racist taunt."
"He says all sorts of outrageous things," Chao said when asked if she'd like to respond to a recent insult from Trump. "And I don't make a point of answering any one of them."
At the time of her interview with CNN, Trump had called out Chao and her husband, Senate Minority Leader Mitch McConnell, claiming she and McConnell have "BIG relationships with China."
On Wednesday, Trump spokesperson Steven Cheung told Newsweek in a statement that "people should stop feigning outrage and engaging in controversies that exist only in their heads" when asked for comment on Chao's response.
"What's actually concerning is her family's deeply troubling ties to Communist China, which has undermined American economic and national security," Cheung added.
Other recent attacks include the former president accusing McConnell and Chao of creating "unnecessary turmoil" within the GOP for passing the bipartisan Infrastructure Act. In a Truth Social post this month, Trump complained that the Senate minority leader and "his 'wife,' Coco Chow, who is a sellout to China," were making it "difficult for everyone else by constantly capitulating to Hopeless Joe Biden and the Democrats."
Trump also dragged Chao into his attacks on President Joe Biden this week after Fox News on Sunday reported that some of the classified documents found in Biden's possession had been transported to a Washington, D.C., facility in the Chinatown neighborhood.
"Does Coco Chow have anything to do with Joe Biden's Classified Documents being sent and stored in Chinatown?" Trump posted to Truth Social on Monday. "Her husband, the Old Broken Crow, is VERY close to Biden, the Democrats, and, of course, China. He gives them all whatever they want!"
During her time in Trump's administration, Chao stood by her former boss even when her husband was under fire from Trump, Politico wrote in its report Wednesday.
However, Chao reached her "breaking point" and stepped down after the January 6 siege on the Capitol, saying the attack "deeply troubled me in a way I simply cannot set aside," read the report.