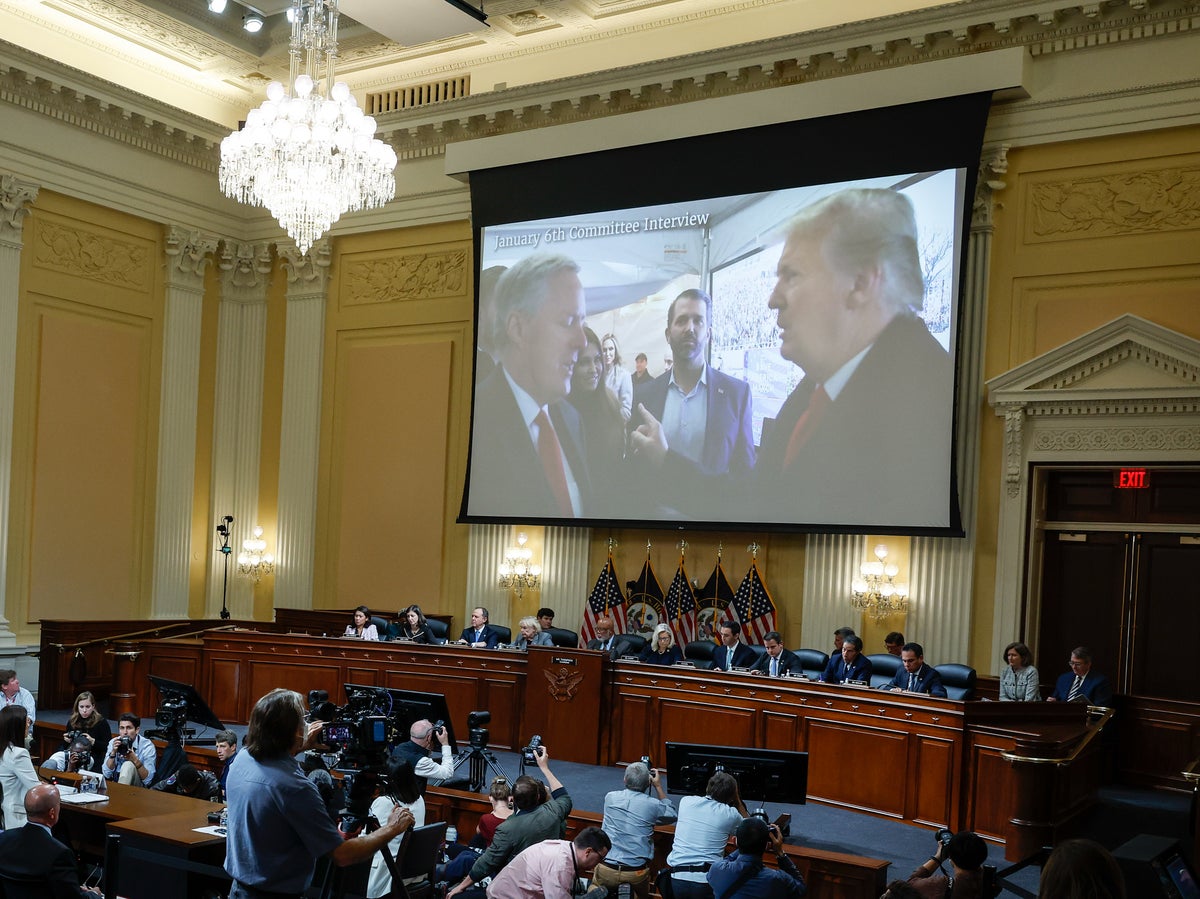 Former White House aide Cassidy Hutchinson told the House January 6 committee that an attorney paid by former president Donald Trump's political organisation took great pains to pressure into testifying in a way that was favourable to the ex-president and his allies, including pushing her to say she didn't recall things that might have been damaging to Mr Trump, working to find her employment while her testimony was being scheduled, and even relaying the substance of her testimony to the former president himself.
In a transcript of a deposition she sat for with the panel after retaining new counsel and ditching the lawyer, Stefan Passantino, who had at one point admitted to her that her defence was being funded by Mr Trump's allies, Ms Hutchinson told the January 6 committee that Mr Passantino had pushed her not to answer truthfully when asked about incidents, telling her that she could answer "I can't recall" without committing perjury.
According to Ms Hutchinson, her attorney told her: "They don't know what you know, Cassidy. They don't know that you can recall some of these things. So you saying I' don't recall' is an entirely acceptable response to this".
She also recalled how during breaks in her first appearance before the panel, her lawyer told her that committee members did not "know that there is something" when she had said she did not recall certain things.
"You're doing great … we're not going to give them anything because this is not important," he said, according to Ms Hutchinson.
She also said Mr Passantino — who served as a top ethics official in the Trump-era White House Counsel's Office — told her that the goal of her appearances before the panel was to make it seem as if she had been merely a "secretary" despite her former status as a highly-placed senior aide to Mark Meadows, Mr Trump's final White House chief of staff.
The transcript of Ms Hutchinson's 14 September appearance before the committee deals largely with the period she was represented by Mr Passantino, and the Trumpworld attorney's efforts to keep her in the fold.
That pressure against Ms Hutchinson took numerous forms, including by dangling job offers at Trump-linked entities.
She told the panel that her lawyer had promised that she would be "taken care of" and not to worry about finding work herself.
In a conversation she recounted as having taken place on 1 March, Mr Passantino told her: "We're gonna get you a really good job in Trump world" and discouraged her from applying to jobs at non-political entities outside the ex-president's orbit.
"You don't need to apply other places. We're gonna get you taken care of. We want to keep you in the family," he said, according to Ms Hutchinson.
Two days later, she recieved another call from her lawyer, who told her she had spoken to two other Trump allies, Justin Clark and Jason Miller.
She told the committee that he'd said Mr Clark and Mr Miller could help her find work.
"He called me about the job opportunities, and in the call he said something to the effect of, 'Justin and Jason' – Justin Clark, Jason Miller — 'know your situation. They know you're loyal. They want to take care of you. Reach out to them. They have good job opportunities for you. I think you'll be really happy. Just reach out to them soon'".
Mr Miller, a former Trump campaign adviser who now runs the right-wing social networking site Gettr, eventually set up an interview for her at his company for the day after her second interview with the panel on 8 March.
Ms Hutchinson also testified about how another Trump ally, ex-Florida attorney general Pam Bondi, also reached out to her to tell her there was work available with American Conservative Union head Matt Schlapp.
She recounted the contents of a text she'd recieved from Ms Bondi, which read: "Susie, Matt Schlapp, and I had dinner with POTUS at Mar-a-Lago tonight. Call Matt next week. He has a job for you that we all think you would be great in. You are the best. Keep it up".
Ms Hutchinson told the committee she never contacted Mr Schlapp because she wasn't familiar enough with his "operation".
But the genorosity the ex-Trump aide was being shown by the former president's associates didn't last.
After the select committee included multiple citations to her testimony in a court filing made as part of a lawsuit brought by Mr Meadows against the panel, Ms Hutchinson recalled how Mr Passantino had told her he hadn't heard anything about Mr Trump being "mad" about what was mentioned in the legal brief, though he admitted two ex-White House counsel attorneys — Pat Cipollone and Pat Philbin — "weren't happy" about "a few" things she'd mentioned in her testimony.
Yet the job she'd been offered by Mr Miller's social network, Gettr, was rescinded after the committee used her words against her old boss, Mr Meadows.
Ms Hutchinson told the panel Mr Miller told her personally, and said the explanation may have had to do with Mr Meadows' displeasure with her — or with Mr Miller's desire to stay on Mr Trump's good side after his own testimony was cited in the same legal brief.
"They said, 'There is a lot going on right now, and we just want to make sure that everything is settled in Mark's world before we, you know, continue having conversations with you,'" she said.
Asked to speculate as to what that could have meant, she said Mr Miller " is somebody who always works to really stay in Trump's good graces".
"So think that, in their minds, had the President somehow connected that Cassidy Hutchinson – she had some of her interviews cited in and this thing kind of ticked the President off, because he was ticked off at Jason, let's not hire Cassidy because we don't want more of a reason for the President to think that Jason's working against him," she said.