Barges will be used to ferry goods across the Fitzroy River and a crucial bridge will be replaced as part of a state government plan to reconnect the East and West Kimberley after devastating floods.
Key points:
A new bridge will be built at Fitzroy Crossing
A barge system and low level crossing will be installed to reconnect the East and West Kimberley
Road trains have had to take detours up the middle of Australia
Transport Minister Rita Saffioti outlined the plan on Monday to address widespread damage to the only sealed highway through the region.
The strategy involves installing a barge system across the Fitzroy River which will initially be operated by tugs before a cable system is installed. 
Pontoons will allow the barge to operate at different water levels.
The barge system will be used while Main Roads constructs a low level floodway crossing, a more permanent option until a new bridge is built.
Main Roads will brief truck drivers and freight companies on how to best to use the barge system, given multiple trips will be needed for those carrying heavy loads.
Road trains currently freighting goods from Perth to the East Kimberley are diverting through South Australia and the Northern Territory.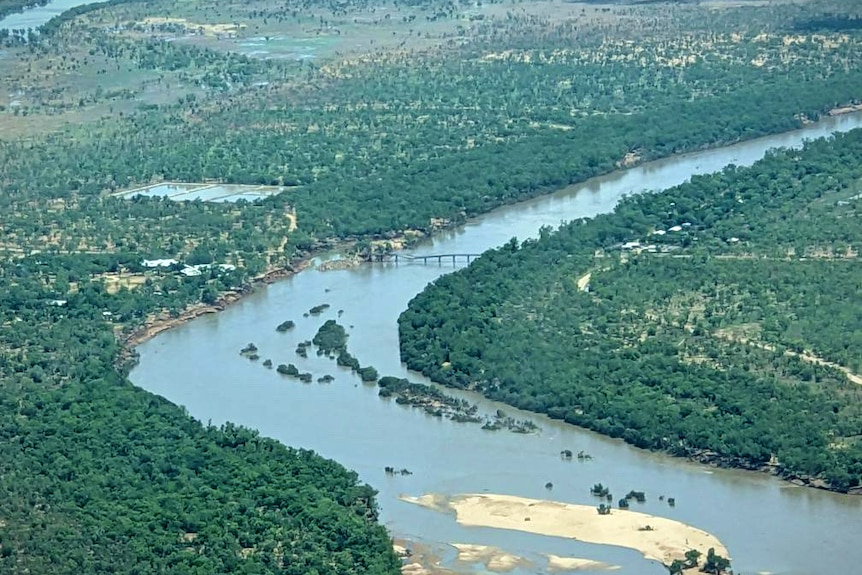 Main Roads hopes to have Broome reconnected with Fitzroy Crossing and Derby in four weeks when a temporary gravel road is expected to be complete. 
The "side track" would enable a free flow of traffic while 10 kilometres of damaged road is rebuilt in the dry season.
Ms Saffioti said more rainfall during wet season could disrupt works.
"This will be the first time a barge system like this has been operated in this part of our state, so the final configuration and operation will depend largely on the conditions on the ground," she said.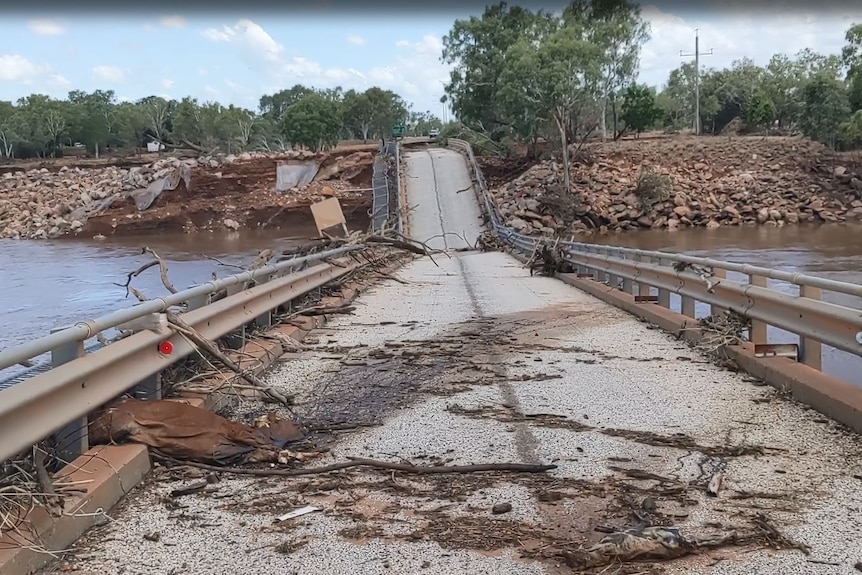 Main Roads said the new Fitzroy River bridge would be higher, longer and dual lane as opposed to the current single-lane bridge.
Member for Kimberley Divina D'Anna said the construction of a new bridge would be positive for the region.
"While this has been a devastating event for the Kimberley, there are opportunities for our community to benefit from the training and employment that will come with the rebuild effort," she said.
While Broome and Derby remain cut off by road, the Transport Minister said the government would increase a subsidy to regional carrier Aviair.
The extra financial assistance means the number of flights between the two towns would dramatically increase up to potentially 35 return trips a week.
Ms Saffioti said the government responded to already high demand after the floods.
"The only way in and out of Derby currently is by air, so the decision to offer more subsidised flights is critical for the local community," she said.