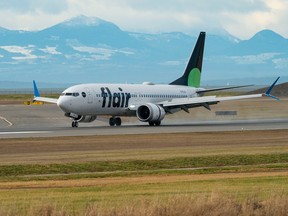 Article content
Flair Airlines is suspending its super-cheap Windsor to Montreal airline service effective Feb. 6.
Article content
The twice-weekly flight service was only launched last July. As recently as the fall, the budget airline said it would continue the deeply discounted direct flights to Quebec's largest city uninterrupted into 2023.
Article content
The Edmonton-headquartered company wouldn't respond to questions on what the reason might have been for the route discontinuation, but it left open the possibility the bargain flights — advertised for as low as $29 one-way — could be resumed at some future date.
"The airline has made the decision to stop its service to Montreal from Windsor for the time being," a Flair spokesperson told the Star in an email Monday.
Meanwhile, the weekly Flair flights between Windsor and Tucson, Ariz., that began Dec. 1 continue, and the previously announced resumption of direct summer flights to Halifax will resume June 7.
Article content
"Flair is committed to Windsor. We look forward to continuing service from Windsor, at the lowest fares on offer," the spokesperson said.
Passengers who had already booked tickets for flights that are no more "will receive full refunds." No word, however, on any compensation for disrupted travel plans, like hotel or connecting-flight bookings, due to the suddenly cancelled route.
Windsor International Airport CEO Mark Galvin said he was notified last week of Flair's decision. He said it's up to YQG's airline partners to divulge the reasons for any route or schedule changes, as well as to notify the public and its customers about them.
Despite the negative news, both Galvin and the company spokesperson said local air travellers will be hearing some good news in the near future.
Article content
"Stay tuned, we've got something in the works with Flair," said Galvin.
And while it seems that Windsor-Montreal just didn't work out, at least for now, the opening of direct flights to the East Coast appears to have been a better business decision. Flair Airlines, which announced its presence in Windsor only last spring, will be expanding last summer's twice-weekly flights to Halifax to a thrice-weekly schedule starting this June.
Flair, which bills itself as Canada's only independent "ultra low-cost carrier," has been expanding aggressively, in part to address what the airline industry believes is a pent-up demand for more affordable air travel after nearly three years of a global pandemic. This summer, the company will have seven new aircraft enter into service, bringing its fleet to 27 jets.
Article content
"Obviously, we want everything to be successful," said Galvin, adding he's in constant conversation with the airlines to draw more traffic and new routes to Windsor. "We're looking forward to new destinations."
The low point was 2020 when, as of the start of COVID-19, YQG was essentially shut down to commercial flights for months.
Windsor airport flight numbers return to pre-pandemic levels

Flair Airlines, Sunwing announce flights out of Windsor's airport
Currently, two daily flights are offered by both Air Canada, to Toronto Pearson International, and by Porter Airlines, to Billy Bishop Toronto City. Sunwing Airlines offers three resort flights a week to Cuban destinations and a fourth flight to Mexico from YQG. Later in the spring, WestJet resumes its direct-flight summer service between Windsor and Calgary.
Pre-pandemic, Air Canada also tried a Windsor-Montreal direct schedule but it too was discontinued. Glavin said it's not uncommon for airlines to "test markets, see what works."
While there's pent-up demand, he said the air travel sector is "still in recovery mode" from the COVID-19 global economic blow, including on airline industry staffing, particularly a reduced supply of pilots and flight crews.
dschmidt@postmedia.com