"There are cost increases coming, and we expect that some of these cost increases will be reflected at retail," Eric La Flèche said.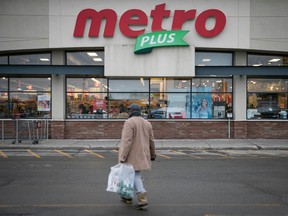 Article content
Metro Inc. customers should brace for higher prices in the coming weeks after a company-imposed "cost blackout" ends next week, chief executive Eric La Flèche said.
Article content
Quebec's biggest supermarket and pharmacy chain operator received about 27,000 supplier requests for price hikes of 10 per cent or more on dry goods in the fiscal year that ended in September, triple the normal amount, La Flèche said Tuesday. Metro announced in October it would hold food prices steady over the holiday period through the start of February.
Article content
"There are cost increases coming, and we expect that some of these cost increases will be reflected at retail" starting in February, La Flèche told reporters Tuesday during an online briefing after the company reported improved fiscal first-quarter results and announced yet another dividend boost.
"Discussions are ongoing and we are negotiating hard, but the situation is that some suppliers are insisting and will obtain price increases if we want to continue to have access to the merchandise," he said. "We are going to do our best to make sure that price increases are gradual and progressive to protect prices as much as possible. Unfortunately, inflation is continuing."
Article content
Food prices have been among the biggest contributors to Canadian inflation since the start of the pandemic, triggering complaints that supermarket chains are guilty of "greedflation."
Canada's Consumer Price Index rose 6.3 per cent year-over-year in December, fuelled by an 11 per cent jump in prices for food purchased from stores. Food inflation hovered around the 11 per cent mark during the last five months of 2022, Statistics Canada said last week.
La Flèche dismissed the accusations of greedflation, calling them "unproductive, unconstructive and not true."
"Food inflation is a worldwide phenomenon," he said. "It affects the entire supply chain. Suppliers, manufacturers, transformers have all been affected, and they have all increased their prices to us. Our cost of goods has gone up significantly, and that's why retail prices have gone up."
Article content
"We're not happy with 10 per cent cost inflation. It's not good for anybody."
No supplier has stopped shipments to Metro during the price negotiations, La Flèche said. A dispute over pricing last year resulted in chips and snacks maker Frito-Lay halting shipments to Loblaw, Canada's biggest grocer, for several weeks.
"We have not cut relations with any vendors," the Metro CEO insisted. "We have found solutions and negotiated in good faith increases that have allowed us to get access to merchandise. We are a sizable company, but when we are dealing with multinational consumer packaged goods companies, in the current period where the demands on their production are high, if we want access to the merchandise we don't necessarily have the big end of the stick all the time."
Article content
Inflation has led many shoppers to abandon conventional supermarkets and flock instead to discount stores such as Super C, La Flèche said. Average weekly sales at discount stores now exceed those of conventional supermarkets, the CEO said.
As a result, Metro is accelerating its development plan in discount, with six store openings planned in fiscal 2023, La Flèche said. Metro operated 241 discount locations at the end of its latest fiscal year, representing about one-quarter of its total store count. The retailer doesn't disclose sales for each of its banners.
Persistent inflation is also causing an uptick in theft.
"It's a recurrent theme with higher inflation that there's a little more theft going on," La Flèche said, declining to provide specific figures. "It requires more attention, more management systems and people-hours."
Article content
On Tuesday, Metro reported an 11 per cent jump in fiscal first-quarter adjusted net earnings to $237.6 million. Revenue in the quarter ended Dec. 17 rose 8.2 per cent to $4.67 billion, while online food sales soared 40 per cent.
Metro also announced a 10 per cent climb in its quarterly dividend, to 30.25 cents a share. This marked the 29th consecutive year that Metro has boosted its payout to shareholders, La Flèche said.
Food basket inflation in the latest quarter was 10 per cent, unchanged from three months earlier, Metro said. As the fiscal second quarter begins, "market challenges and inflationary pressures persist," the company said.
Metro isn't passing on all cost increases to consumers. Its gross margin — the difference between the retail price and the cost of goods sold — dropped to 19.6 per cent in the first quarter from 19.9 per cent in the same period a year ago, Metro said Tuesday.
ftomesco@postmedia.com
Top Metro executives see 13.7% increase in bonuses

Metro says its holding prices steady as usual this winter in wake of Loblaw campaign

Competition watchdog to probe grocery sector amid rising food prices