Republican Representative George Santos is again caught in hot water over his campaign's finances after additional filings this week raised questions regarding the identity of the treasurer for the congressman's campaign.
According to a report from ABC News, several fundraising committees associated with Santos filed amendments to the Federal Election Commission (FEC) on Wednesday identifying the new treasurer.
However, the treasurer listed on the amended statements—veteran campaign finance treasurer Thomas Datwyler—denied ever working with Santos' campaign in a statement to ABC News.
"On Monday, we informed the Santos campaign that Mr. Datwyler would not be serving as treasurer," Datwyler's attorneys told the outlet. "It appears that there's been a disconnect between that conversation and the filings today, which we did not authorize."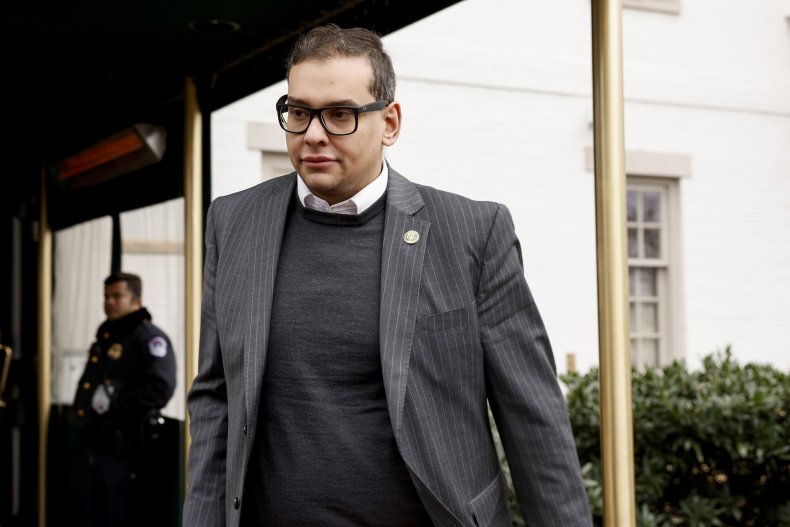 Wednesday's report arrived just a day after Santos filed his own updated federal finance report to the FEC, in which the freshman lawmaker unticked a box that indicated a $500,000 campaign loan had come from the "personal funds of the candidate," raising concerns over the origin of the massive contribution.
Another amendment filed by Santos on Tuesday indicated that a $125,000 loan his campaign received on October 26 was not out of "personal funds," but Santos again failed to explain the source of the money.
Santos has faced several calls to resign from Congress after reports emerged that he lied about much of his background while running for office in the fall, including where he attended college and his work history. The New York Republican, however, has repeatedly told reporters that he will not step down from office.
Some fellow Republican lawmakers have also chosen to walk the line about Santos' future in the House chamber, including House Speaker Kevin McCarthy, who previously said that Santos will have to go through the House Ethics Committee if there is a "concern."
According to a report from NBC News, McCarthy repeated his opinion on Santos during a press conference Wednesday, telling reporters: "If for some way when we go through Ethics that he has broken the law, then we will remove him, but it's not my role."
On Wednesday, New York Representative Ritchie Torres, a Democrat and vocal critic of Santos, repeated his calls for Santos to resign following the ABC News report.
"George Santos' campaign reportedly falsified its latest campaign disclosure, falsely claiming to have Thomas Datwyler as its new Treasurer with a fraudulent signature," Torres tweeted.
"The lying and law-breaking knows no limit," he added. "R E S I G N !"
Adav Noti, senior vice president and legal director of watchdog Campaign Legal Center, told ABC News on Wednesday that confusion over Datwyler's involvement in Santos' campaign "is a very, very strange situation because those amendments that were filed today are electronically signed, or at least they say they're electronically signed, by the new treasurer."
"I don't really understand how this could have happened," Noti added. "It's completely illegal to sign somebody else's name on a federal filing without their consent. That is a big, big no-no."
Newsweek has contacted Santos and McCarthy's offices for comment.