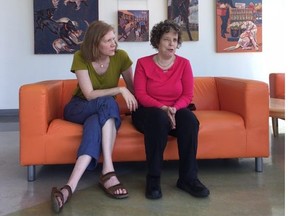 Reviews and recommendations are unbiased and products are independently selected. Postmedia may earn an affiliate commission from purchases made through links on this page.
Article content
It took input from three artists and three dogs to create Lunchbox Theatre's latest show, Raising Stanley/Life with Tulia which runs in the Vertigo Studio Theatre from Feb. 1-19.
Article content
Paintings of guide dogs by visual artist Karen Bailey provide the setting and ambiance for the stories and memories of blind storyteller Kim Kilpatrick that Lunchbox Theatre's artistic director Bronwyn Steinberg has woven into a play that has been touring Canada since 2019.
Article content
The main subjects of the show are Stanley, the first guide dog Bailey raised, and Tulia, Kilpatrick's fourth guide dog and one Bailey painted. Ginger, Kilpatrick's current companion, will join her onstage at Lunchbox.
Kilpatrick and Bailey met in Ottawa in 2010.
"Karen was thinking about getting her first guide puppy to raise. A friend of mine suggested she come and hear my stories about my life with my guide dogs. I was doing a show in a café at the time. We talked a lot and kept in touch and she eventually painted me and Tulia," says Kilpatrick.
Article content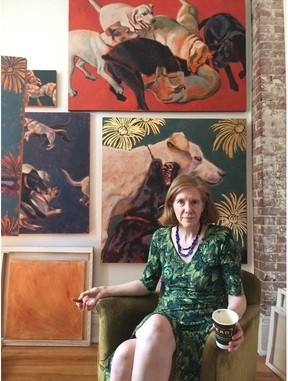 Bailey recorded her two years with Stanley through a series of paintings before Stanley entered the guide dog training program and, in 2012, Kilpatrick asked if she could use some of the paintings to accompany her storytelling.
"Three years later, Karen and I began to talk seriously about creating a show using more of her paintings for my stories about Tulia and my previous guide dogs. At this time, Bronwyn was working at the National Arts Centre and she agreed to help us create the show."
Raising Stanley/Life With Tulia was a hit in Ottawa and travelled to Toronto, Victoria, Winnipeg and back for more engagements in Ottawa. The show's momentum came to a halt with the arrival of the pandemic.
In those two years, Tulia retired and Kilpatrick got her new dog, Ginger.
Article content
"Tulia loved being on stage. She was a real ham and a real audience charmer. Ginger is far more serious. Being in the show is a job for her but she is starting to loosen up a bit. Tulia was like that kid in school who sits in the front row and always waves her hand wanting to answer a question. Ginger is like the kid sitting at the back who says nothing until she is asked but then could talk endlessly on the subject because she is so well informed.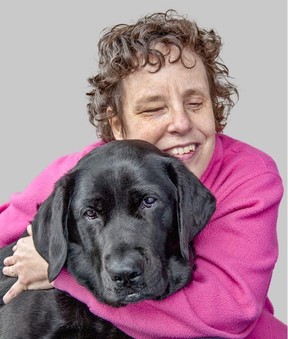 "Tulia would roll over for a belly rub at the least provocation but it took Ginger a good four months to show that silly side. Every guide dog has a distinct personality, just as we do. I'm much more like Tulia than Ginger."
Kilpatrick says audiences find her shows fascinating because "most people don't really understand the dynamic of a blind person and their guide dog. They seem to think the dog knows everything and we just follow around. It's nothing like that. It is a real team effort. I put as much into our relationship as Ginger does because the dog doesn't know everything."
Article content
Kilpatrick says people don't need to be dog lovers to come to the show because what she has to say about blindness is equally fascinating and entertaining but adds "they might just walk out of the show a dog lover. That's as much Ginger's job as mine."
Raising Stanley/Life With Tulia runs Tuesdays through Sundays at noon with an additional 6:30 p.m. show on Fridays and a 4 p.m. show on Saturdays. Because Kilpatrick is immunocompromised, anyone sitting in the front two rows must be masked and there will be fully-masked shows on Feb. 7 and 14 at noon. Tickets range from $21 to $31 and are available in advance at lunchboxtheatre.com or at the door.