Article content
Beauty products from two Calgary warehouses were seized and online sales were stopped Wednesday after Health Canada recalled them for posing serious health risks.
Article content
The four products, sold primarily online, were labelled as anti-aging/anti-acne cream, containing tretinoin, and skin-lightening cream, containing both hydroquinone and tretinoin.
Article content
The Government of Canada has declared hydroquinone as toxic and says it can cause skin discolouration that in some cases can be disfiguring. Health Canada does not recommend it for use on children, people who are pregnant or breastfeeding and on people who have had cancer. In laboratory animals, long-term exposure has been associated with cancer.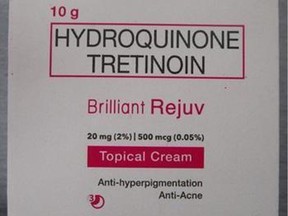 Tretinoin is a prescription drug used to treat acne that "can cause redness and peeling, so should not be used near the eyes, mouth or nose. These products can cause birth defects if used while you are pregnant or trying to become pregnant." Using products that contain both tretinoin and hydroquinone can increase the side effects of tretinoin. 
Two businesses were listed in Health Canada's recall: Beauty Lounge Canada and Project Glo Up/Glowify. Neither company has active social media pages or websites. 
In an emailed statement, Health Canada said "consumers in possession of those products should stop using them and consult their health care professional if they have health concerns. They can also report these or any unauthorized health products to Health Canada."
ocondon@postmedia.com