Quebec aircraft manufacturer being sued by two former suppliers who said they lost millions due to cancellation of luxury business jet program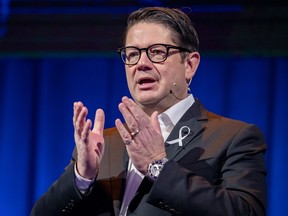 Article content
Éric Martel, who put the Learjet 85 luxury jet development program on pause in January 2015 while president of Bombardier's business aircraft division, said he was confident the pause would last two years, as he had recommended, and that the program would be restarted rather than completely abandoned.
Article content
Martel, who returned as Bombardier's president and CEO in 2020 after leading Hydro-Québec for five years, was on the witness stand Wednesday in Quebec Superior Court to defend the actions of the aircraft manufacturer, which is being sued by two of its suppliers, Winnipeg-based Cormer Group Industries and the French company AviaComp.
Article content
Bombardier built a plant in Querétaro, Mexico, in 2010 to manufacture the Learjet 85 fuselage and Cormer obtained a contract from the Quebec aircraft manufacturer to supply components. Bombardier required Cormer produce these components in Querétaro, and Cormer inaugurated its plant on Jan. 14, 2015, across the street from Bombardier's. Several Bombardier representatives participated in the inauguration, but the very next day, the Quebec multinational announced the "pause" of the Learjet 85 project and then, in October 2015, definitively scrapped the project, abandoning its suppliers at the same time.
Article content
Cormer is claiming $12.4 million with interest from Bombardier in compensation, while AviaComp is claiming $4.2 million with interest. In the latter case, the French firm had already manufactured parts for the aircraft.
Martel, who left Bombardier in May 2015 for Hydro-Québec, said he did not expect the project to be abandoned definitively in the months following his departure.
"In all good faith, according to my own expertise and that of my teams, when I left we were all convinced that with a two-year break, we had the people, the money to succeed in developing the (Learjet 85) and to put an aircraft into service in 2017 and (an improved version) in 2020."
Martel was testifying the day after Bombardier chairman Pierre Beaudoin, to whom Cormer's lawyer Alexander De Zordo had shown a 2012 strategic plan in which scenarios of pausing and abandoning the project were mentioned. Beaudoin, however, had maintained that he had never been made aware of pause scenarios before a board meeting in October 2014 where Martel had submitted this hypothesis among others, without however making a recommendation at that time.
Article content
Martel, for his part, says he was not aware of this plan. When he took office as president of the business aircraft division in January 2014, the current project was following a strategic plan that called for its development and the entry into service of a first model in 2017 and a second, more sophisticated model in 2020. The company still believed in a recovery of aircraft sales in the "light aircraft" category, to which the small luxury aircraft belonged, at a retail price of $17 million. Before the economic crisis of 2008-09, this market reached 200 aircraft per year. But since 2009, this market has never exceeded 50 aircraft sold per year, the total number Bombardier was hoping to sell.
Martel quickly realized the business plan, which targeted 50 sales per year, wouldn't work: "This market never came back. It stayed at 50 aircraft. … It was a bit of a mystery to me and to the industry," he told Judge Thomas Davis.
Article content
Bombardier, which had expected to receive orders for the Learjet 85, had received none in 2013 and was not expected to receive any in 2014 either, the worst-case scenario imaginable that flouted all forecasts.
"Honestly, that category completely turned our models and our understandings of the market, of what has happened historically," he said.
Martel had to consider both pause and abandonment scenarios shortly after his arrival, but he preferred the former, a preference he had expressed as early as July 2014 in an email to a collaborator, where he wrote: "I was thinking about the pause scenario. I was thinking that if we kept about 50 key people to be able to protect the program and continue to make improvements to the product like, for example, weight reduction … we could probably get by in total with about $30 million in 2015 and $30 million in 2016."
Article content
Yet, he testified, the company was not there yet. Bombardier still intended to produce the aircraft, and in September 2014 asked its suppliers, among other things, to reduce their prices, a request that was met with "a non-answer," he acknowledged.
At the end of the following month, shortly after his boss Beaudoin maintained in an interview that the Learjet 85 was still in the plans despite an uncertain market, different scenarios were presented to the board of directors, ranging from keeping the program as is to abandoning it, finding a partner or putting it on hold. The board asked Martel and his team to study the issue thoroughly and come back with a recommendation in January.
De Zordo asked if Cormer and the other suppliers had been notified of these scenarios: "No, we don't want to confuse the issue," Martel said.
Article content
"There's no one who is informed of any decisions or scenarios until we make a decision in 2015," he later added.
So the recommendation to pause the program was passed on to the board of directors, which endorsed it on Jan. 14, 2015, as Cormer was opening its plant, and it was announced the next day.
Martel maintained, however, that this decision should not lead to the abandonment of the program: "The pause option allows us to buy time. The recommendation was to pause the program. We were not cancelling it, that was clear," he said again.
"We wouldn't have spent $30 million just for the sake of spending $30 million if we didn't think we could come up with something. … In good faith we seriously evaluated what we needed and put the resources in place. I don't know what happened next, though." The decision to abandon the project came in October 2015, five months after Martel left for Hydro-Québec.
Article content
Martel explained that Bombardier had then given a new vocation to its plant and that the suppliers who had set up shop around it were growing. He said that Bombardier always acts as a "good father" with its stakeholders. However, he said he was not aware Cormer had to close its plant and liquidate the equipment before it could manufacture a single part.
Pierre Beaudoin explained on Tuesday that the company had suffered a dry loss of $2.6 billion on the Learjet 85 project.
Bombardier's Pierre Beaudoin testifies in lawsuit over Learjet 85 cancellation

Bombardier pulls plug on Learjet, will cut 1,600 jobs — 700 in Quebec

More Bombardier news