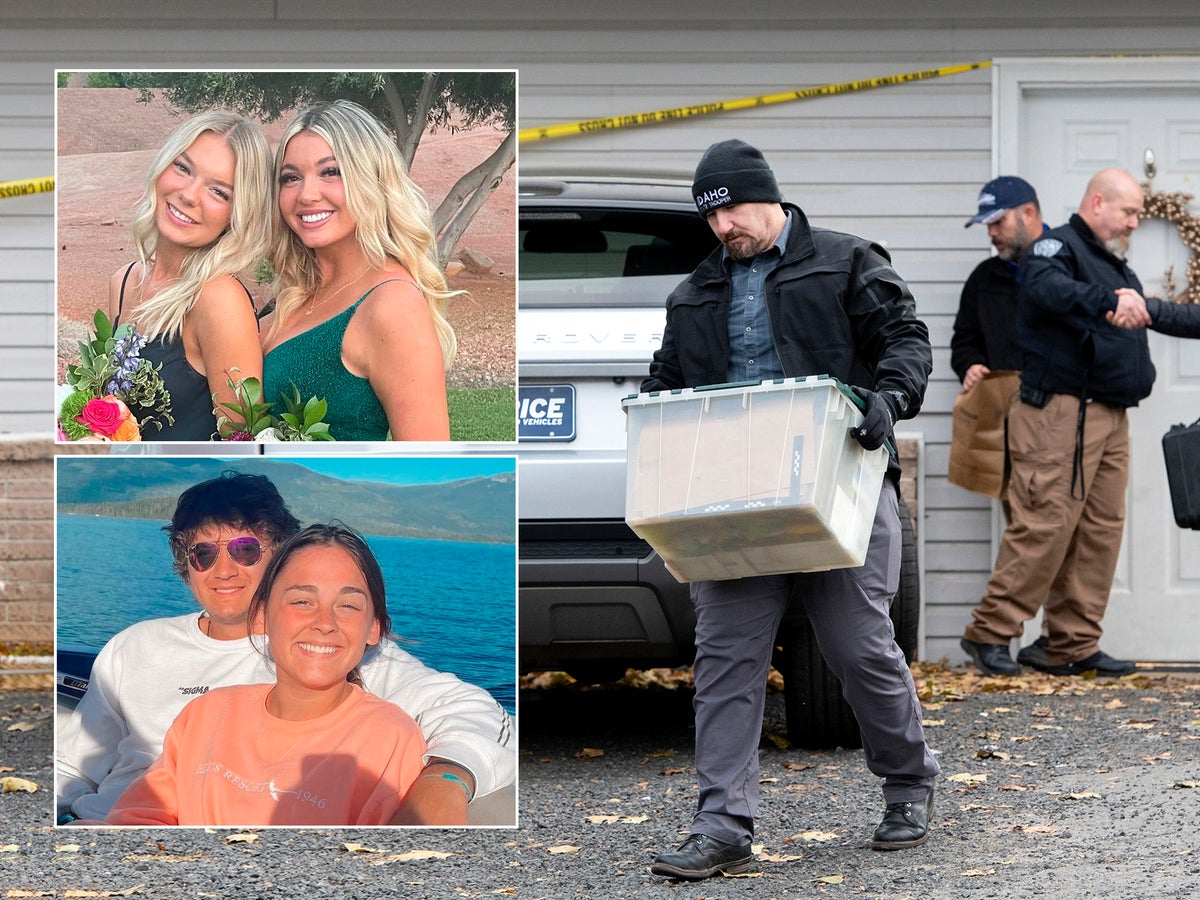 Father of Idaho murder victim says 'means of death' do not match
New surveillance footage has come to light showing two of the slain University of Idaho students walking through downtown Moscow with a man as they discuss an unidentified individual named "Adam" just hours before they were brutally murdered.
The video, obtained by Fox News, captures Kaylee Goncalves and Madison Mogen with what appears to be the same man known as "hoodie guy" who they were with when they stopped at late-night food spot the Grub Truck. Police have already ruled this man out as a suspect.
In the video, Goncalves appears to ask Mogen: "Maddie, what did you say to Adam?"
"Like, I told Adam everything," a second female voice responds.
Goncalves and Mogen got a ride home from the food truck, arriving at their student rental home at around 1.56am on 13 November.
The two best friends, their roommate Xana Kernodle and Kernodle's boyfriend Ethan Chapin were stabbed to death in the home at around 3am or 4am. The killer remains at large.
Goncalves' father Steve Goncalves said that investigators were already aware of the footage and that the individual named Adam is not believed to be connected to the killings.
1671429600
Half of murders go unsolved in America
It is now over a month into the investigation and law enforcement officials appear to be no closer to catching the killer.
While the victims' families are voicing a lack of confidence in police abilities, Moscow Police Chief James Fry continues to insist that his department still has a handle on the case.
"This case is not going cold. We have tips coming in, we have investigators out every day interviewing people. We're still reviewing evidence, we're still looking at all aspects of this," he said last week.
But the reality is, in America, it's almost as common for murders to go unsolved as it is for the killer to be caught.
According to FBI data, just 54 per cent of homicides were cleared through arresting and charging the suspected killers in 2020 – marking the lowest murder clearance rate on record.
Thomas Hargrove, founder and chairman of nonprofit the Murder Accountability Project which tracks unsolved homicides across the US, tells The Independent that this rate likely plunged even further in 2021.
"Unfortunately we're right on the edge of becoming the first Western nation to allow more murders to go unsolved than they are solved," he says.
And the longer a case rumbles on, the likelihood of it being solved only diminishes further.
"It's a depressing curve. Nothing good happens over time in a murder investigation," he says.
This leaves communities searching for answers that sometimes never come.
Rachel Sharp19 December 2022 06:00
1671426000
How the white car landed on police radar:
Last week, police announced that they were looking for a mystery white car in connection to the murders.
Moscow Police said that a white 2011-2013 Hyundai Elantra with an unknown licence plate was seen near the crime scene around the time of the stabbings.
"Investigators believe the occupant(s) of this vehicle may have critical information to share regarding this case," police said in a statement.
Investigators urged the public to come forward with any information, revealing that it might just be the missing "piece of the puzzle".
Border agents along the US's border with Canada have been notified to be on the lookout for the car and tips have been pouring in from the public ever since – so much so that the calls are now being directed to a national FBI tip line.
A local landlord has now indicated that police may have been focusing on the mystery vehicle long before releasing the details to the public and that the lead may have come from footage he handed over one day after the killings.
Kane Francetich told Fox News that investigators had reached out asking for surveillance footage from a camera on his six-unit rental building on Linda Lane in Moscow. The property is 0.3 miles from the King Road address where the killings took place.
Mr Francetich said he handed over footage from 2am to noon on 13 November.
The video captured a "white" or "light coloured" car driving past at around the time of the murders, he said.
The vehicle was travelling west on Taylor Road sometime between 2.45am and 3.15am, he said. Taylor Road is the main street which connects the home on King Road to Highway 95.
Moscow Police have not revealed whether or not this is the same vehicle they are now searching for.
Rachel Sharp19 December 2022 05:00
1671422400
The lost five hours: Where were Xana Kernodle and Ethan Chapin?
There continues to be a huge gap in the timeline of the last known movements of Xana Kernodle and Ethan Chapin.
Police said that the young couple were at a fraternity party at Sigma Chi from 8pm to 9pm on the night of 12 November.
They arrived at the home on King Road at around 1.45am on 13 November, and were stabbed to death at around 3am or 4am.
Their whereabouts in the roughly five hours between the party and returning to the student home remains unclear.
Kernodle's mother Cara Northington has said that she believes her daughter and her daughter's boyfriend were at a bar during that time.
However, she confirmed that she does not know that for sure.
Moscow Police continue to seek information about the young couple's movements.
"Detectives continue investigating what occurred from approximately 9 p.m. on November 12th to 1:45 a.m. on November 13th, when Ethan Chapin and Xana Kernodle were believed to be at the Sigma Chi house on the University of Idaho Campus at 735 Nez Perce Drive," police said in a press release on Friday.
"Any interactions, contacts, direction and method of travel, or anything abnormal could add context to what occurred."
Rachel Sharp19 December 2022 04:00
1671420600
Death row inmate reveals theory on Idaho murders
An inmate on death row in California has revealed his theory on the University of Idaho murders.
William Noguera, a convicted killer who has been on death row for more than three decades, told podcast "Unsolved No More" that he believes the killer was likely waiting for the victims inside the home.
"I believe that the killer was inside the house already. I believe that the person was already in the house when the kids arrived…he took advantage that they were not home," he said.
He added that the suspect could have been watching the house from nearby woods.
Law enforcement officials have not said whether they believe the killer was in the home when the students arrived back from their nights out or entered sometime later.
Rachel Sharp19 December 2022 03:30
1671418854
Xana Kernodle's family announces memorial endowment scholarship in her honour
The family is setting up the Xana Kernodle Scholarship Endowment, her cousin Sheldon Kernodle told The Independent.
"We have started a memorial endowment in Xana's name to honour her memory and keep her legacy alive," Mr Kernodle said.
"The Xana Kernodle Scholarship Endowment is a permanent endowment, created in partnership with the University of Idaho Foundation, that will support and fund scholarships year after year for University of Idaho students.
"In order to create awareness and raise as much money as possible in Xana's name, the Kernodle Family will be matching dollar-for-dollar donations up to $10,000," he added.
"We are asking anyone who is willing and able to donate any amount they are comfortable with. Please know that no donation is too small."
Megan Sheets19 December 2022 03:00
1671417000
Who has been ruled out as a suspect so far?
More than a month on from the killings, no suspects have been identified.
However, investigators have ruled out several people as suspects in the murders.
The two surviving housemates who were left unharmed and appear to have slept through the murders
Other friends who were in the home when the 911 call was made alerting police to the murders
Kaylee Goncalves' former long-term boyfriend
A man dubbed "hoodie guy" who was caught on footage with Madison Mogen and Goncalves at a food truck on the night of 12 November
The person who gave them a ride from the food truck back to the home on King Road
A sixth person listed on the lease of the student home and two men involved in a "stalker" incident with Goncalves around a month before the murders are also not believed to be connected to the case, police said.
Rachel Sharp19 December 2022 02:30
1671415254
The rumours and conspiracy theories ruled out by investigators
Over a month has passed since four University of Idaho students were brutally stabbed to death in the small college town of Moscow – with no suspects identified, no arrests made and the murder weapon nowhere to be found.
Despite multiple law enforcement agencies being drafted in to work on the case, police appear to be no closer to catching the killer, leaving students and residents of the notoriously safe town racked by fear and social media awash with speculation.
While officials are remaining tightlipped about key parts of the investigation including why they believe the murders were targeted, they have debunked several online rumours and ruled out potential ties to the killings.
This is what police have ruled out so far:
Megan Sheets19 December 2022 02:00
1671413400
Kaylee Goncalves' mother re-lives day of daughter's murder
The grieving mother of murdered student Kaylee Goncalves re-lived the day of her daughter's murder in an interview with NBC's Today show.
Kristi Goncalves described how she learned that her daughter and three of her friends had been brutally murdered in a quadruple homicide that has shocked the community of Moscow.
"There was nothing you could do. Absolutely nothing," she said.
"We were just running around for hours just not knowing what was going on, what happened, because we found out by people calling us.
"And the sheriff showed up about three hours later."
Ms Goncalves said that – a month into the investigation – it is hard to stay optimistic that her daughter's killer will be caught.
"We're a month in and that's all we got.
"I have to have hope, I have to have faith. I have to trust God that it's in the right hands, and that the right people are doing it – the right people are leaving the investigation. I have no choice," she said.
Rachel Sharp19 December 2022 01:30
1671411600
JonBenét Ramsey's half-brother weighs in on Idaho college murders
The half-brother of slain child beauty queen JonBenét Ramsey has weighed in on the brutal murders of four University of Idaho students.
Andrew Ramsey, whose six-year-old sister's 1996 killing made national headlines and remains unsolved to this day, theorised in an interview with Fox News that Moscow Police is "dealing with a violent psychopath who has no known relationship with the victim."
The Independent's Andrea Blanco has the full story:
Rachel Sharp19 December 2022 01:00
1671409800
Idaho murder victim Kaylee Goncalves' father denies calling Moscow police 'cowards'
The grieving father of one of the slain University of Idaho students has denied calling Moscow Police "cowards" and insisted that he does support the law enforcement officers who are working to catch his daughter's killer.
Kaylee Goncalves' father Steve Goncalves, one of the most vocal family voices in the media, told Fox News on Saturday that he understands that investigators "have their hands full" with the case.
"I want kids to understand that this is such a big case that these guys have their hands full," he said.
"I wanted to go out there and tell everyone that the Goncalves' family supports the local police officers so much so that we want them to be able to work on this case."
Read the full story here:
Rachel Sharp19 December 2022 00:30