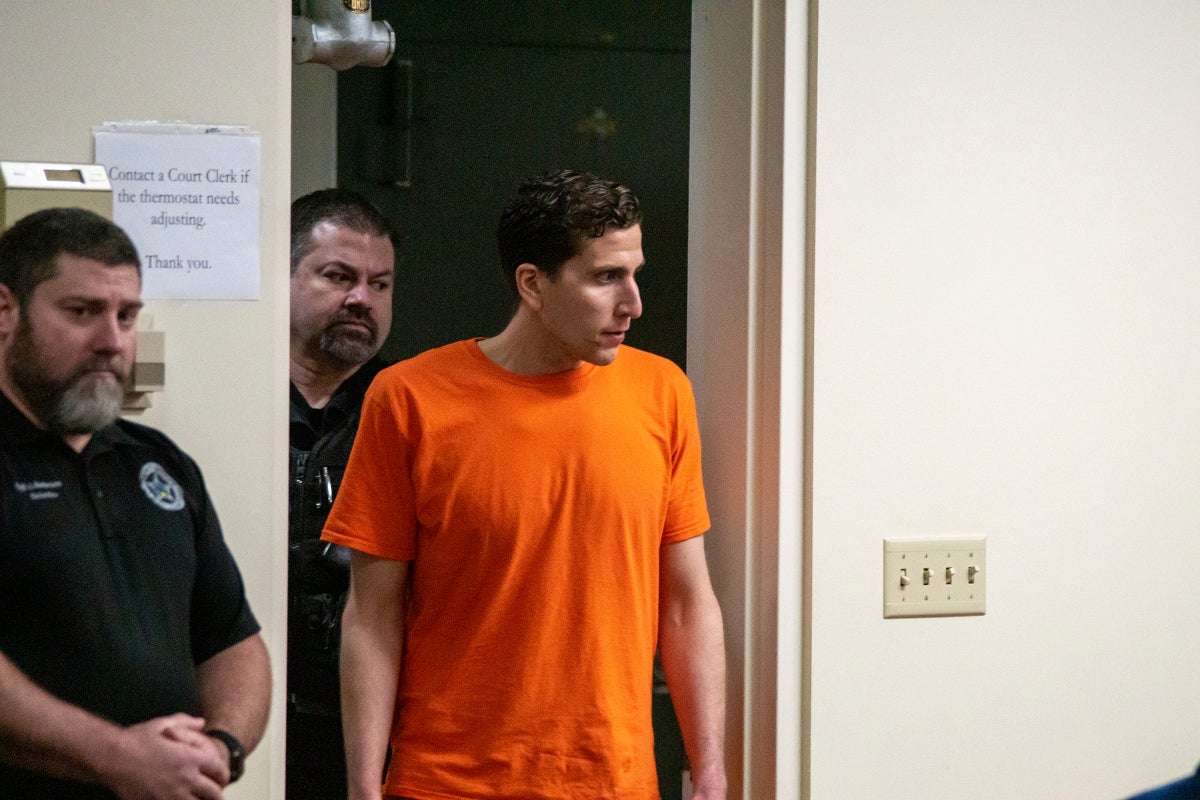 Bryan Kohberger appears in court in Idaho for the first time
Bryan Kohberger sent a gushing email to a local police chief months before he allegedly murdered four University of Idaho students in a brutal attack in Moscow, Idaho, it has been revealed.
The 28-year-old PhD student applied for a research assistant position in public safety with the Pullman Police Department in Washington in early 2022 and was interviewed by Pullman Police Chief Gary Jenkins for the position.
After the 12 April meeting, Mr Kohberger sent an email to the police chief saying it was "a great pleasure to meet with you today and share my thoughts and excitement regarding the research assistantship for public safety".
It is unclear if Mr Kohberger was offered the position, which was due to start in August.
Months later, on 13 November, the 28-year-old allegedly stabbed to death students Madison Mogen, Kaylee Goncalves, Xana Kernodle and Ethan Chapin.
He is facing the death penalty on charges of four counts of first-degree murder and one count of burglary.
Court documents unsealed last week showed that 15 items – including hairs, receipts, a disposable glove and items with red stains – were recovered from his home in Pullman, Washington, during a search in late December.
1674626400
VOICES: The eerie online world of the Idaho murders case
"While America has long been fascinated with true crime, the shocking brutality and seeming randomness of the Moscow murders sent the internet sleuth community into overdrive.
"Conspiracy theories and rumours have dominated the investigation with thousands of people joining social media groups to discuss their take on what transpired and why."
The Independent's Rachel Sharp writes:
Andrea Blanco25 January 2023 06:00
1674622800
Dickies tag and receipts from Walmart and Marshalls seized from Bryan Kohberger's home
According to the search warrant record, investigators also seized one receipt from Walmart, two from Marshalls and a tag from the clothing brand Dickies.
But what significance, if any, can actually be gleaned from the list? The Independent spoke to two experts – Dr Monte Miller, a former crime scene investigator and forensic expert for the Texas Department of Public Safety; and former FBI agent Jennifer Coffindaffer – for their takes on the items.
Dr Miller said investigators could seek to prove that the items listed on those receipts, and whatever the tag came from, match with the clothing worn by the alleged killer.
"[The suspect] may have bought something to wear and discard, and then [law enforcement] found these receipts and asked 'Where are these clothes?'" he said.
The receipts could also reveal how long in advance the clothing was purchased, Ms Coffindaffer noted.
"I think that those would indicate not only what was purchased — which is relevant to the crime — but also when, which I think is very important to see timing, to see a forethought that this was planned," Ms Coffindaffer said. "Was this just one day? Several days before? The timestamp to me is as important as what was on those receipts."
Andrea Blanco25 January 2023 05:00
1674619200
Possible animal hair found at Bryan Kohberger's home after Kaylee Goncalves' dog spared in Idaho murders
A "possible animal hair" was among the evidence seized from the home of Idaho murders suspect Bryan Kohberger – sparking speculation that it could belong to victim Kaylee Goncalves' dog.
Records of evidence recovered from Mr Kohberger's home were unsealed on Wednesday, nearly three weeks after his arrest for the 13 November stabbings of University of Idaho students Kaylee Goncalves, Madison Mogen, Xana Kernodle and Ethan Chapin.
Included on the list of seizures was a "possible animal hair strand". While Mr Kohberger is not believed to have a pet, one of the victims he is accused of killing, Goncalves, had a dog who was at home at the time of the murders.
Andrea Blanco25 January 2023 04:00
1674615637
Why is Bryan Kohberger's defence requesting evidence about a 'co-defendant'?
Last week, Bryan Kohberger's attorney Ann Taylor filed a discovery request in the case, asking the judge to order the prosecution to hand over all discovery in the case within 14 days.
Among the discovery requests were witness statements, digital media and police reports about the case.
It also included a request for information about a "co-defendant" in the case.
"Statements of co-defendant. Any written or recorded statements by a codefendant, and the substance of any relevant oral statement made by a co-defendant whether before or after arrest in response to interrogation by any person known by the codefendant to be a peace officer or agent of the prosecuting attorney, or which are otherwise relevant to the offense charged," the filing reads.
The request has prompted speculation of evidence suggesting that Mr Kohberger may have had an accomplice – or that the defence could seek to argue that as part of their case.
However, Mr Levin explained that this is just part of the standard requests for discovery in a case.
"These are just very standard requests as part of the defence's discovery request," he said.
While ruling out other individuals as possible suspects will likely form part of the state's case against Mr Kohberger, he said that this does not indicate that there are other suspects.
The probable cause affidavit makes no mention of a co-defendant and law enforcement officials have previously insisted that they believe the suspect acted alone.
The request making mention of a co-defendant is also just one of 18 discovery requests made in the court filing.
"I don't think I would make much hay of that," Mr Levin said of the discovery request.
Andrea Blanco25 January 2023 03:00
1674612037
Source familiar with The investigation says Instagram account linked to Bryan Kohberger followed female victims
Bryan Kohberger is believed to have followed all three slain female University of Idaho victims on Instagram and "repeatedly" messaged one of them prior to the brutal stabbings, according to a report.
An investigator familiar with the case told People that the 28-year-old criminology PhD student followed the accounts of Madison Mogen, Kaylee Goncalves and Xana Kernodle but neither of them followed him back.
Then, in late-October – around two weeks before the 13 November slayings – Mr Kohberger allegedly messaged one of the victims "repeatedly" on the social media platform, the source said.
The Independent's Rachel Sharp has the full story:
Andrea Blanco25 January 2023 02:00
1674608437
Bryan Kohberger to appear in court again in June
At his status hearing in Latah County Courthouse on 12 January, Bryan Kohberger waived his right to a speedy trial – which would have set his preliminary hearing within 14 days.
Instead, his attorney asked that the next court date instead be delayed until the summer, to give defence more time to review all the evidence in the case.
The prosecution agreed with the request and the judge scheduled the preliminary hearing for the week beginning 26 June, setting aside the entire week for the hearing.
Now, the victims' families and the public will have to wait another six months to learn further details about the murders and the case against Mr Kohberger.
Duncan Levin, a former assistant district attorney in the Manhattan DA's office who has no official connection to the Idaho murders case, told The Independent that a six-month time gap between a status hearing and preliminary hearing is "somewhat unusual" but it's a marker of the complexity of the case.
"It is somewhat unusual to see such a long gap but then again nothing is normal in this case," he said.
"Death penalty cases do mean that everything will take longer and be done a little bit differently than one might expect to see on a typical case."
The six-month delay is a benefit to both sides, he added.
"The defence wants as much time as possible to conduct their own investigations before they have the opportunity to cross-examine the state's witnesses. So they're eager to have more information in their hands before any testimony is heard in the preliminary hearing," he said.
"Similarly, the prosecution needs time to conduct further investigations. For example they will be likely doing a forensic examination of Kohberger's automobile and residence. And they are still yet to uncover a motive. They have a lot of work yet to do."
He added: "Both sides really need more time to review evidence and develop their cases."
Andrea Blanco25 January 2023 01:00
1674604837
Kaylee Goncalves' family says 'it's almost like she knew she only had a certain amount of time on earth'
In a sit-down interview with the YouTube channel Chronicles of Olivia — filmed two days before Mr Kohberger's arrest– the Goncalves remembered their daughter as a hardworking young woman who was not afraid to go after what she wanted in life.
Among other bittersweet revelations made in the YouTube interview was that Goncalves had taken summer classes to graduate ahead of time.
"It's almost like she knew she only had a certain amount of time on this planet and she was rushing towards [her goals]," Mr Goncalves said.
The family also spoke of the sheer fear and devastation they experienced after finding out that Kaylee was killed through a family member with connections in Moscow. They first tried to get in touch with both Goncalves and Mogen – to no avail.
When they attempted to call police in the immediate hours after the bodies were found, the family was told no information could be released at the time.
An officer eventually showed up at the door to officially inform them that their daughter had been killed.
"I kept giving [my parents] hope," Alivea Gonclaves said. "I kept saying 'If they were killed last night, you guys would know by now.' I kept giving them hope."
According to the family, they reached out to the YouTube channel because Kaylee followed it on TikTok and would often watch videos on the true crime account.
Andrea Blanco25 January 2023 00:00
1674601237
Bryan Kohberger was interviewed by Pullman PD for internship months before Idaho murders
A criminology PhD student accused of murdering four University of Idaho students was interviewed by a local police department for an internship position months before the slayings.
New emails obtained by The New York Times show a brief exchange between Washington State University student Bryan Kohberger and the then-chief of Pullman Police Department Gary Jenkins regarding Mr Kohberger's interview process for the research assistantship for public safety position in April 2022.
Mr Kohberger, 28, is facing four murder charges in the brutal stabbings of Madison Mogen, Kaylee Goncalves, Xana Kernodle and Ethan Chapin in an off-campus rental home in Moscow, Idaho, on 13 November. Mr Kohberger was arrested in Pennsylvania on 30 December before he was extradited to Idaho on 5 January.
In his email to Mr Jenkins, Mr Kohberger wrote that "it was a great pleasure to meet with you today and share [his] thoughts and excitement." Mr Jenkins replied that it was "great to meet and talk with you as well."
It is not clear whether Mr Kohberger was offered a position with the department. The Independent has reached out to the department for comment.
Andrea Blanco24 January 2023 23:00
1674595861
Idaho murders suspect's neighbour says he claimed to have submitted DNA to ancestry website in the past
A neighbour of Bryan Kohberger has claimed that the murder suspect told him he had submitted his DNA to an ancestry website in the past – casting new light on the revelation that investigators used a genealogy database to help match him to DNA evidence found at the crime scene.
The 28-year-old PhD student was tracked down by investigators in part thanks to DNA that the killer is believed to have left inside the student home in Moscow, Idaho.
According to the probable cause affidavit, a knife sheath was left behind at the crime scene on the bed next to the bodies of Madison Mogen and Kaylee Goncalves.
DNA found on the sheath was matched to Mr Kohberger, using DNA obtained from trash taken from his parents' home, the affidavit states.
Sources told CNN that investigators also enlisted the help of a genetic genealogy database.
Now, Mr Kohberger's neighbour has spoken out to say that the suspect once brought up the topic of his ancestry and told him he had submitted his DNA for consumer genetic testing months before the murders.
The neighbour, who was not named but is a fellow Washington State University graduate student who lived in the same on-campus apartment complex in Pullman, Washington, as Mr Kohberger, told the Idaho Statesman that the pair got to know each other after they both moved there in August.
He said that they exchanged cellphone numbers and they went on a walk together chatting one evening in August.
"He talked about his ancestors," he said.
"He had some sort of DNA test. I don't know how he got to that point… It was just interesting to him."
Andrea Blanco24 January 2023 21:31
1674592564
DNA evidence of extreme importance in otherwise circumstantial case
Based on the "damning" evidence outlined in the probable cause affidavit, the prosecution has a "very strong case" against Mr Kohberger, according to prominent defence attorney Duncan Levin.
"It's an exceedingly detailed probable cause affidavit and frankly it's pretty surprising that the prosecutors would include the level of detail they included in it," said the attorney at Levin & Associates who has represented clients including Harvey Weinstein and Anna Delvey.
He added: "I have to say looking at it it is a perfect case of where there's smoke, there's fire.
"There's so many damning pieces of evidence. The information here all points to Kohberger as the only person to have committed the crime."
The suspect – who is presumed innocent until proven guilty – was tied to the murders through DNA evidence, cellphone data, an eyewitness account and his white Hyundai Elantra, according to the bombshell probable cause affidavit released earlier this month.
The DNA evidence in particular is one "very, very important piece of information," Mr Levin said.
Andrea Blanco24 January 2023 20:36