Kari Lake's campaign is praising a New Jersey school board official who expressed willingness to step down after it was reportedly found that a computer glitch incorrectly led to him being declared the winner of his election.
According to the Asbury Park Press, a human error occurred during the installation of software on a number of tabulation machines in Ocean Township that ultimately resulted in an incorrect vote count in the township's Board of Education race in November. The race will now go to a recount, which could result in the overturning of the election.
One of the officials impacted by the error, Steve Clayton, said the newly updated count will likely move him from 20 votes ahead of his opponent to one vote behind. If that holds in a recount, he said, he is willing to step down.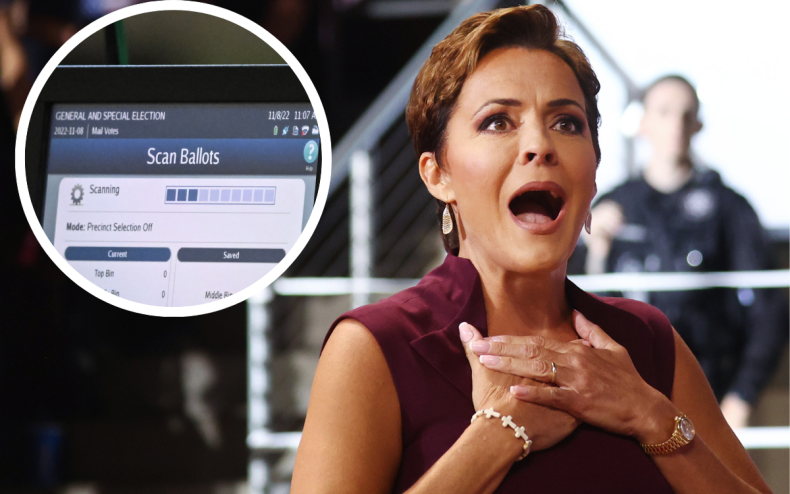 "I'm a board member until I'm not a board member," Clayton told the Press. "My main concern is the integrity of the election and that whoever ends up taking the seat, the people have confidence in the outcome."
This pleased the person running Lake's campaign account, particularly as she continues to run a quixotic and conspiracy-laden campaign to overturn her loss to Democrat Katie Hobbs in Arizona's gubernatorial race in the fall.
"This is how the process should work," her campaign tweeted. "Does anyone in Maricopa County have the integrity to stand up and do the right thing?"
While she has hyped "shocking" new evidence of fraud in recent days, Lake's legal team has failed to demonstrate the merits of her accusations of a "rigged" election, and is currently seeking to appeal a losing court challenge alleging rampant issues with ballot-counting machines in population centers like Maricopa County.
Meanwhile, the election—and an ensuing recount in the much-narrower race for attorney general—all were certified in favor of Democrats.
While Clayton is committed to honoring the final result, other officials said it would be inappropriate to "reverse" the race's outcome without a clear accounting of how—and when—officials got it wrong.
"Reversing the outcome of a race over two months after the election is completely unacceptable and creates an opening for questions about the integrity of elections in Monmouth County, and the state," Democratic state Senator Vin Gopal told the Press. "Monmouth County, and the state, owes voters complete transparency on how these errors occurred and what steps are being taken to ensure they never repeat."