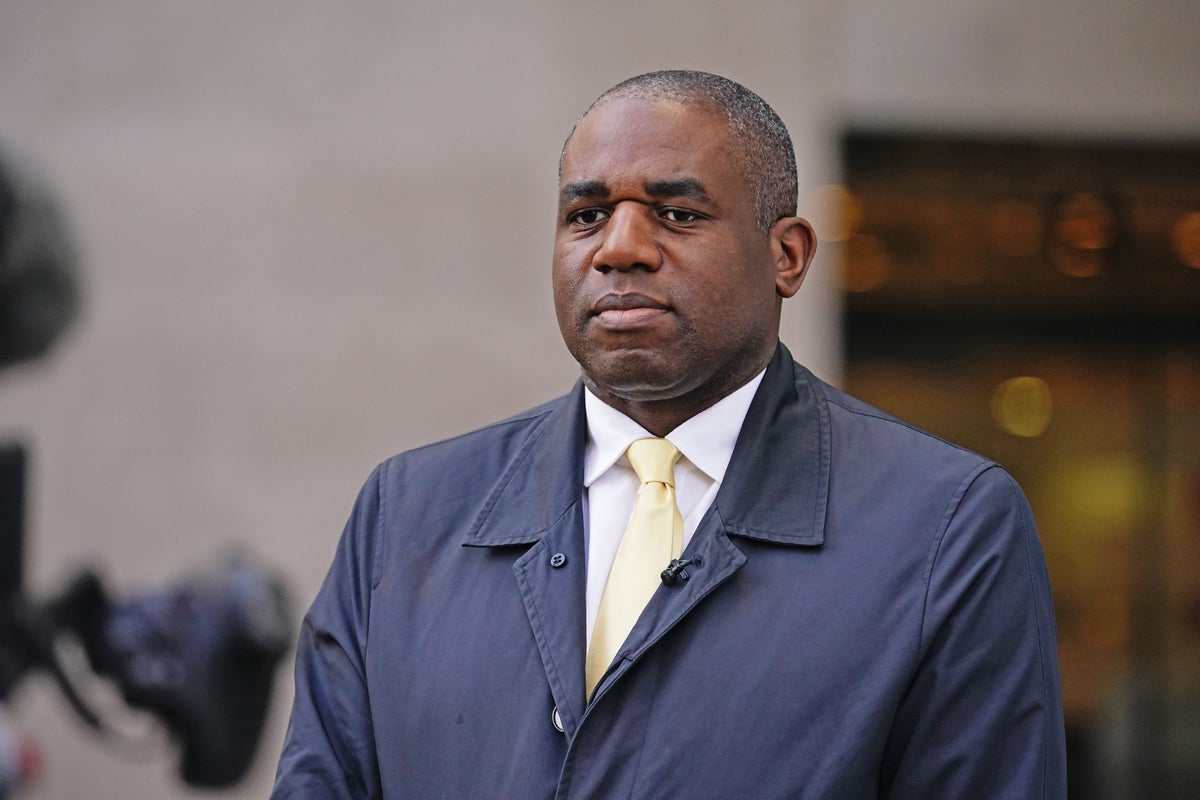 Labour would seek a new security pact with the EU if elected and establish a "threats cell" to tackle interference from powers such as Russia and China, David Lammy will say on Tuesday.
The shadow foreign secretary will pledge a "reset" of relations with Brussels by boosting trade, repairing science and research ties and fixing the Northern Ireland protocol.
A Labour government would also push for climate action to become another pillar of the United Nations alongside peace and security, human rights, rule of law, and development.
Labour is currently polling about 20 points ahead of Rishi Sunak's Conservatives, making the party the favourite to win the next general election which must take place by January 2025.
Mr Lammy is due to present the party's foreign policy, Britain Reconnected, for Security and Prosperity at Home, in a major speech today at Chatham House in London.
He will argue that dogmatic and reckless international relations under the Tories have left Britain in an economic crisis, estranged from its allies, and with a "tarnished" reputation.
"Poor leadership, bad choices and institutional dysfunction and a failure to clearly define the goals of the Foreign, Commonwealth and Development Office (FCDO) around modern challenges leave the UK ill-equipped to face the future," he will say.
It comes as the "blurring of the distinction between foreign and domestic challenges means that foreign policy has never been more important for working people's lives".
Mr Lammy will repeat Sir Keir Starmer's mantra that Britain must stay outside the EU single market and customs union, but promises a "reset" based on repairing relations, reaching a new security agreement and extending trade and cultural links with the EU.
"This will be achieved by fixing the Northern Ireland protocol, reducing friction on food, agricultural, medical and veterinary goods, strengthening recognition of professional standards and qualifications, unblocking participation in the Horizon scheme and improving links between our students and universities."
A Labour government will "seek a new UK-EU security pact, to complement Labour's unshakeable commitment to Nato and seek new cooperation across foreign policy through regular EU-UK summits and structured dialogue to tackle Europe's shared threats in areas such as cyber, energy security and organised crime," Mr Lammy will say.
He will also promise a new "mission statement" for the FCDO, encompassing "future challenges, from space and cyber-governance to artificial intelligence, automation and biotech."
The merger of the Foreign and Commonwealth Office and Department for International Development will be reviewed, with international development based on partnership with other countries, not just aid. Agencies of "soft power" such as the BBC World Service and British Council, deemed to be under threat for budgetary reasons, will be ring-fenced.
A joint FCDO and Home Office "threats cell" will also be set up to investigate activities of powers like Russia and China and combat attempts to infiltrate government institutions and private industry, Mr Lammy will say.
Britain should also push for an "open-ended campaign to reform the UN Security Council in the wake of Russia's invasion of Ukraine", and an end to the current system in which Russia and China can veto efforts to investigate human rights abuses such as the suppression of Uyghurs in Xinjiang.
A Labour government will also work with allies to "create a new international law of ecocide to criminalise the wanton and widespread destruction of the environment" and create a Clean Power Alliance – an "inverse Opec" of developed and developing nations committed to 100 per cent clean power by 2030.