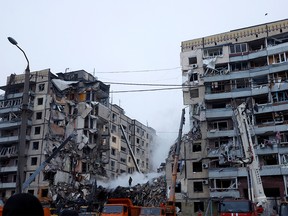 Article content
There's a horrific first anniversary ahead on Feb. 24: the Russian invasion of Ukraine.
Article content
It was during the 2014 Olympic Winter Games in Sochi, amid a full-blown Russian doping scandal, that Putin first invaded Crimea with masked soldiers wearing unmarked uniforms in a world easily distracted.
Article content
Since then, thousands of Ukrainian soldiers and civilians have died. About seven million Ukrainian refugees, mostly women and children have fled. Countless cities and towns, like Mariupol and Soledar, are now left in appalling ruins. What a colossal and despicable human catastrophe!
How many thousands of heinous war crimes have been witnessed and documented? Yet Russia is still a member of the UN. Why has the International Criminal Court not indicted Vladimir Putin for alleged war crimes in Ukraine?
It's time to stop the Russian killing machine.
Article content
Eugene Ewanyshyn, Edmonton
Canada in hot water
Re: "A country rife with disappointments" Letters, Jan. 18
Gayle Smigg gets it correct in her criticism of the federal government. One often hears of self-serving, incompetent governments in other countries but we think it can't happen in Canada. We are governed by a cabal of single-minded, radical environmentalists whose only concern is a misguided belief that they are saving the planet to the exclusion of other pressing issues in Canada.
Canadians have been compared to the frog in water that is being brought to a boil, and who doesn't realize what is happening. The water is getting hotter, time to wake up.
Jim Gehl, Calgary
Petty bylaw invasion of private choice
Article content
COVID public restrictions were a necessary legislative means, but a city bylaw (or federal legislation) banning single-use of compostable shopping bags is petty. The bags would end up in the compost bin or the excess ones in a landfill where they would compost anyway.
I wish that our city council had more important bylaw-making to attend to. Who knows, maybe one day, council may vote for a bylaw banning single-use toilet paper forcing Calgary residents to install bidets.
Kurt Hansen, Calgary
Anger misplaced as Canada's policies helped mitigate deaths
Re: A blunt lesson on the nature of politics, populism, Opinion, Jan. 12
Sorry to hear about Catherine Ford's unpleasant encounter. Both it and the mainly derogatory online responses to her column demonstrate how angry a small minority of Canadians remain regarding past public health measures implemented in response to a once-in-100-year global pandemic.
Article content
By most objective measures, Canada and Alberta achieved the main goals of limiting deaths and avoiding a full collapse of our public health-care system, albeit with a large negative fiscal and economic impact. Before complaining too loudly, these freedom convoy folks should look at China's approach, which involved true lockdowns and ineffective vaccines. Now China is facing both high economic costs and surging COVID infection rates three years in.
On the bright side, many of the loudest critics of the Canadian approach appear to be reading Herald articles, so there is hope!
Donald Lauweryssen, Calgary
Tell us what we transition to
Transitions, 'just' or otherwise, are what happens when technologies change. They have never required government meddling.
An eventual transition from the fossil fuel industry to whatever replaces it will be, as has been demonstrated many times in the past, a natural byproduct of the free enterprise system.
Now, all we need is for someone to explain to Justin Trudeau that the word 'transition' requires a 'to' as well as a 'from', and that one doesn't exist yet.