Former fifth-round pick by Calgary Flames jumps off team bus in Magog after promotion from Trois-Rivières, arrives just in time to face Marlies.
Article content
Saturday wasn't Ryan Francis's first AHL game — although it marked his Laval Rocket debut — but the day and game undoubtedly will remain among his cherished memories.
Article content
Francis, a 21-year-old winger playing in the ECHL with the Trois-Rivières Lions, was sitting on the team bus near the U.S. border en route to Worcester, Mass., Saturday, when he learned he had been recalled by the Rocket, which was hosting the Toronto Marlies that afternoon.
Article content
Francis got his equipment, waited at a Magog gas station for the car service to arrive and was at Place Bell by approximately 2:15 p.m. — about 50 minutes before the opening faceoff.
Playing on a line with Anthony Beauregard and John Parker-Jones — recent additions from the Lions as well due to injuries and players being recalled by the Canadiens — Francis almost scored on his only shot and took a minor penalty.
"You're sitting on a bus … our goalie coach came back and told me I'd been called up," Francis recounted following Monday's practice. "They dropped me off at a gas station in Magog. They were good enough to get me a good car service. Took my sticks, went to the warm-up and got right into it.
Article content
"It was better that way; I didn't have to think about it. I just played," he added. "I was a little bit shocked with how the process went, but I was excited and ready to take on the challenge and tried to have fun while doing it."
Francis was drafted by the Calgary Flames in the fifth round (143rd overall) in 2020 and, while he dressed for four games last season at Stockton, their AHL affiliate, he wasn't re-signed. Francis signed a one-year AHL contract last summer and, while he participated in the Canadiens' rookie camp in September, was assigned to Trois-Rivières, where he had 10 goals and 21 points in 31 games.
Francis left his mark on Rocket head coach Jean-François Houle, who ran the rookie camp and was impressed by his play and production this season. Although only 5-foot-9 and 180 pounds, Francis is considered a skilled winger and excellent playmaker.
Article content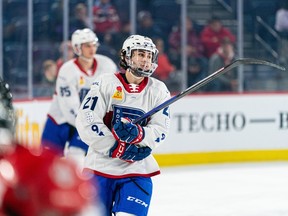 He spent five seasons in the QMJHL with Cape Breton and Saint John.
"He was getting a lot of ice time and producing," Houle said. "It was kind of his turn. We have a few guys down there we keep watching in case we need more guys. They come up here and are ready to play. For us, it's a plus. Francis was a last-minute thing in the morning. That happens in the AHL and ECHL. It's part of being a pro. We needed a player to complete our roster. Preferably, you have enough players here. We're all trying to help each other because we're thin and it just happened like that. They (Lions management) were prepared ahead of time, in case it happened.
"It's never easy to come in and play last-minute, but he almost scored on his first shift. I thought he had a pretty good game. He's got good speed and is a good energy player. It's nice to see the players are ready when they're called upon."
Article content
Francis had 25 goals and 65 points in 54 games last season but, as a 20-year-old overage player, wasn't as dominant as the Flames hoped. Although he produced six points in four Memorial Cup games — the Sea Dogs hosted and won the championship — Calgary didn't re-sign him, perhaps believing Francis couldn't make the transition to the pro level.
"I feel I can play at this level," Francis said. "I just have to keep learning and keep proving it. My 20-year-old year wasn't what I was looking for. As a 20-year-old you have to be a dominant player. To be perfectly honest, I think I underperformed if you look at my skill set. I was being dynamic as a 19- and 18-year-old.
"I have a long career ahead of me. I don't even think about my size much. You have to use your speed and be fast if you're going to be undersized, as they say."
hzurkowsky@postmedia.com
twitter.com/HerbZurkowsky1
Spotlight on Sean Monahan's future with Canadiens | HI/O Bonus

Jack Todd: Cole Caufield's injury is a sign of a system that needs mending

Rocket's Rem Pitlick doing everything he can to rejoin Canadiens