Article content
A London man is charged with second-degree murder Friday after a man was found dead inside his home in Old East Village.
Article content
Officers called to check an individual's welfare at 727 Queens Ave. on Thursday around 9:45 p.m. found Craig Alan Jacobs, 65, deceased, police said.
Article content
Ronald Joseph MacDonald, 66, was arrested Friday and charged with second-degree murder. He appeared briefly in court and was remanded to custody.
"The victim and the accused were known to each other," police spokesperson Const. Sandasha Bough said.
Friday, police remained stationed outside the single-storey home two blocks east of Adelaide Street, where yellow police tape cordoned off the front yard.
Neighbours say Jacobs lived at the home alone, but another man in his 60s frequently visited and may have been staying there recently.
The two neighbours, neither of whom wanted to be identified, described Jacobs as "frail" and in "poor health."
Article content
Investigators canvassed the street Thursday night and again on Friday, asking residents whether they saw anything or had surveillance cameras. Police said they aren't looking for any other suspects, but asked anyone with information about the death to contact them.
There have been six homicides in London this year. Most recently, Dan (Dutch) Fawcett, 52, was found dead near the Grosvenor Street entrance to Gibbons Park on Nov. 6. Alanna Lebars, 40, is charged with manslaughter and Craig Allen, 48, is charged with second-degree murder.
Last year, there were 16 homicides in London, the city's highest death toll in a single year.
dcarruthers@postmedia.com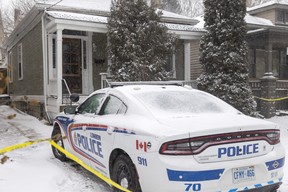 Trio charged after gun, drugs, ammo seized: Police

Sawed-off shotgun found in bag dropped by man fleeing police