Republican Georgia Representative Marjorie Taylor Greene ripped Senate members in her own party Thursday for joining Democrats in passing the nearly $1.7 trillion "omnimonster" bill.
"18 Republican TRAITORS who voted for the $1.7 TRILLION omnimonster to send YOUR money to defend Ukraine's border but NOT America's border!" Greene wrote on Twitter, listing the name of each senator in question. Greene's tweet also included a photoshopped image of Ukrainian President Volodymyr Zelensky carrying a pile of cash while inside the U.S. Capitol.
According to the United States Code, a traitor, or someone guilty of treason, refers to an individual who owes allegiance to the U.S. and "levies war" against the country. Some legal experts have theorized that Greene's close ally, former President Donald Trump, may be found guilty of treason over his activities tied to the January 6 attack on the Capitol.
Greene has been one of the loudest voices in Congress against the U.S. sending security aid to Ukraine in the face of Russia's invasion. In November, Greene and several other GOP House members introduced a measure to audit the money that President Joe Biden has sent to the eastern European country since taking office.
The congresswoman is not the only Republican to point fingers at GOP senators for working to pass the omnibus bill, which will fund the government through September 30, 2023, if it passes in the House on Friday. If the bill is not passed by the midnight deadline at the end of the week, lawmakers risk a government shutdown just days before the holiday break.
Texas Senator Ted Cruz said in a statement Thursday that he voted no to the "spending monstrosity" because it was the "kind of wasteful and irresponsible spending that has plagued Washington, D.C., for far too long."
"It is the height of recklessness for Senate Republican leadership to cut a deal with House Democrats who were just voted out of power and give away the leverage that the incoming Republican majority in the House of Representatives could have used to force the Biden administration to change course on policies that are harming America," Cruz wrote.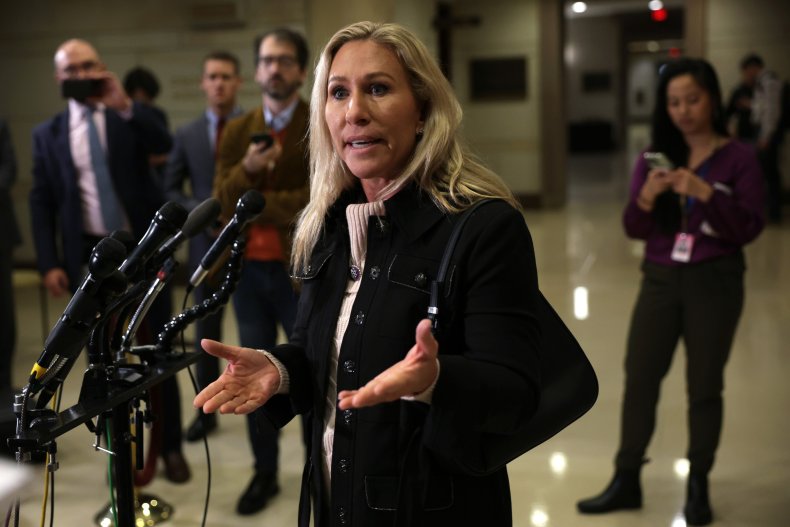 On Monday, Texas Representative Chip Roy posted a letter to his Twitter account addressed to GOP senators, which threatened to oppose any Republicans in the higher chamber who supported the omnibus bill. The letter was signed by Roy and nine other members of Congress, as well as three newly elected members who will take office in the new year.
Former White House adviser Steve Bannon, who served under Trump, also criticized Republican senators who supported the spending bill on his podcast Thursday.
"It's not simply the spending, which is going to crush everybody," Bannon said during a segment of his War Room show. "It's about leverage … you're giving Nancy Pelosi another year. Didn't the American people just vote on that?"
The spending bill was delayed for weeks as lawmakers debated over several proposals in the measure, including amendments aimed at extending COVID-era immigration protocols under Title 42. According to NPR, senators struck down an amendment proposed by Utah Senator Mike Lee that would have kept the Biden administration from repealing the immigration act, which began under Trump.
Senate voting on the omnibus bill was also interrupted by an impromptu visit from Zelensky this week, who spoke to a joint session of Congress on Wednesday night. While many lawmakers greeted the foreign leader with cheers and standing ovations during his address, a large number of House Republicans chose not to attend the speech, including Greene.
Newsweek has reached out to Senate Minority Leader Mitch McConnell and Senator Mitt Romney of Utah for comment.