Republican Representative Matt Gaetz says that those who clapped during Ukrainian President Volodymyr Zelensky's address to Congress were participating in a "North Korea-style performance."
Gaetz and fellow "MAGA" Republican Representative Lauren Boebert faced significant backlash after being spotted conspicuously scrolling through their phones and refusing to clap during Zelensky's speech on Wednesday.
The Florida congressman on Thursday defended his actions during an appearance on Fox News' Tucker Carlson Tonight, while denouncing Zelensky's status as the leader of a "historically corrupt country."
"I feel no compunction to go out and applaud some foreign leader, from a historically corrupt country, who is begging for more than the $100 billion that the Congress is already set to send them," Gaetz said. "Lauren Boebert and I didn't stand up in some sort of North Korea-style performance."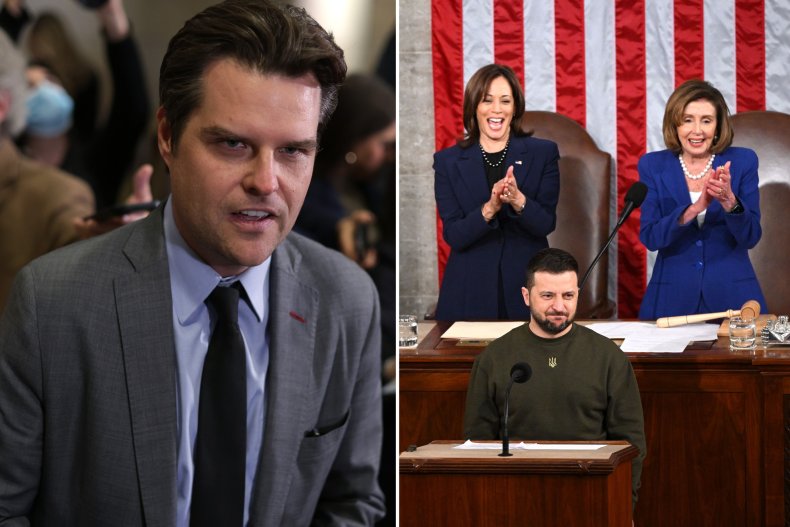 Gaetz went on to suggest Democratic Speaker of the House Nancy Pelosi and Republican Senate Minority Leader Mitch McConnell had orchestrated the address as a "grift" with Zelensky to help pass the $1.7 trillion omnibus spending bill, which includes $45 billion in aid to Ukraine.
"I think that Mitch McConnell and Nancy Pelosi wanted to bring Zelensky there to the Congress to provide air cover for an otherwise totally indefensible spending bill," said Gaetz. "And you can see why Zelensky was in for the grift, he's got a lot riding on it."
Newsweek has reached out to the offices of Pelosi and McConnell for comment.
Zelensky received a standing ovation from an overwhelming majority of lawmakers when he entered the House chamber on Wednesday night, with Gaetz and Boebert being among the few who did not applaud him as he made his way to the podium.
During the speech, the two Republican lawmakers remained seated during additional standing ovations. Gaetz appeared to briefly smile or smirk after Zelensky described aid to Ukraine as an "investment in global security and democracy."
A number of political commentators responded on social media by condemning the behavior of Gaetz and Boebert, with criticisms that included calling them "an embarrassment," "classless" and "nauseating."
Gaetz shared a statement on the speech to Twitter while backlash was mounting, explaining that Zelensky had not changed his "stance on suspending aid for Ukraine and investigating fraud in transfers already made."
Boebert made similar remarks in a video shared shortly after she attended the speech, saying that she would "not support sending additional money" to Ukraine unless "Congress receives a full audit on where our money has already gone."
Boebert also equated Russia's invasion of Ukraine to migrants on the U.S.-Mexico border. She suggested that Zelensky's efforts to fend off Russian troops was similar to President Joe Biden's obligation to "secure our southern border and protect our people."
Newsweek has reached out to Gaetz's office for additional comment.