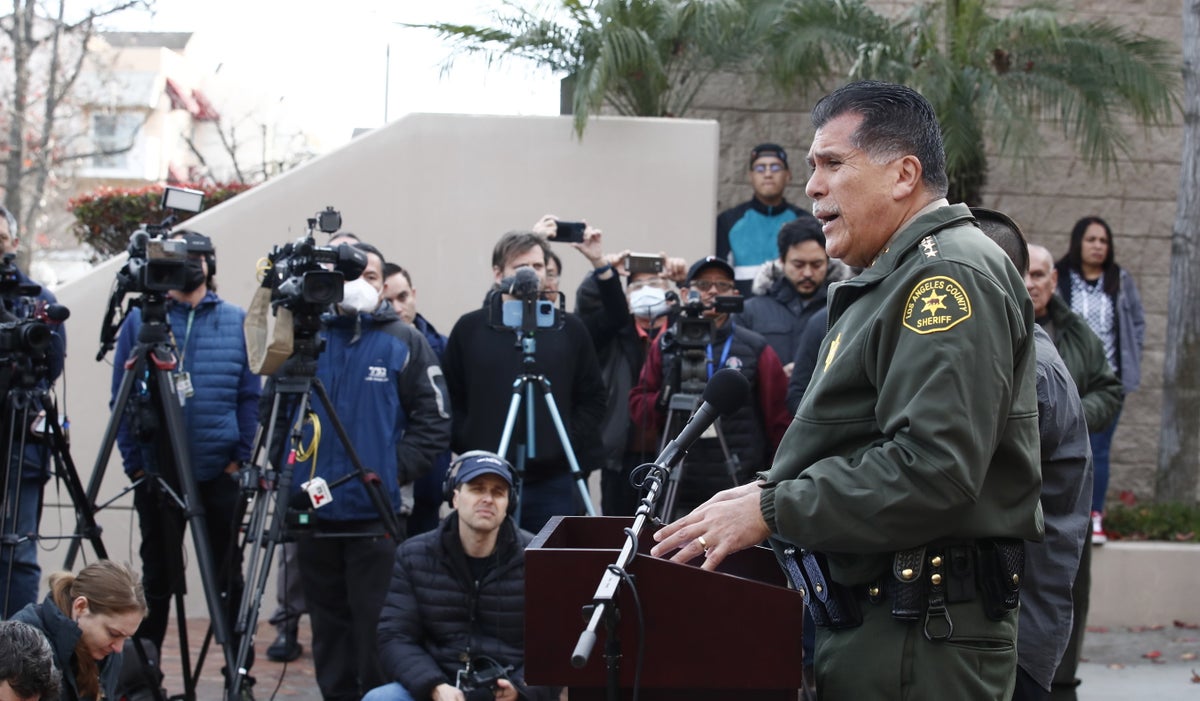 An injured survivor of the Monterey Park mass shooting received a death threat while they were being treated in the hospital, Los Angeles County sheriff Robert Luna said at a press conference on Sunday.
Ten people were killed and 10 more injured in the mass shooting at the Star Ballroom Dance Studio in Alhambra on Saturday as thousands of families celebrated the Lunar New Year.
Mr Luna revealed the anonymous threat as he declined a reporter's request for information about where the injured had been taken to during Sunday's press conference.
"It is normal that when we have victims of violent crime, we don't talk about specific hospitals and I'm going to share just a quick story as to why we don't," Mr Luna said.
"Earlier I may have mentioned that they were at a specific hospital, and somebody called one of those hospitals to say something along the lines of they wanted to go and finish the job. That is absolutely horrible," Mr Luna said. "Please, these victims and survivors are dealing with so much. Let's not traumatise them more."
A Los Angeles County Sheriff's spokeswoman told The Independent on Monday that they had no further details about the death threat.
Suspect Huu Can Tran, 72, opened fire in the dance studio at the popular dance studio in a predominantly Asian-American neighbourhood of Los Angeles, the LA County Sheriff's Office says.
Patrons wrestled the automatic weapon away from him, preventing further casualty, and Tran later killed himself in a van during a stand-off with police on Sunday, according to authorities.
A motive is yet to be determined, but the mass shooting is being investigated as a hate crime.
Monterey Park Mayor Henry Lo told NBC News the suspect appeared to have a "history of domestic violence".
His ex-wife told CNN on Monday that the couple had met more than 20 years ago at the Star Ballroom where the mass shooting took place.
They divorced in 2005, she said, asking not to be named.
Another acquaintance said Tran had been a regular at the venue for years, and had complained that the dance instructors had said "evil things about him".