"It's very good news, and it will mostly benefit seniors because they are the ones on fixed incomes," Ensemble Montréal interim leader Aref Salem said.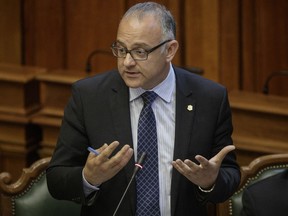 Article content
The ruling Projet Montréal supported a motion introduced by opposition Ensemble Montréal at Tuesday's city council meeting to give property tax breaks to those with lower income. The unanimous vote calls for the city to negotiate with the province to allow them to defer all or part of their property tax bills until such time they sell their homes.
Article content
The measure is already in place in other Canadian cities. In Saskatoon, anyone 65 or older who meets specific income qualifications is allowed to defer the payment of all or part of their tax bills and library fees until they sell their homes. There are several options available, including the ability to defer just the increases in tax bills over time. An interest fee of four per cent per year is added to the overall bill.
Article content
Originally, the motion had targeted only senior citizens, but Projet Montréal amended the motion so that anyone with lower incomes can qualify, not just seniors. Both parties had made a pledge to introduce such a program in their electoral platforms in 2021. However, with property owners facing rising inflation and the highest property tax increase in more than a decade, Salem said it was pivotal to act fast to provide some tax relief to the most vulnerable so they don't have to sell their homes and move away from the city.
Article content
"It's very good news, and it will mostly benefit seniors because they are the ones on fixed incomes," Ensemble Montréal interim leader Aref Salem said after the vote.
Salem said the finer details still need to be worked out, such as what percentage of a home has to have been paid down, what measure is used to determine lower income and if there will be an interest charge on those who opt for the tax freeze.
"But I hope it will be in place for the next budget," Salem said, which means that the measure would be in effect for the 2024 tax bills.
The council approved another opposition motion to help those with lower incomes. The province and city will begin negotiations in March for a new five-year anti-poverty plan, and the opposition hopes more people will qualify to get financial aid to pay for the basics of living.
Article content
Opposition councillor Benoit Langevin had hoped the city would adopt an indicator called the viable income, outlined in a recent study by the Institut de recherche et d'informations socioéconomiques. Using that indicator would double the number of people eligible for aid. However, Projet Montréal nixed that portion of the motion. 
However, the city still intends to ask for more money to support those in need and to take into account differences in the cost of living in different parts of the city.
"I think we have to calculate what people need in order to get out of poverty," Langevin said. "We need to look at (poverty) not as something that stabilizes, but something that has to be ended."
Langevin said he's still optimistic that the motion adopted Tuesday will allow more people to qualify for government aid when the agreement is renegotiated later this year. He said he hopes that the funding is also indexed according to the cost of living.
jmagder@postmedia.com
Plante administration open to property tax deferral for low-income seniors

Public transit free for seniors on the island of Montreal as of July