Article content
Alberta's top court has reduced the convictions of a man and woman in the 2017 slaying of a Calgary resident whose body was found in a ditch outside the city.
Article content
Tewodros Kebede and Diana Liao were convicted by a Calgary jury in December 2019 of first-degree murder in the 2017 death of Hanock Afowerk, whose body was recovered two days later along Highway 22.
Article content
A three-member Alberta Court of Appeal panel overturned those convictions in November, stating the trial judge failed to explain that while the kidnapping and beating of Afowerk was planned, his death may not have been.
The decision gave prosecutors the option to order a new trial on first-degree murder or have the panel instead substitute a conviction for second-degree murder.
Kebede and Liao had sought a new trial on second-degree murder only.
At trial, court heard Afowerk died from head injuries and three bullet wounds that resulted from a plot to kidnap and extort money from him.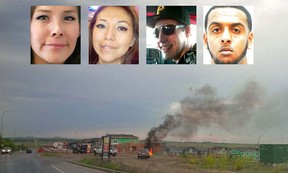 That same morning, the bodies of three people — Cody Pfeiffer and sisters Tiffany Ear and Glynnis Fox — were found in Afowerk's burned out SUV in a northwest Calgary neighbourhood.
Liao was convicted of being an accessory after the fact to all three murders, while Kebede was ruled to be an accessory to Pfeiffer's murder.
The second-degree murder convictions will return to the trial judge for sentencing.
Jury finds two killers guilty in quadruple homicide case

'It makes me sick': Families of Sage Hill victims have their say in court