Novak Djokovic's father, Srdjan, appears to have been filmed standing with spectators who were carrying a banned Russian flag at the Australian Open.
Key points:
Novak Djokovic's father Srdjan appears to have been filmed next to Australian Open fans who had a banned Russian flag
The video showed fans including a flag with an image of Russian President Vladimir Putin
Tennis Australia has confirmed spectators were evicted from Melbourne Park for displaying "inappropriate flags and symbols"
The flag in the video includes an image of Russian President Vladimir Putin.
One of the men in the video is wearing a T-shirt with the symbol "Z", which is an emblem representing support for Russia's invasion of Ukraine.
The incident took place at Melbourne Park on Wednesday night following Djokovic's quarterfinal win over Russian Andrey Rublev.
A video of the incident was posted on YouTube by a user identified as Simeon Boikov.
NSW Police has confirmed it is seeking Boikov's arrest on an unrelated matter.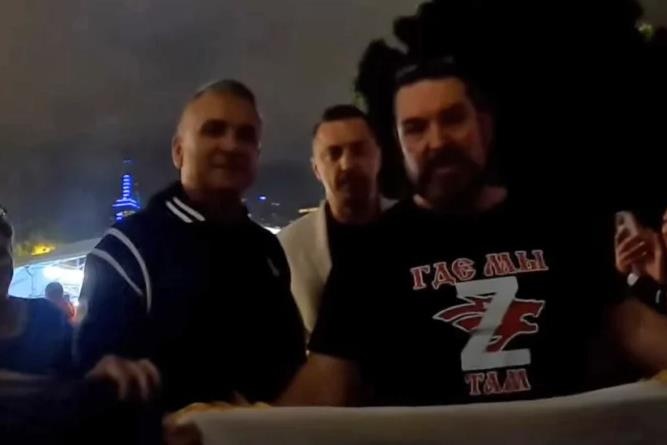 The ABC has contacted Djokovic's management and Mr Boikov for comment.
In a statement, Tennis Australia did not directly address the incident involving Djokovic's father.
But TA confirmed spectators were removed from Melbourne Park on Wednesday night.
"A small group of people displayed inappropriate flags and symbols and threatened security guards following a match on Wednesday night and were evicted," the statement read.
"One patron is now assisting police with unrelated matters.
"Players and their teams have been briefed and reminded of the event policy regarding flags and symbols and to avoid any situation that has the potential to disrupt.
"We continue to work closely with event security and law enforcement agencies."
Victoria Police said it evicted four men "after a Russian flag was produced on the steps at the tennis".
Australian Open organisers banned Russian and Belarusian national flags from being on-site at Melbourne Park last week.
The move was in response to the appearance of a Russian flag during the first-round match between Kateryna Baindl and Kamilla Rakhimova on the first day of the tournament.
Rakhimova is from Russia and Baindl is Ukrainian.
"Our initial policy was that fans could bring them in but could not use them to cause disruption. Yesterday we had an incident where a flag was placed courtside," a statement from tournament organisers read.