Federal law enforcement is looking for information on World Olivet Assembly chief Mark Spisak, the first sign that a money laundering investigation into a small American Bible college has reached the top of a global Christian denomination.
Spisak, a theologian who once served in the Olivet sect in Britain, is one of the most senior disciples of Korean-American cleric David Jang and is now General Secretary of the World Olivet Assembly, a church that says it has followers in "every region of the world."
The company that publishes Newsweek is locked in a legal dispute with the World Olivet Assembly and several institutions connected to Jang and his followers as part of a battle between the magazine's two shareholders—a current member of the Olivet sect and a former one.
The World Olivet Assembly and its American branch, Olivet Assembly USA, have publicly distanced themselves from the legal troubles of David Jang's college, Olivet University, which has been at the center of the criminal investigation by the Department of Homeland Security. Agents looking for evidence of visa fraud, money laundering and labor trafficking searched the university's campus in Anza, California, in April 2021.
During that raid, Homeland Security Investigations seized computers containing electronic communications that pointed them to Spisak, according to a witness interviewed by federal agents. The agents were seeking more information about Spisak, according to electronic communications between HSI and the witness reviewed by Newsweek. The witness spoke to Newsweek on condition of anonymity.
Asked to comment on the probe, HSI spokesperson Richard Beam responded, "To preserve the integrity of this active investigation, we are unable to comment further."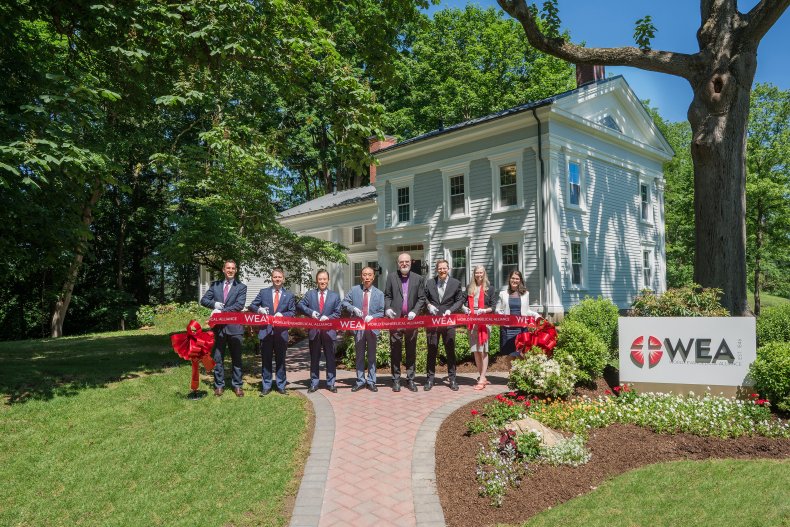 Thom Mrozek, director of media relations for the United States Attorney's Office Central District of California, declined to comment on the investigator's inquiry.
Contacted on his mobile phone, Mark Spisak, who is listed on some official Olivet documents as Marian Spisak, told a Newsweek reporter to ask the World Olivet Assembly for a response. Jane Lee, a spokeswoman for the World Olivet Assembly, provided the following statement: "Newsweek has sued World Olivet Assembly as part of its internal ownership dispute, and is evidently seeking to use its newsroom to its own advantage, so we will not make any comments to you." (Newsweek has denied that the newsroom is a partisan actor in the dispute.)
The World Olivet Assembly began around 2000 as an informal collection of churches and coalesced into the global association in 2007, according to its website. "(T)heHoly Spirit….allowed the movement to grow from a tiny mustard seed to a global denomination whose mission network now encompasses more than 160 nations," the World Olivet Assembly said after it marked its 30th world general assembly with a gathering of around 1,500 delegates in the South Korean city of Hoengseong in late October. Of that event, Spisak said "the incredible growth that the movement has seen over the past three decades has only been accomplished by the grace of God and the leading of the Holy Spirit."
Spisak, who was educated at Olivet University, has been in Jang's orbit for years. In Britain, he was a director of Olivet Assembly UK, according to his LinkedIn account, and pastor of London Emmanuel Church, which is affiliated with the Olivet sect. In a YouTube video, Spisak describes walking the London districts of Waterloo and Southwark as pastor, going up to strangers and sharing the gospel with them. He encouraged his flock to do the same. After moving to the United States, Spisak took on a succession of increasingly senior roles in the World Olivet Assembly, eventually becoming executive director and general secretary, according to the group's tax filings and website. He is also an executive of 1000 East First Estates LLC, a real estate company that is turning a hotel in Sanford, Florida, into what Spisak calls the "southern headquarters" of the Olivet Assembly.
Even as Olivet's leaders were gathering in South Korea, investigators were placing Spisak and the organization he leads under ever closer scrutiny. The electronic messages Newsweek reviewed show agents were looking for information about Spisak as recently as this December.
David Jang's church has taken pains to separate itself in public from Olivet University, which has been at the center of the legal problems that have plagued the Korean-born pastor's followers for much of the past decade.
The university pleaded guilty in 2020 to a felony (later reduced to misdemeanor) along with several Jang disciples and the companies they control following another money laundering investigation by the Manhattan District Attorney. Neither the World Olivet Assembly nor its American denomination was implicated in the case. "Our mission has nothing to do with Olivet University," Olivet Assembly USA General Secretary Anthony Chiu was quoted as saying when his sect purchased a crumbling cathedral in Baltimore last year.
Later, when Newsweek reported news of the Anza raid and a separate counterfeit goods case in North Carolina involving a fugitive Olivet pastor, the Olivet Assembly said it was not involved in either legal dispute. "Olivet Assembly USA has not been charged with any crime nor was it party to any investigation, nor linked to any criminal accusation, ever in its history, despite the false innuendo of Newsweek attempting to paint the picture as such," the church said in a statement at the end of June.
Explaining the relationship to the embattled university, the Olivet Assembly said: "The two organizations indeed have their distinct missions, board of directors, and operations, unrelated to each other. The two organizations may share the same statement of faith coming from the same evangelical root, but they are two independent organizations."
In practice, David Jang's followers sometimes appear to treat Olivet churches and university campuses as fungible. In Illinois this year, state education authorities asked Olivet University to stop advertising courses on an extension campus it had never been authorized to open. The university removed the campus from its website. The property was quickly occupied by a church that promotes courses at Olivet Seminary. The same thing happened in Georgia, where Olivet's campus was shut down for violating rules preventing it from teaching non-religious courses and an Olivet-affiliated church sprang up in its place, using the same address.
Sometimes the connections between the church and university are less obvious. Walker Tzeng, Chief Operating Officer of Olivet University, is pastor of Gratia Community Church in San Francisco. The word "Olivet" makes no appearance on Gratia's 2020 tax filings nor on the church's "about us" page, even though Gratia was incorporated by Andrew Lin, also known as Tony Lin, former chairman of the Olivet University board who pleaded guilty to a felony in Manhattan DA's investigation.
Tzeng, who did not respond to requests for comment, is, like Spisak, a high-profile member of the Olivet sect within the global evangelical community. Tzeng is executive director of the IT commission of the World Evangelical Alliance, a worldwide association of Christian groups founded more than 170 years ago. Tzeng is also Executive Director of the World Evangelical Theological Institute Association, which like the IT commission is focused on using technology to advance Christian missions. Olivet has a prominent role in the World Evangelical Alliance, which says David Jang's sect is one of only six global church networks it partners with, a list that includes the Salvation Army.
The World Evangelical Alliance has helped Jang fend off allegations that he was a heretic, after some of his followers said he had claimed to be a messianic figure known as the "second coming Christ." Jang has denied the allegations, although the publication Christianity Today says they have investigated and confirmed the claims.
The World Evangelical Alliance did not respond to a request for comment.
In the United States, some Evangelicals are running out of patience with Olivet. The National Association of Evangelicals, a group representing more than 45,000 churches, has suspended Olivet University, the association said in August.