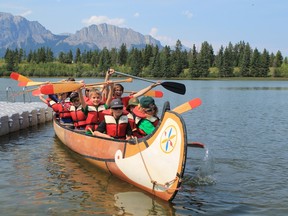 Article content
For countless Calgarians, some of our fondest childhood memories come from experiences in the great outdoors. For many of us, overnight camp was a place where we gained independence, discovered our passions and developed lifelong friendships.  
Article content
Today, I'm fortunate to be part of an organization that prioritizes time in nature through experiences in leadership and camping. We have a rich history when it comes to camp and are proud of our Camp Chief Hector YMCA, a 400-hectare site located in beautiful Kananaskis Country that we've been operating for more than 90 years. 
Article content
Named for Stoney Chief Hector Crawler, more than 12,000 campers have an outdoor experience with us each year. Many of our buildings and program infrastructure have served thousands of happy campers, and like most things that are well-loved, have reached the point where they're ready to be retired. That's why we've embarked on a major renovation project that will usher in a new era for Camp Chief Hector. 
Article content
Last year we began a phased approach to updating core assets at Camp Chief Hector. Phase 1 saw the replacement of our guest accommodation teepees with 63 modern yurts, giving us the ability to extend our seasons. The remaining 17 teepees will be replaced in partnership with our neighbours, the Stony Nakoda First Nation, in the spirit of friendship and reconciliation. We also have plans to redevelop several signature camp amenities, including the high ropes course. The result is a renewed commitment to providing a positive and fulfilling camp experience for generations to come.  
A renovation of this nature is a major undertaking — and we certainly can't do it alone. YMCA Calgary has committed $1.5 million to the project and will launch a fundraising campaign to raise additional capital. The work is just beginning, and we're asking our provincial and federal governments to help advance these efforts. Investing in the preservation of such a cherished and beloved Calgary institution is the right thing to do for our city, its residents and the thousands of families that benefit from Camp Chief Hector every year.  
Article content
Our goal at Camp Chief Hector is not only to provide an exceptional camp experience to everyone who attends but to ensure that all Calgary-region families have access, regardless of their personal circumstances. That's why YMCA Calgary is proud to provide subsidies to low-income families to ensure that cost is not a barrier to participation. This aligns seamlessly with the provincial government's stated goal to provide children and youth with affordable recreation opportunities. In many ways, we are partners with the province in this endeavour and we value our role in helping to deliver on this key promise to Albertans.  
The benefits of camp are numerous, and the positive impacts can last a lifetime. After the stress of the COVID-19 pandemic, the mental health and well-being of children and youth have been top-of-mind for parents, governments and service providers. Camp has been known to improve mental health by reducing anxiety, fostering confidence and self-esteem, teaching new skills and providing opportunities for exercise. All this combined with the chance to make new friends, develop leadership and life skills and be a part of a unique community makes for a one-of-a-kind experience that stays with our campers long after they leave Camp Chief Hector.  
Article content
These are exciting times for YMCA Calgary and Camp Chief Hector. Registration is now open for this summer's camp programs and we look forward to welcoming both returning campers and those who are new to the camping community. Whether you've lived in Calgary all your life or you're new to the area, there's a place for you at Camp Chief Hector. We are well on our way to realizing our vision for a renewed and revitalized camp, and with the generous support of the community and our government funding partners, we hope to help our campers make lifelong memories for another 90 years.  
Shannon Doram is president and CEO of YMCA Calgary.