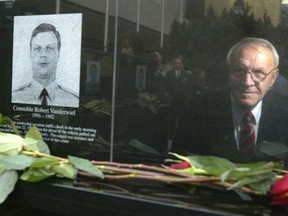 Article content
Police murderer David Anthony Lawes has been denied parole. That's good news for Canadians and Jamaicans.
Article content
In a nine-page decision, the Parole Board of Canada said Lawes, who shot and killed Calgary Police Service Const. Rob Vanderwiel during a routine traffic stop on Sept. 22, 1992, "will present a moderate to high risk of violent recidivism if deported to Jamaica."
Article content
Lawes was found guilty of first-degree murder on June 1, 1994. During his month-long trial, Lawes tried to pin the crime on his cousin, Harold Hinds, a.k.a. Peter Chemist.
Lawes' tendency to deflect blame was noted in the parole board's decision.
"According to information on file, you attempted to grab one of the tactical team members' gun before you were handcuffed. You denied this information at the hearing."
While laying out the history of Lawes' conviction for the murder of the 36-year-old Vanderwiel, described as a gentle giant of a man, the report states: "It is noted in your file that in one instance, you made a shooting motion at a photograph of the victim and, during the court trial, you spat on the photo of the victim and burned the eyes out of the photograph. You deny these incidents."
Article content
History of mental health concerns while behind bars
Lawes has been diagnosed with being mentally unstable in the last years of his 30 behind bars. "The symptomatological table suggests schizophrenic-type delusion with auditory hallucinations."
The mental health professionals who examined Lawes determined that "because of the risk of deterioration of the mental state that would be accompanied by more paranoid experiences in a less supervised environment, the long-term risk is between moderate and high."
Following a psychiatric assessment in November 2022, "the psychiatrist identifies an unspecified psychotic disorder and possible personality disorder with the predominance of anti-social traits. He concludes that without any treatment, you will present a moderate to high risk of violent recidivism if deported to Jamaica."
Article content
Lawes worked as a police officer in Kingston, Jamaica — the country where he was born and raised — for two years before being fired. Lawes was believed to be involved in criminal activity at the time, including drug dealing, robbery and murder.
During his parole board hearing on Jan. 13, Lawes repeatedly denied that he suffered from a mental disorder and required treatment. The 56-year-old is being held at the medium security Archambault Institution in Sainte-Anne-des-Plaines, Que., about 40 kilometres northwest of Montreal.
Vanderwiel was credited by homicide detectives at the time as helping to solve his own murder. After being shot in the neck at close range, he held Lawes' documents against his neck wound so strongly that Lawes was unable to wrench them out of the dying officer's blood-soaked hands.
Article content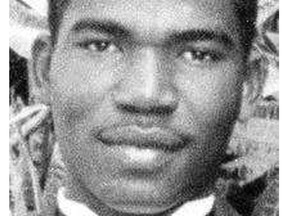 Lawes was arrested one day after the shooting, his gun found discarded near the scene of the crime, in the 4700 block of Memorial Drive E., with one of his fingerprints on it.
Parole board members Veronique Buisson and Normand Payette laid out a case against Lawes that was chilling and thorough.
They write that various correctional programs while behind bars "seemed to have had no or little impact on your behaviour as anti-social behaviours were later observed."
Basically, Lawes has only behaved himself for the last two years of his three decades in penitentiaries.
Lawes' involvement in meetings with his case management team (CMT) "appear to be rather superficial and self-serving," they wrote.
"Your CMT observes that most of your energy is spent on justifying yourself, denying or minimizing your wrongs and claiming your rights, rather than fully acknowledging and exploring your personal difficulties . . . You have yet to further explore your personal difficulties, and take full responsibility for the offence."
Article content
Extensive disciplinary file
Lawes' behaviour while incarcerated has been troublesome as well.
"Your disciplinary file includes more than 20 placements in segregation and Security Intelligence Reports. Your unmanageable behaviour, even in a regular maximum-security institution, led to transfers at the Special Handling Unit (SHU). The last transfer at the SHU (which is akin to super maximum security) was in 2007, following your participation in the assault of a fellow inmate. Over the years, you kept being involved in illicit activities, albeit with less violence."
Lawes yo-yoed between medium-security, maximum security and super max security as he remained involved in drug dealing and violent altercations, states the report.
Article content
In September 2020, a cellphone was found in Lawes' cell, and in November 2020 he was involved in a situation when he refused to return to his cell as ordered, which placed the lives of correctional officers at risk.
"You rather chose to be part of a group of inmates displaying aggressiveness toward the correctional officers and walking in their direction. At the hearing you stated that you were headed for the shower and that, in hindsight, you realize that you should not have been there."
The board points out that Lawes was transferred back to medium security from maximum security in December 2018. "When you found yourself in a less controlled environment, you involved yourself in trafficking, rather than using the medium-security environment as a stepping stone to a lower security facility.
Article content
"In this vein, the board finds particularly troubling your minimization or denial of your wrongdoings. You initially denied committing the index offence. You now maintain that you did not intend to shoot the victim. You deny having attempted to disarm the police officer who arrested you for the index offence. You have denied being involved in institutional drug trafficking."
David Lawes would clearly pose a risk to citizens wherever he is released.
For now, he's staying put, and that's a relief.
Licia Corbella is a Calgary journalist who covered Dave Lawes' trial in 1994.
corcomm@shaw.ca