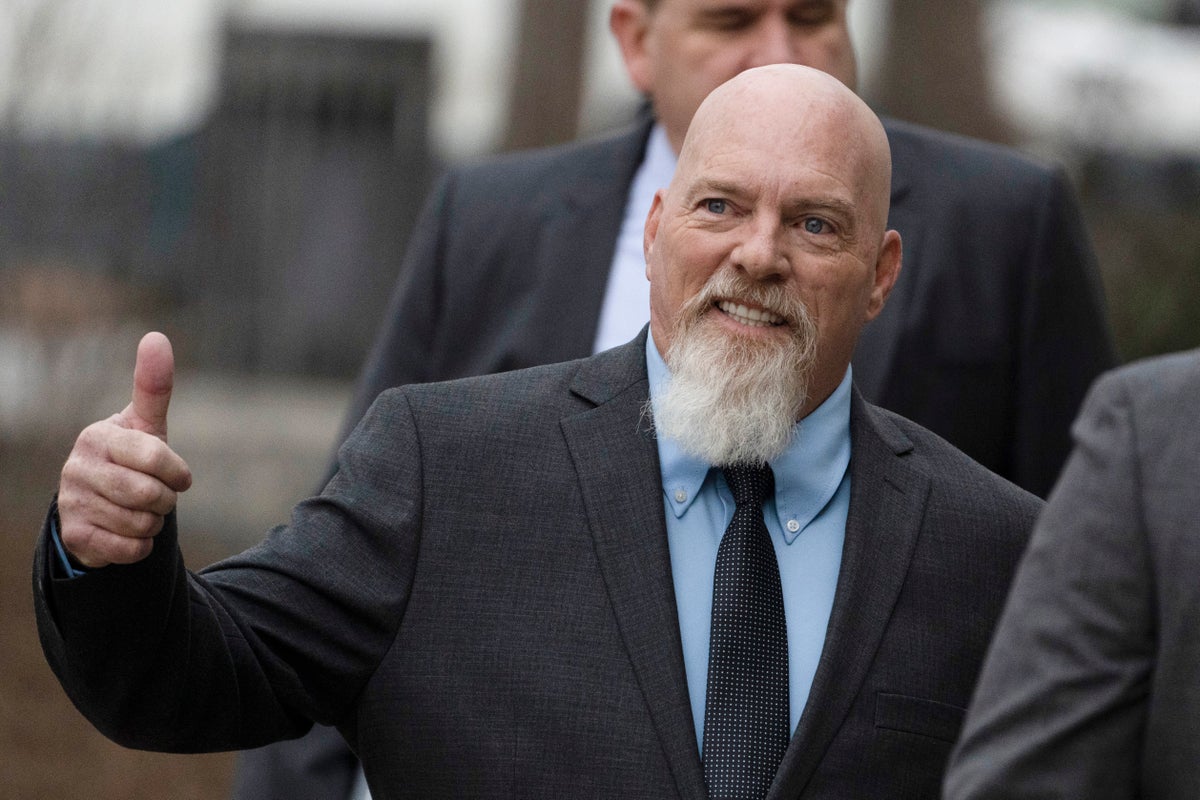 Roughly two years after his brush with viral fame, the man who boasted about writing a "nasty note" for Nancy Pelosi after kicking back in her chair and putting his workboot on her desk has been found guilty on all eight charges against him.
Richard "Bigo" Barnett testified in his own defense last week in one of the highest-profile trials connected to the attack on the US Capitol on 6 January, 2021. It took a jury only two hours to deliver a verdict.
Charges include obstruction of an official proceeding, theft of government property, and entering and remaining in a restricted building or grounds with a deadly or dangerous weapon, after he walked the halls of Congress with a 950,000-volt stun-gun walking staff.
"I bought it for protection," he testified last week. "I knew at night antifa might be wandering around killing and stabbing people. I wanted to be prepared."
Barnett – whose defense attorneys compared him to "everyone's crazy redneck uncle from out of town" – admitted to the jury on 19 January that he "probably shouldn't have put my feet on the desk" when he joined the mob on January 6. Two years earlier, on the Capitol grounds, he showed news cameras a letter he stole from the House speaker's desk and boasted about his actions to The New York Times.
"I wrote her a nasty note, put my feet up on her desk," he said while holding a letter he said he stole from her desk. He said he left 25 cents behind to pay for it.
"I put a quarter on the desk even though she ain't f****** worth it," he shouted outside the Capitol that day.
According to images provided by federal prosecutors, the note reads: "Hey Nancy, Bigo was here you biatch."
Asked whether he has any regrets from January 6, Barnett told a federal courtoom in Washington DC last week that he regrets traveling to the city at all for the "misery" it has since brought his family, and for his behaviour inside Ms Pelosi's office.
He said it he thought it was "funny" that he called her a "biotch" but he admitted that his message was "crass."
According to testimony at his trial, when he met with FBI agents in Arkansas after turning himself into authorities two days after the riot, he propped his feet on the desk in front of them and said, "Does this look familiar"?
"I didn't know how to take it," FBI Special Agent Jonathan Willett testified.
Barnett at one point also wanted to copyright the note to capitalise on his viral image, according to an audio recording from a jailhouse call made by Mr Barnett while he was in pretrial detention.
"He's not Osama bin Laden. He's not a tier 1 domestic terrorist," Barnett's attorney Joseph McBride said during his client's trial. "He's a crazy guy from Arkansas who got pushed into the US Capitol."
Mr McBride said that trial's evidence shows that he instead was exploited by news reporters who photographed him posing in a compromised position, but federal prosecutors argued that the case was about more than just a photograph.
In the weeks leading up to the insurrection, Barnett wrote on Facebook that "my country will not be socialist as long as I am alive to fight," according to federal prosecutors.
He also admitted to telling an officer inside the Capitol: "We're in a war. You need to pick a side. Don't be on the wrong side or you're going to get hurt."
Barnett is among hundreds of defendants charged in connection with the Capitol attack, fuelled by former President Donald Trump's baseless narrative that the 2020 election was "stolen" from him.
Several members of far-right groups the Oath Keepers and the Proud Boys are also on trial in Washington DC for seditious conspiracy charges, as federal prosecutors hope to secure another conviction of sedition-related charges after a jury found Oath Keepers leader Stewart Rhodes guilty in November of last year.