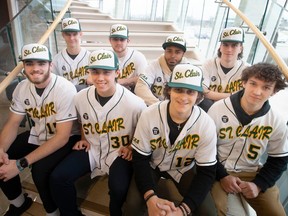 Article content
Coming off a record three-straight OCAA baseball titles, the St. Clair Saints believe the program's eight-man recruiting class will keep the club in position for more success going forward.
Article content
"We had a good team and I look forward to this team doing the exact same thing," Saints' manager Roberto Duncan said. "I believe they will all have a big impact."
Article content
Six of the eight players are local. Right-handed pitchers Jack White and Brady Knelsen, along with catcher/third baseman Carter Mayne, are products of the Windsor Selects program.
As well, the Saints will welcome outfielder/right-handed pitcher Mitch McCosh, outfielder Owen Levesque and catcher Andrew Langlois from the Tecumseh Thunder program.
"A lot of our players are local and very talented," said Duncan, who has also added Kevin Paradis from the Selects program to his coaching staff. "I think there's a lot of talent in the area."
Many of those players have competed against each other for years and now welcome the chance to become teammates in the fall.
Article content
"I have played with or against most of these guys before, so I think the chemistry will be there (right) off the start," Langlois said. "It's a great group of guys, who want to win and have in the past.
"I feel like we have the ability to take home the championship again this year."
New Jersey native and junior college transfer Miguel Leocadio Jr., a middle infielder, along with Ajax native Gareth Mann, who is a left-handed that played for the Whitby Canadians, will also join the club for the 2023 season
"I was scrolling through different schools on the internet, looking at their baseball teams and overall all sports teams," said Leocadio Jr., who played two years at Union College in New Jersey. "When I came across St. Clair, I noticed how their sports teams are so much better than everyone else.
Article content
"The main reason I committed to St. Clair was because of the winning attitude the school has. I'm a very competitive person and for me to be in a school like St. Clair, it was pretty much a no-brainer for me. Not only are the the people and the school absolutely amazing, but it's also a place that makes me feel like home."
Some players, like White, explored options to play collegiately in the United States before opting to join the Saints.
"I had a few offers from U.S. colleges, but I chose St. Clair because I'm going to get a degree there, then I will be going to teachers college after graduation," White said. "They have a great reputation for producing fantastic baseball players. They were patient with me as I entertained the U.S. college route, but they stood out in the end and my mom is happy that I'm staying home."
Article content
Playing out of Lacasse Park in Tecumseh, some players have also had the chance to watch Duncan and his staff work with players for years.
"I have the privilege to be able to watch some of St. Clair's practices at Lacasse Park," McCosh said. "You can see they never stop working. I'm from Windsor, so this is home for me. I'm excited to start up in September as a Saint, to work with the guys to bring back some more rings."
With seven OCAA titles in the last nine years, success is appealing to any player, but St. Clair checked a lot of boxes for players.
"Playing a quality ball while getting a great education," Levesque said of what helped make his decision. "St. Clair takes care of the varsity athletes, the facilities are amazing and scholarships are given. Staying local also gives me family support. 
"I expect to come out of this with an opportunity to get a job or continue my education, to grow as a player and possibly continue playing elsewhere. To have some fun and enjoy the next three years of my life."
jpparker@postmedia.com
twitter.com/winstarparker
Check out our sports section for the latest news and analysis. Care for a wager? Head to our sports betting section for news and odds.