The veteran Toronto culinary teacher and TV cook's latest book is the 125-recipe collection Don't Worry, Just Cook.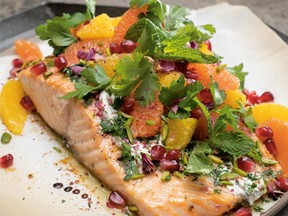 Postmedia may earn an affiliate commission from purchases made through our links on this page.
Article content
Bonnie Stern is back with a new book, and the veteran Toronto culinary teacher, writer and TV cook has a winner. Ranging from trusty home cooking to her latest international finds, the 125-recipe collection has the encouraging title Don't Worry, Just Cook (Appetite by Random House, $35).
Article content
A plug from celebrated London restaurateur Yotam Ottolenghi endorses Stern's helpful teaching style, honed during the 37 years she ran her Toronto cooking school and produced 12 previous cookbooks. This book is her first with daughter Anna Rupert, a language specialist, as co-author.
Article content
Stern's celebrated rugelach cookies are included amid a generous number of Jewish recipes that distinguish the book; she led 10 culinary tours to Israel.
"Perfection is overrated," Stern writes, but food safety isn't. Use an instant-read thermometer on meat and poultry, and pay more attention to expiry dates than best-before dates. 
You can add fresh or dried cherries and apricots and/or fresh grapes to the jewel topping if desired.
Article content
Jewelled Roasted Salmon W
ith Herbs
Serves 6 to 8
Topping:
1 cup (250 mL) chopped fresh herbs (coriander, flat-leaf parsley, dill and mint), plus extra sprigs
1/3 cup (75 mL) pomegranate seeds
1/4 cup (60 mL) chopped pistachios and/or roasted almonds
3 oranges, in peeled segments or chunks
1 tablespoon (15 mL) grated orange peel
2 tablespoons (30 mL) extra-virgin olive oil
1 teaspoon (5 mL) dried rose petals (optional)
***
2 1/2 pounds (1.25 kg) boneless, skinless salmon, halibut or cod fillet, preferably thick centre cut, or individual fillets
3 tablespoons (45 mL) extra-virgin olive oil
1 tablespoon (15 mL) honey
1 teaspoon (5 mL) kosher or coarse salt
Freshly ground pepper to taste
1 tablespoon (15 mL) grated lemon or lime peel
Article content
Fresh thyme sprigs
2/3 cup (150 mL) tahini yogurt *
* Blend together 1/3 cup (75 mL) tahini, 1 tablespoon (15 mL) fresh lemon juice, 1/2 teaspoon (2 mL) kosher or coarse salt and 1/3 cup (75 mL) thick yogurt or labneh. Season to taste with salt.
Prepare topping ingredients except for oil and rose petals, which are added at serving time. 
Place salmon on a baking sheet lined with parchment paper. In a cup, combine oil, honey, salt, pepper and lemon/lime peel, and rub into salmon. Let stand at room temperature for 30 minutes (or longer in refrigerator). Then top with fresh thyme.
Preheat oven to 425 degrees F (220 C) and roast salmon for 10 to 15 minutes or until an instant-read thermometer registers 140 to 145 F (60 to 62 C). Discard thyme.
Coat salmon with tahini yogurt. Top with chopped fresh herb mixture and then with the pomegranate seeds, nuts, oranges, orange peel and sprigs of the herbs. Drizzle with oil and trim with rose petals.
julianarmstrong1@gmail.com
Six O'Clock Solution: Tourtière is worth celebrating throughout Canada

Six O'Clock Solution: Roasting is right for a quick chicken dinner

Six O'Clock Solution: Tomato soup comes with cheesy bread and a flavour punch

More Six O'Clock Solution recipes