Overlooked as Montreal's head coach, veteran assistant joins Saskatchewan Roughriders as running-backs coach and run-game coordinator.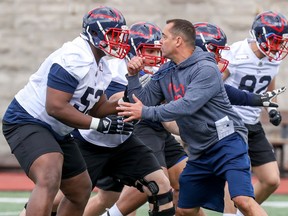 Article content
André Bolduc knew he was in an uphill battle to become the Alouettes' next head coach and decided, if the expected occurred and he was overlooked, the time had come to pursue new challenges.
Article content
"It was just a matter of timing and challenging myself," said Bolduc, who departed the Als following nine seasons to join Saskatchewan as its running-backs coach and run-game coordinator. "I needed that challenge and was looking for a challenge.
Article content
"I'm not going to go back and sit beside head coach No. 8. That's the reality."
Bolduc, 51, was one of five candidates to become Montreal's head coach — a job that went to Jason Maas, Edmonton's former head coach who played under Als general manager Danny Maciocia. Maas was always the favourite, and when Bolduc was told last Saturday of the decision, talks began in earnest with the Roughriders. The two sides came to a quick agreement the next day and Bolduc signed the contract on Monday.
Article content
Bolduc, a native of Alma, was the head coach at Université Sherbrooke for five seasons, going 24-18 overall, before joining the Als in 2014. He wore many coaching hats during that time and most recently was the assistant head coach and RB coach under Khari Jones — one of seven Montreal head coaches Bolduc worked under in a relatively short period.
Maas would have been the eighth. Bolduc was offered a position on his staff, but took the same post with the Riders. It marks the first time in his career he'll be coaching outside Quebec.
Bolduc admitted to being disappointed, but not bitter, over not being named head coach.
"When you don't get something you apply for, you're disappointed," said Bolduc, who spent six seasons as a CFL receiver with Ottawa, Edmonton and the Als despite going undrafted. "It was time to move and explore new challenges.
Article content
"I was glad I was given the opportunity to interview. The process was okay … fair. I knew the challenge was big … but I still thought I had a shot, a fair shot. The interview went well. I put a lot of work into my power-point presentation. It was a good experience."
Saskatchewan's coming off a disappointing 6-12 season, losing its last seven and missing the playoffs. Coincidentally, Maas was the Riders' offensive coordinator before he was fired on Nov. 1. Head coach Craig Dickenson survived, although he's heading into the final year of his contract. That probably means Bolduc has a one-year deal as well. He replaces Kelly Jeffrey, who was promoted to Riders' OC. Bolduc and Jeffrey have known each other for close to 15 years.
Article content
Bolduc will be going to a market where the CFL reigns supreme. The Riders are community owned and regularly turn a profit. Mosaic Stadium is one of the league's marquee venues and his new organization is more stable than the one he's departing.
"We're talking about pressure out there," Bolduc said. "I love it. That's why we do that work; why we coach. The city owns the team. That makes it a different deal there. They're allowed to criticize. If you don't win, they're going to do it. I can't wait to go through that. It's going to be new, but that's part of the challenge."
Bolduc coached the Als for one game in 2021 while Jones was stricken with COVID-19. Montreal lost 27-18. Quarterback Vernon Adams Jr. passed for 270 yards, but threw two interceptions, while tailback William Stanback gained 139 yards on 18 carries while the offence produced 453 yards.
"My strength would have been the connection with the players," Bolduc said. "It's stronger than I thought and still is. It won't go away. If I get that job one day, I think the guys are going to play hard for me."
hzurkowsky@postmedia.com
twitter.com/HerbZurkowsky1
Jason Maas brings fire, passion to Alouettes' sideline

New Alouettes head coach Jason Maas has 'huge upside': GM

Inside the CFL: Bolduc's journey to Alouettes' helm 20 years in making