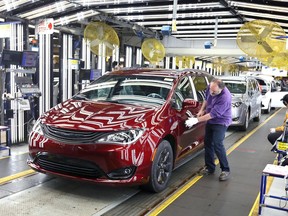 Article content
After more than a year of uncertainty at the city's largest private employer, Stellantis has cancelled its plan to cut Windsor Assembly Plant's second shift.
Article content
Unifor Local 444 president Dave Cassidy announced Tuesday on social media that the second shift is here to stay.
Article content
Before that announcement, about 1,800 employees were expected to be permanently laid off.
"We are happy to announce that we were just notified by Stellantis that they are rescinding the letter to eliminate the second shift," Cassidy wrote in Facebook and Twitter posts.
He could not immediately be reached for further comment.
LouAnn Gosselin, Stellantis's head of communications in Canada, did not comment except to confirm that the Windsor Assembly Plant "will continue to operate on two shifts."
Stellantis, FCA's parent company, first announced in October 2021 that it planned to cut Windsor Assembly Plant down to one shift in April 2022, potentially meaning the loss of about 1,800 jobs.
Article content
The company blamed the cuts on fallout from the COVID-19 pandemic and an ongoing computer chip shortage that had ripple effects throughout the auto industry.
"In response to these factors, Stellantis will adjust production operations at its Windsor Assembly Plant (WAP) in Canada," Stellantis said in an Oct. 2021 media release. "Beginning in the spring of 2022, WAP will transition to a one shift operation."
But Stellantis announced in February that it would keep the shift going through June. The company then announced in April that it extended the shift's lifeline to Dec. 31.
Windsor Assembly Plant, the city's largest private employer, currently has about 4,500 employees working two shifts.
It was previously a three-shift operation. But in July 2020, Stellantis eliminated the third shift after 27 years, resulting in the lost of about 1,500 jobs.
Article content
Windsor Assembly Plant's second shift extended through 2022

Windsor Assembly Plant's second shift extended to mid-2023, union says

Windsor Assembly Plant to cut second shift in 2022
The ripple effects went far beyond the FCA Canada job losses. Plants throughout the automotive supply chain that had mimicked Windsor Assembly Plant's three-shift model were also forced to eliminate a shift, resulting in hundreds more job losses.
But a return of Windsor Assembly Plant's third shift is still likely.
Stellantis announced in May that it will invest $3.6 billion to retool its Windsor and Brampton plants to produce electric vehicles.
Mark Stewart, Stellantis's chief operating officer for North America, said at the time that both plants will become three-shift operations when the retooling is finished.
He said Windsor will receive two new electric flex platforms usable for multiple models, while continuing to produce the Pacifica minivan lineup.
twilhelm@postmedia.com