Éric Vervais was out on parole during the time when he is alleged to have carried out the break-ins.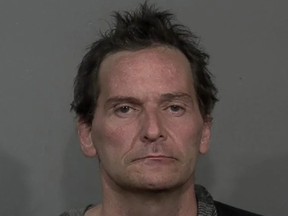 Article content
A man being sought as a suspect in 21 break-ins carried out in Montreal throughout this year has spent most of the last two decades behind bars.
Article content
Earlier this week, the Montreal police asked for help from the public as they try to locate 48-year-old Éric Vervais, who is suspected of committing break-ins in the Rosemont—La Petite-Patrie and Plateau-Mont-Royal boroughs.
Article content
Vervais is alleged to have carried out the break-ins "in businesses located on commercial arteries such as Mont-Royal Ave., St-Hubert St. and St-Denis St.," the police said. "The thefts took place mainly at night. The suspect forced open the locks of the businesses and, once inside, emptied the cash register and sometimes stole items before he quickly fled on foot."
According to court records, Vervais is alleged to have done all of this while he was out on parole. On Nov. 18, 2020, he pleaded guilty at the Montreal courthouse to committing five break-ins and received a prison term that left him with two years less a day to serve at a provincial detention centre. The prison term expired last month and, technically, Vervais in now on probation.
Article content
The police have been looking for Vervais since June, when a warrant for his arrest was issued alleging he carried out seven break-ins beginning in March. A second warrant was issued in October alleging he carried out another break-in on June 27, and a third warrant in November accused him of another 13 break-ins.
Vervais has a lengthy criminal record that began in 1995 when he was 20 years old. He has served four federal sentences of two years or more, and decisions made by the Parole Board of Canada over the past decade reveal his crimes are attributable to drug addiction.
One decision describes how Vervais was adopted by his grandparents when he was an infant because his parents had problems with drugs. He grew up feeling rejected and, by the age of 10, he began using drugs like marijuana and carried out petty crimes like vandalism and theft.
Article content
While serving his most recent federal sentence, a 35-month prison term he received in 2014 for breaking into several convenience stores over a two-year period, Vervais disappeared when out on a statutory release. When he turned himself in days later, he admitted to the parole board that he had resumed using drugs and went illegally at large because he feared having to provide a sample to have his urine tested, one of the conditions imposed on his release.
A few months after that sentence expired, Vervais carried out a few more break-ins during the summer of 2017. He was arrested later that year and was sentenced to a 20-month prison term.
Vervais is a white male with an aquiline nose, prominent ears and short brown hair. The Montreal police report that the person who carried out the most recent series of thefts was wearing blue jeans, black shoes and a hooded sweater with a V-neck and a white horizontal stripe across the chest.
Anyone with information that could further the investigation is urged to call 911, contact their local police or call Info-Crime Montreal at 514-393-1133.
pcherry@postmedia.com
Montreal police seek suspect in 20 break-ins

More crime and law reports