Members of the Texas National Guard are placing razor wire at a stretch of the U.S.-Mexico border in preparation for a potential migrant surge if a controversial immigration order is lifted.
Bill Melugin, a national correspondent for Fox News, shared a video on Twitter Tuesday showing where the Texas National Guard had laid the razor wire and set up a line of Humvees, or High Mobility Multipurpose Wheeled Vehicles, on the banks of the Rio Grande in El Paso, Texas.
Earlier this month, Melugin shared another video showing what he said were hundreds of migrants who had illegally crossed over into El Paso.
The Texas National Guard this week deployed equipment and more than 400 personnel to El Paso as part of Texas Governor Greg Abbott's "enhanced border security effort."
The deployment came just before the Title 42 immigration policy was set to expire on December 21, though Supreme Court Chief Justice John Roberts implemented a temporary stay on the termination on Monday that will prevent it from being lifted at least for now.
In 2020, former President Donald Trump's administration implemented Title 42, which allows authorities to expel migrants over COVID-19 pandemic concerns.
A federal judge struck down Title 42 last month, calling it "arbitrary and capricious," but put its termination on hold until December 21, CNN reported. On Friday, a federal appeals court upheld the plans for Title 42 to end on December 21.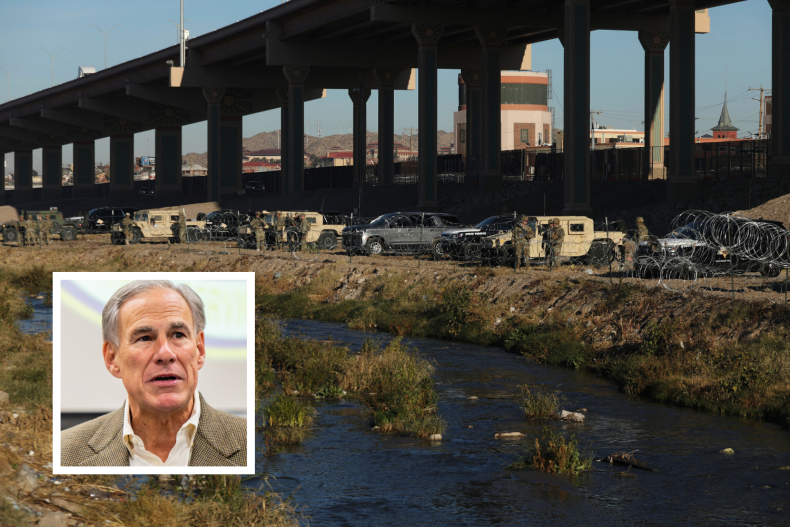 Roberts' temporary stay was in response to a Republican-led emergency appeal.
President Joe Biden's administration, which has been working to end the immigration order, was given until Tuesday evening to file a response. It remains unclear at this time just how long Title 42 will remain in place since Roberts may decide to refer the case to the full Supreme Court.
Abbott and other Republican officials, and even some Democrats, have objected to the Biden administration's efforts to rescind Title 42. The Texas governor celebrated the temporary stay on Twitter Monday.
"Texas and other states are insisting that the Court leave Title 42 in place," Abbott tweeted. "Today's order is a step in that direction. This helps prevent illegal immigration."
In the meantime, the temporary Title 42 stay does not appear to be impacting Texas' work on bolstering border security.
The public affairs office of the Texas Military Department told Newsweek that as of noon on Tuesday, Texas National Guard troops had placed over a half mile of concertina wire on the border in the El Paso area after the additional personnel arrived on Monday.
The Texas National Guard is working to increase its posture along the border in light of "high levels of illegal border crossings" over the past week, and as of now, the mission of the additional Texas National Guard members in El Paso has not changed, according to the office.