Ukraine marked a new milestone of Russian troops lost in the ongoing war, with a light projection that appeared along the side of a library in Kyiv.
An image of the projection, which read "100K," was shared Thursday on social media by Kyrylo Tymoshenko, the deputy head of Ukrainian President Volodymyr Zelensky's office. Tymoshenko posted the photo on his Telegram channel, and it also appeared in his Instagram stories.
"The situation with light has improved in Kyiv," Tymoshenko wrote in the Telegram post accompanying the photo, according to an English translation.
Kyiv is one of many cities across the country that has endured power blackouts in recent days, which Ukrainian officials attribute to Russian strikes against critical civilian infrastructure. Many of Russia's missile strikes have left Ukrainians in some parts of the country unable to heat their homes amid cold winter temperatures.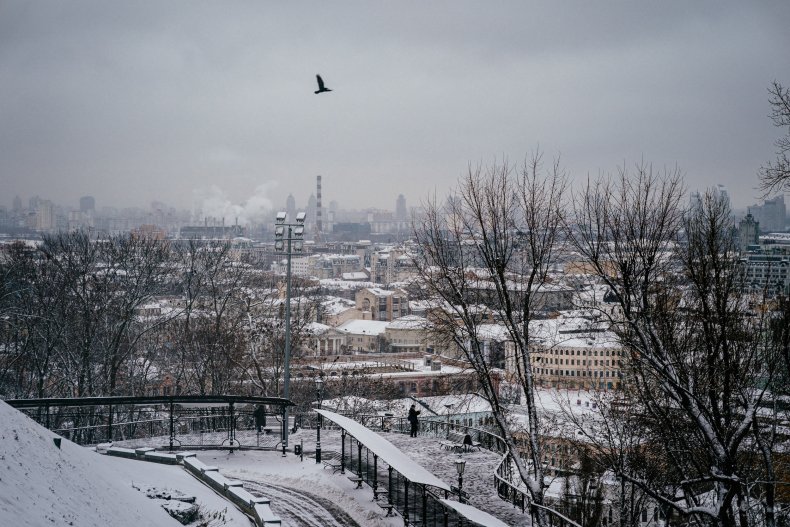 Ukrainian military officials announced Thursday that the Russian troop death toll had surpassed 100,000 since the war began in late February. The General Staff of the Armed Forces of Ukraine also estimated Russia has lost about 3,000 tanks and "about 6,000 other armored vehicles" while fighting in Ukraine.
Russia has not consistently released figures regarding its own tally of lost troops, nor has Ukraine. Ukrainian officials said earlier this month that up to 13,000 Ukrainian soldiers may have died in the fighting.
The photo Tymoshenko shared marking the 100,000 reported Russian troop deaths was projected on the front of the Vernadsky National Library in Kyiv at the top of the building. The message appeared in blue light and was also later shared on Twitter by the English-language Ukraine news site UkraineWorld.
The latest reported death toll came just days before the war's 10-month mark, which arrives on Saturday. Ukraine also reached the 300-day mark of the war earlier this week, on December 20.
Shortly after hitting that 300-day mark, Zelensky traveled to the U.S. for his first known trip outside Ukraine since the war began. He met with President Joe Biden at the White House and later concluded his brief trip with an address at the U.S. Capitol before a special joint session of Congress.
During his speech on Capitol Hill, Zelensky thanked American politicians for past and future defense aid packages. He described that support as "an investment in the global security and democracy that we handle in the most responsible way."
Zelensky stopped in Poland on his return trip home to meet with Polish President Andrzej Duda, according to Zelensky's office. As Zelensky traveled back to Ukraine, the United Kingdom's Ministry of Defence said Russian President Vladimir Putin also made a trip outside his country earlier this week with a visit to Belarusian President Alexander Lukashenko to discuss a "single defense space."
Newsweek reached out to Russia's Ministry of Foreign Affairs for comment.