The Ukrainian president has told Sky News that he is "not interested" in meeting Vladimir Putin for peace talks, saying he is a "nobody".
In an exclusive interview with Kay Burley, Volodymyr Zelenskyy said he "doesn't understand who makes decisions in Russia" and that while Moscow asks for peace, it lies by attacking Ukraine with missiles.
Mr Zelenskyy also responded to speculation of a Russian offensive in Ukraine in the coming weeks, and recalled how he felt when he realised the invasion was beginning last year.
When asked whether a meeting with Mr Putin would help to resolve the war, Mr Zelenskyy said: "It is not interesting for me. Not interesting to meet, not interesting to speak… I really don't understand who makes decisions in Russia."
The president said people are his number one priority, adding: "I don't want to fight on Russian territory.
"I just want them to stop the war as quickly as possible, and leave our country as fast as possible.
"I can tell you for sure if they leave our territory, the war will stop. That's all."
When asked whether it was too late for talks, Mr Zelenskyy said: "After a full-scale invasion, for me [Mr Putin] is nobody."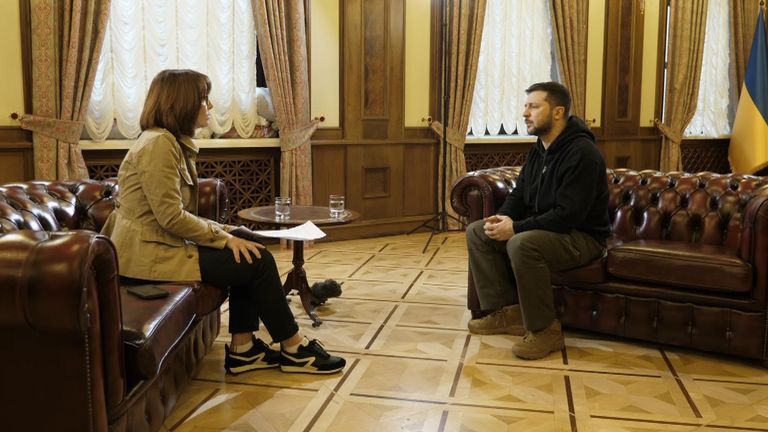 'Russia losing a lot of people'
As speculation of a Russian surge mounts, Mr Zelenskyy said Ukrainian forces have been observing the situation in the eastern regions of Luhansk and Bakhmut in Donetsk.
The president said there have been more powerful attacks and offensives in recent days – and that it is crucial for Ukrainian forces to have defensive strength.
He added: "It all depends on how much we can hold them back… In the east they are moving forward and losing a lot of people. It's just an extraordinary number. They don't care about it. I mean, they don't count their people. This is a fact.
"We are counting their people. But we don't have exact numbers. There are much more casualties from their side. But from what we have already seen and counted, there are thousands of people dead from their side, and they are just throwing them, and throwing them, and throwing them and throwing them."
The frontline city of Bakhmut, where Russia's Wagner mercenaries and Ukrainian forces have been locked in battle, has witnessed months of fierce fighting.
Read more on Ukraine:
What are F-16 fighter jets and could they be sent to Ukraine?
Wagner Group boss laughs off claims of assassination plot
Moment Zelenskyy learns tank news

'Thankful for tanks'
During the interview – filmed on Mr Zelenskyy's 45th birthday – the Ukrainian president learnt that Germany had decided to send 14 Leopard 2 tanks to Kyiv after weeks of indecision.
He told Sky News that he was "very thankful" for the tanks but warned that the quantity and delivery time of the vehicles is "critical".
Washington also announced yesterday that it would send 31 M1 Abrams tanks vehicles to Kyiv after Germany's promise.
The US had previously resisted sending its own vehicles to Ukraine.
The Abrams is one of America's most powerful tanks. The total cost of a single Abrams can vary, and can be more than $10m (£8m) per tank when including training and sustainment.
The UK became the first Western nation to promise main battle tanks when Rishi Sunak pledged 14 Challenger 2s this month.
The series of announcements of the modern battle tanks for Ukraine marks a significant blow to Mr Putin's forces.