Ben Shelton isn't exaggerating when he admits he's more than just a bit busy at the moment.
The 20-year-old is through to the Australian Open quarterfinals at Melbourne Park this week, in just his second appearance in the main draw of a major.
A place in the last four is a realistic prospect, even if his opponent, fellow American Tommy Paul, is also enjoying a breakout tournament.
But the Australian Open is not the only engagement on Shelton's schedule: he is also due to return to university in the United States next week.
"There's definitely a lot on my plate," said Shelton, after beating compatriot JJ Wolf in five sets in the fourth round.
"Playing my first grand slam [tournament] outside of the United States, starting school this week. It's been a lot. But I'm really enjoying it so far."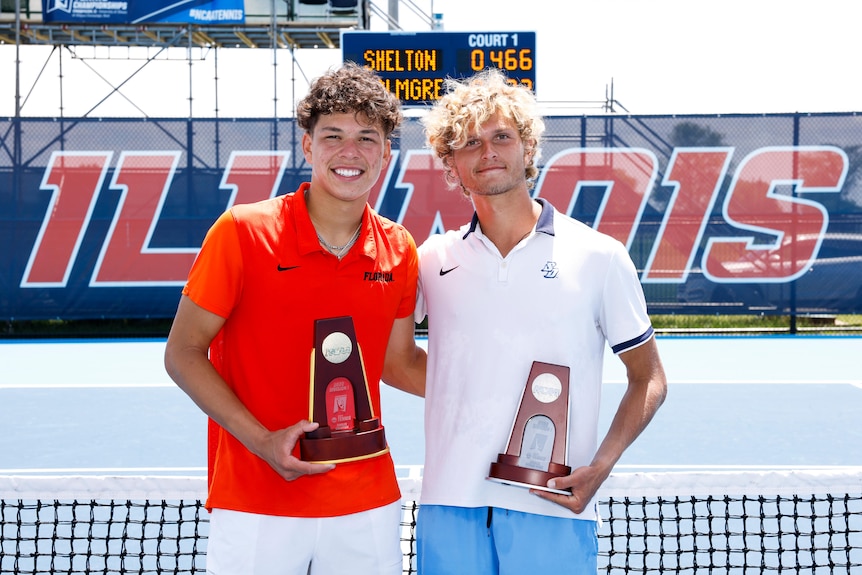 Shelton is a student at the University of Florida, who he represented when he won last year's US college singles title.
He is studying part-time, allowing him to focus as much as he can on his budding professional tennis career.
"I'm taking classes at a bit slower pace than I was when I was full-time in school," Shelton said.
"I don't have too difficult of a workload. It's very manageable while I'm playing tennis. So far in January I haven't had any problems or conflicts.
"I really want to get my degree. It's something that's important to me. That's something that I'm going to stick to and continue to do."
Shelton will enjoy a big jump in the world rankings from his current ATP standing of 89, regardless of whether he loses in the quarterfinals in Melbourne.
A rankings rise will open more doors to entering main draws at tournaments without having to go through the qualifying stages.
Shelton joked he may need to juggle exams with his playing duties as the season continues.
"It's going to get interesting when my exam dates might conflict with some of my matches," he said.
"A few assignments here and there. Pretty easy stuff."
'No expectations'
Shelton, whose father Bryan was a tour professional in the 1980s and 1990s, had never travelled outside the US until making the trip to Australia for the season-opening major.
Last year's US Open was his first appearance at a grand-slam event, losing in the first round.
He began the 2022 season ranked 573, before making steady progress towards the career-high ranking he holds now.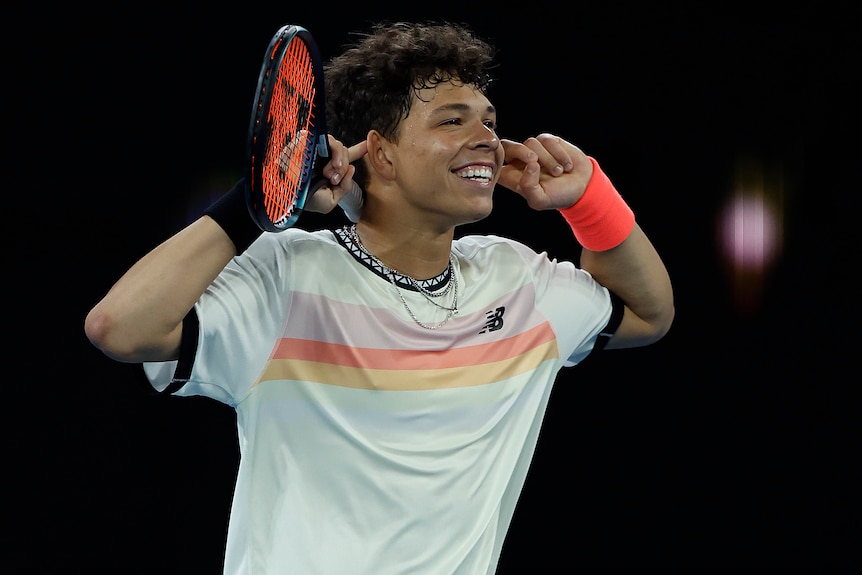 Shelton was under no illusion to the challenge of playing away from the US for the first time.
"I got on the plane with no expectations," he said.
"I know that it's very hard to adjust to Australia from the United States just with the jet lag, time change and everything.
"It being my first time, having never being out of the United States, I knew it would be a struggle.
"So I think it maybe has helped me a little bit, kind of not having that expectation or the feeling that I have to perform, but being able to just go out there, be myself and play free.
"I think that's been a big contribution to my success."