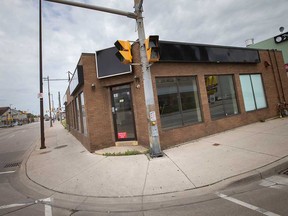 Article content
Members of the public — especially downtown Windsor businesses and residents — are being invited to participate in virtual town hall meetings on the supervised drug consumption site that's due to start operating in the city's core.
Article content
The series of online sessions will take place Tuesday to Thursday, from noon to 1:30 p.m. each day, and registration in advance is required to participate.
Article content
Tuesday's meeting is for business owners, Wednesday's meeting is for residents (N9A area code), and Thursday's meeting is for community agencies.
According to the Windsor-Essex County Health Unit, the launch of the Consumption and Treatment Services (CTS) site at 101 Wyandotte St. East (near the downtown McDonald's location and across the street from the entrance to the Windsor-Detroit tunnel) is "upcoming."
Part of a "harm-reduction" strategy that has been years in the making, the site will provide a space where those addicted to opioids or other substances can bring their own drugs and consume them in a monitored environment — hopefully reducing occurrences of fatal overdoses in the community.
Article content
Health unit warns of spike in opioid overdoses in Windsor-Essex

Downtown Windsor consumption and treatment site should be ready in months, says health unit

Health unit secures downtown Windsor location for drug consumption site
Each meeting will begin with a presentation about the CTS site, with information on "how safety and security concerns will be addressed," and how issues can be reported once the site is in operation.
An "expert panel" will then take questions from attendees. The panel will include representatives of the health unit, Windsor police, Hotel-Dieu Grace Healthcare, Positive Pathways Community Services, and the Windsor Essex Community Health Centre.
The panel will also have physician who specializes in addiction treatment.
All attendees are asked to register via eventbrite.ca.
Questions can be submitted in advance via CTSQuestions@wechu.org. The email address will also be monitored for questions during the event.
The health unit advises that space for each session is limited.
Once a participant registers, a follow-up email will be sent to them with confirmation and a link to the meeting platform.
For further information, call 519-258-2146 ext. 3100.