Just over two weeks after anyone last saw Angie Fuller alive, family and friends received the news they had been dreading: police were now treating the case as a homicide.
The mother of two's disappearance sparked a two-week police search of rugged Central Australian terrain while social media users speculated as to her whereabouts.
Here's what we know so far about Ms Fuller's disappearance.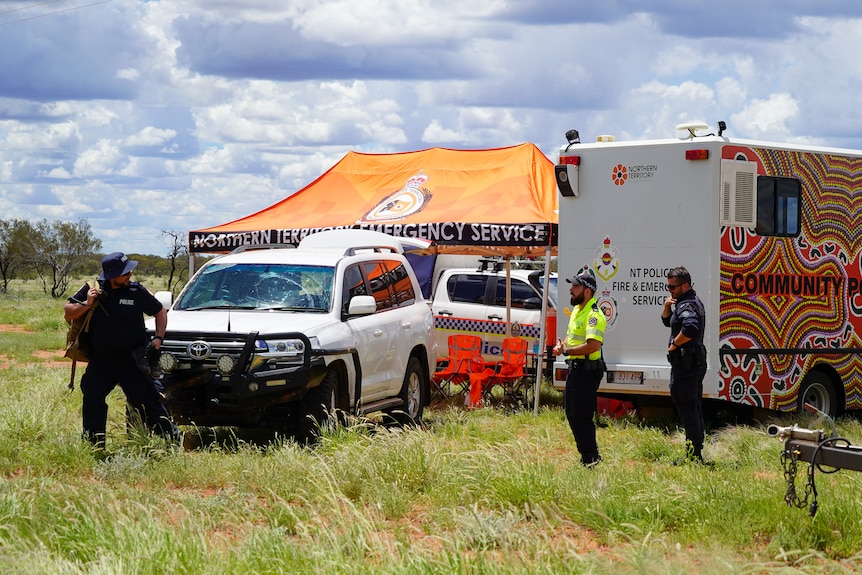 Angie Fuller 'enthusiastic' about new job, dad says
Speaking to the ABC last Tuesday, Angie's father Tony Fuller said his daughter had recently started a new job and was turning her life around in Alice Springs.
He said she had recently begun working at Drug and Alcohol Services Australia (DASA), which delivers rehabilitation services in Central Australia.
Its chief executive, Eloise Page, confirmed that Angie "is a part of the DASA family" but refused to comment further, given the ongoing investigation.
"We are very concerned for her well-being and hope that she is found safe and well soon," she said.
Mr Fuller said she was driving back from Darwin to Alice Springs when she disappeared, saying it was clear she was enthusiastic about her new career path.
"She was working there and she was really enjoying it, and I could see she was eager and keen to get back," he said.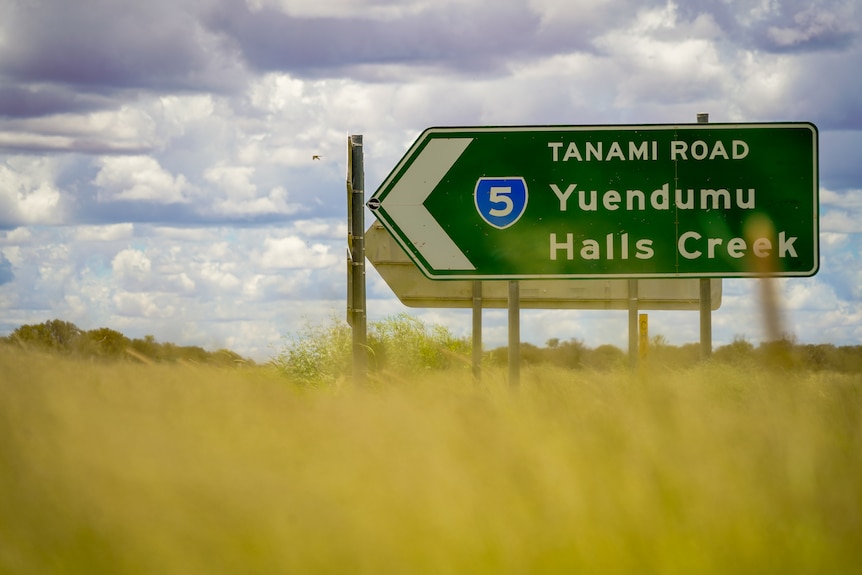 Police have suspended a search
Ms Fuller was first reported missing to police on Wednesday, January 11 — two days after her last confirmed sighting — and authorities made their first public plea for help that Friday.
Efforts to find her focused on a remote area along the Tanami Road, which links Alice Springs with north-west Western Australia.
The key area was 15 kilometres west of the Tanami Road's junction with the Stuart Highway, just north of Alice Springs.
Police said they searched 400 square kilometres of "rugged" bushland in the area, and repeatedly said they believed she could still be alive given recent rains.
They deployed at least 20 police officers, as well as drones, helicopters and ATVs to search the area, but found no trace of her.
On Tuesday, 15 days after her last confirmed sighting, NT Assistant Commissioner Michael White said the search was being suspended as the case morphed into a homicide investigation.
'Third party' is involved, police believe
At the press conference on Tuesday, Assistant Commissioner White confirmed they were treating her disappearance as a suspected homicide.
"I've declared it a serious investigation and as a result we are investigating it, and treating it, as a homicide," he said.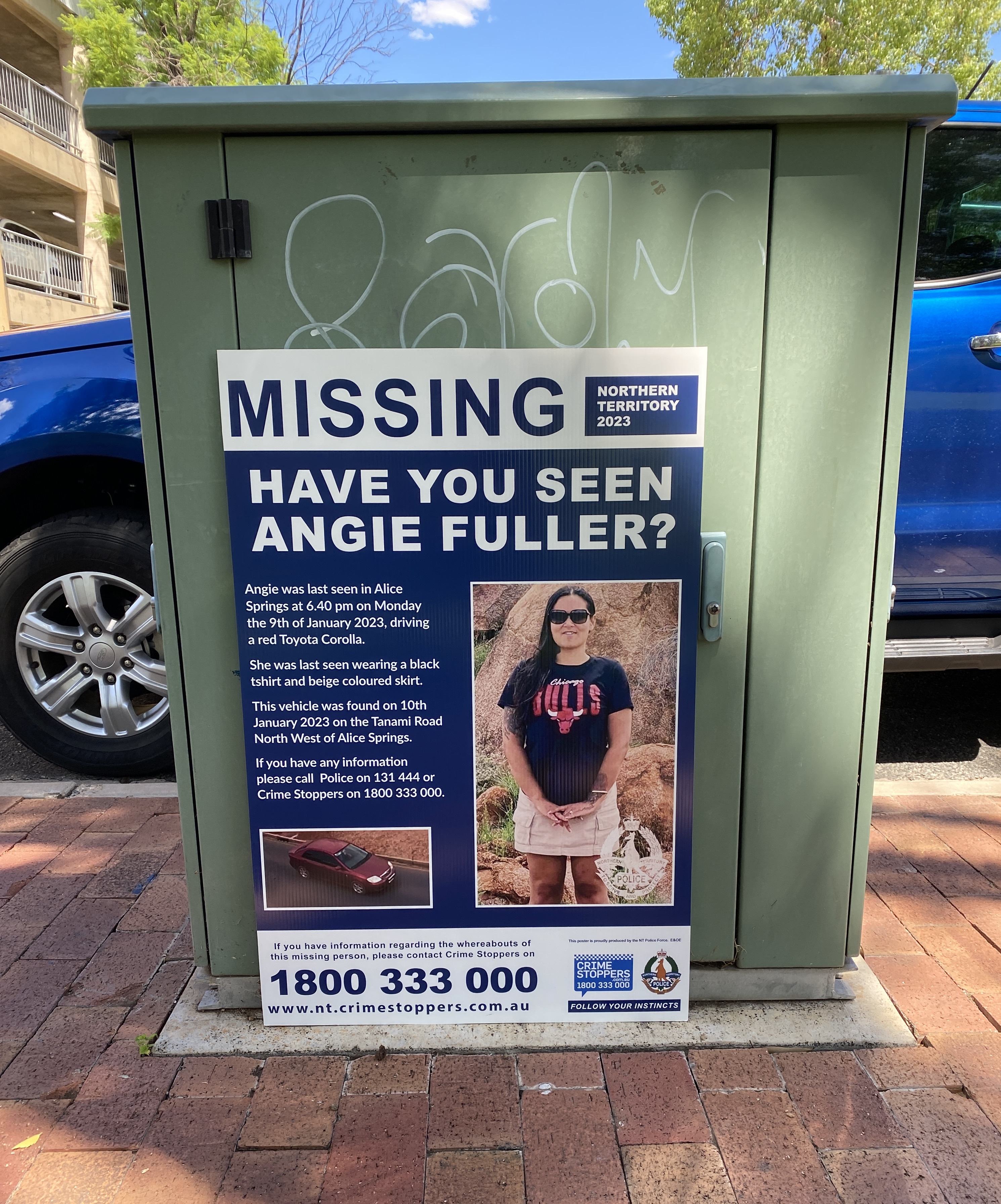 Police had previously confirmed they were working on a criminal investigation into her disappearance, which ran parallel to the search and rescue effort.
The last confirmed sighting of Ms Fuller was at a truck stop "north of town", referring to Alice Springs, at 6:40pm on Monday, January 9.
Assistant Commissioner White said police believe she was involved in a subsequent "incident" along the Tanami Road, but said that sighting was not yet confirmed by police.
Assistant Commissioner White on Tuesday said they believe she was involved in "some sort of dispute" between two vehicles on the Tanami, including Ms Fuller's red Toyota Corolla. 
In that incident, one of the cars was run off the road. 
"We've spoken to all the parties we have seen, and that is the point we believe Angie became separated from everyone else."
Ms Fuller's Corolla was found abandoned along the Tanami Road, about 12 hours after her last confirmed sighting.
Person of interest in social media videos
Shortly after Ms Fuller's disappearance, social media videos circulated of a man purporting to be her boyfriend.
Ms Fuller's father disputed this, claiming he never met nor heard of him, and saying he was "sickened" by the vision.
But Assistant Commissioner White said the man in those videos was one of the parties involved in the alleged incident along the Tanami Road. 
He confirmed that police were treating that person as one of several people of interest.