An animal shelter is looking for a woman who appeared to dump a cat in a trash can in a Rosenberg, Texas, nature park.
The Rosenberg Animal Control and Shelter took in the cat when a person witnessed a woman placing a cat carrier in a trash can in Seabourne Creek Nature Park. At around 10:50 a.m. on January 12, security cameras captured the moment the cat was left in the trash under a gazebo at the park.
"We have named him King Triton, and he is estimated to be between 1 and 2 years old," the shelter's director, Omar Polio, told Newsweek.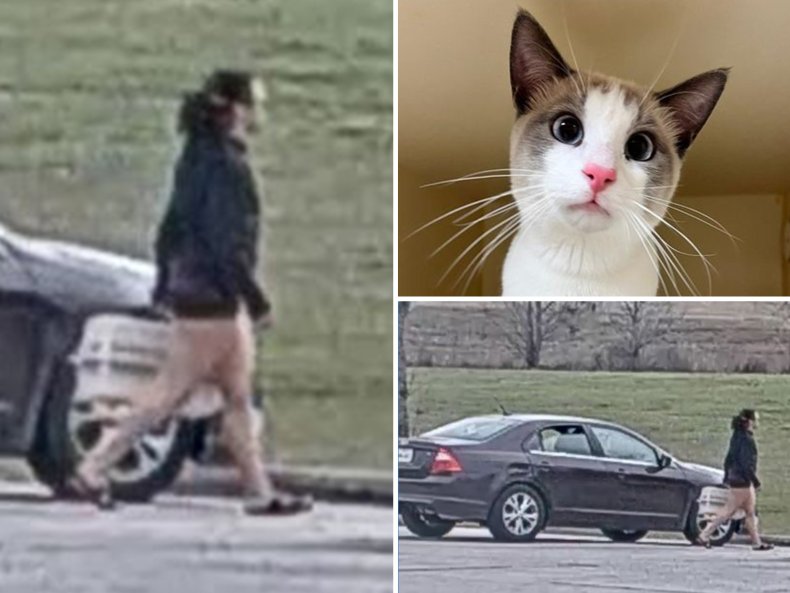 In footage captured by nearby cameras, a woman in a Ford Focus pulled up and got out of the car with a pet carrier. Walking toward the gazebo, she put the carrier containing the cat inside the trash can. The animal was locked inside the carrier and unable to escape, with no access to food or water.
Fortunately, a good Samaritan witnessed the incident and took the cat to the shelter.
Every year in the U.S., 6.3 million companion animals enter animal shelters, including approximately 3.2 million cats, according to the American Society for the Prevention of Cruelty to Animals.
"King Triton has been checked by a veterinarian," Polio said. "He is currently receiving medical treatment for a complication with his neuter, so will need a few more days of observation and care."
The animal control team wants to know who dumped the otherwise healthy cat in a trash can. It went on Facebook to ask the public to come forward with any information that may help it find the woman who dumped the "sweet cat, carrier and all, in a trash can." Anyone with information is asked to contact the shelter.
"Could have just left it at the shelter with the employees like why is it that hard to drive up there?" said one commenter on the Facebook page, speaking about the cat.
Another agreed, writing: "Why not take him to the shelter? Dumping him in a crate with no food or water and leaving it out in the open is animal cruelty. Hope she is caught."
One poster said: "Oh my gosh, this is horrible."
"The cat is beautiful and totally undeserving of this treatment," said another commenter.
The shelter hopes that the incident can serve as a reminder that anyone who can no longer care for a pet should surrender it to a local shelter where it can be safely cared for and hopefully given a new home.
While no progress has been made in finding the woman who dumped the cat, the huge response from well-wishers online led to a home being secured for King Triton.